Unconstitutional: DeSantis Vows To End Birthright Citizenship If Elected
@alexvhenderson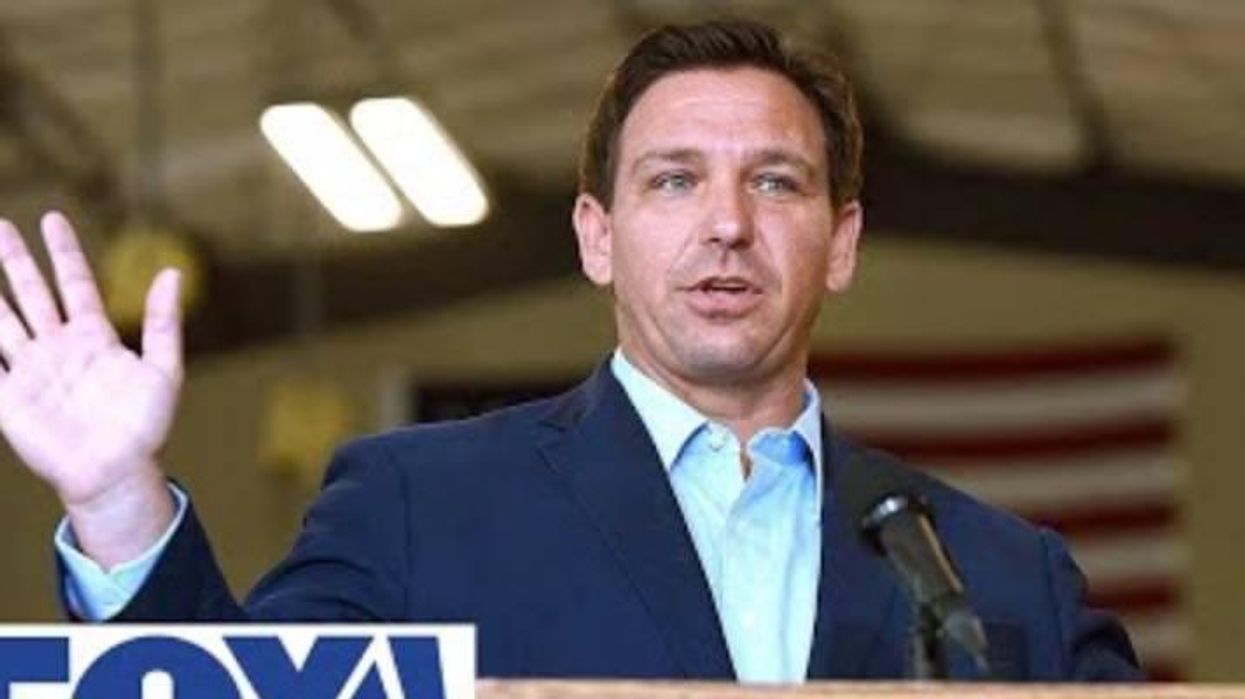 Trailing Donald Trump in countless polls, far-right Florida Gov. Ron DeSantis has been looking for ways to show GOP presidential primary voters that he is more MAGA than the former president. And one way is trying to demonstrate that he is tougher on illegal immigration.
On Monday, June 26, DeSantis outlined his ideas on border security and immigration during a campaign stop in Eagle Pass, Texas near the U.S./Mexico border. And he promised to end birthright citizenship if elected president, theMiami Herald reports.
As president, DeSantis told supporters, he would "take action to end the idea the children of illegal aliens are entitled to birthright citizenship if they are born in the U.S."
Birthright citizenship, however, is in the U.S. Constitution's 14th Amendment — specifically, the Citizenship Clause, which states, "All persons born or naturalized in the United States and subject to the jurisdiction thereof, are citizens of the United States and of the State wherein they reside."
The 14th Amendment, ratified in 1868 after the Civil War, also states, "No State shall make or enforce any law which shall abridge the privileges or immunities of citizens of the United States; nor shall any State deprive any person of life, liberty or property, without due process of law, nor deny to any person within its jurisdiction the equal protection of the laws."
Speaking to supporters in Eagle Pass, DeSantis also promised to finish the U.S./Mexico border wall that was started under Trump and vowed to help state and local governments enforce immigration laws.
The Florida governor told supporters, "When we go in, on Day 1, we're gonna marshal every bit of authority that we have, will work with Congress when we need to. We'll take executive action when we can, and it will be a Day 1 priority…. I think the states have a role to play. I can tell you, as a president, we are fully going to deputize all state and local governments to be able to enforce immigration law. You will be able to have that authority."
DeSantis' proposal to end birthright citizenship has inspired a lot of comments on Twitter — some of them highly critical.
The Atlantic's Ronald Brownstein noted that the late conservative Sen. Bob Dole (R-KS) "publicly repudiated that idea" when he ran for president in 1996. And Washington Post columnist Greg Sargent tweeted that birthright citizenship was "one of the crowning achievements of the Republican Party," as historian Eric Foner has noted.
Immigration attorney Curtis Morrison tweeted, "I talk to individuals in the middle east and Africa where babies are born stateless in countries without birthright citizenship (like Saudi Arabia). I find it frustrating that anyone sees babies being born stateless and thinks that's something we need to import here."
Reprinted with permission from Alternet.