Netanyahu Pledges 'Zero Tolerance' Of Hate Crimes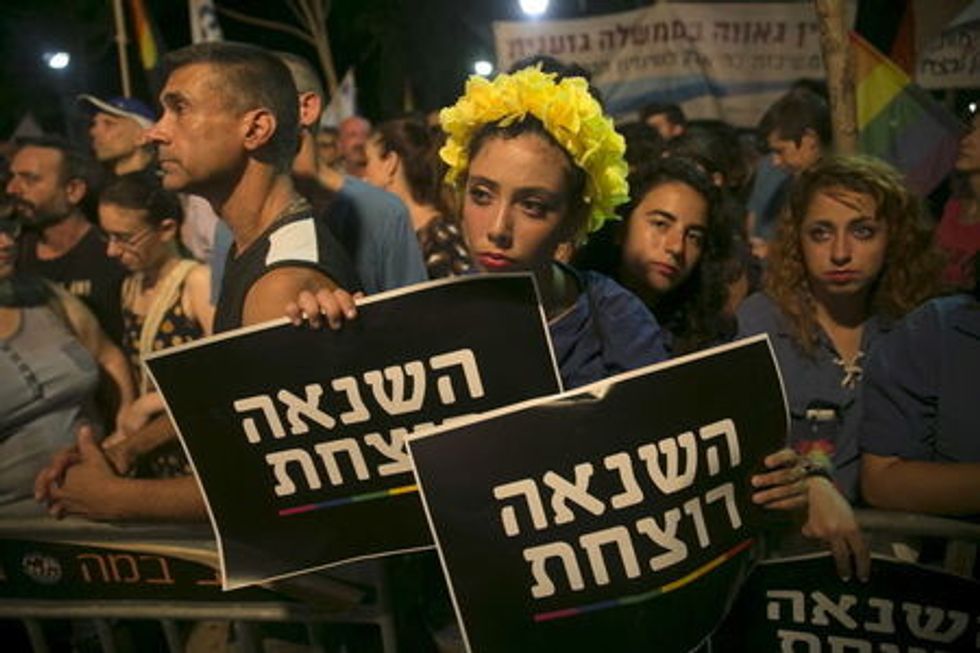 By Ofira Koopmans, dpa (TNS)
TEL AVIV, Israel — Israeli Prime Minister Benjamin Netanyahu promised "zero tolerance" toward hate crimes as a Jewish teen died Sunday of wounds sustained in a stabbing at Jerusalem's gay parade.
Doctors at Jerusalem's Hadassah Ein Karem hospital worked for three days to save the life of 16-year-old Shira Banki, but in vain.
"Shira was murdered because she courageously supported the idea that everyone is entitled to live their lives in dignity and safety," Netanyahu said in a message of condolence.
"We are determined to fight aggressively against the phenomena of hatred, fanaticism and terrorism by any side," he earlier told his Cabinet in Jerusalem.
"Over the last days, we witnessed despicable crimes," he said, promising to bring their perpetrators to justice. "Our policy toward such crimes is zero tolerance."
Shira Banki was one of six people stabbed Thursday, despite a large police presence, by an ultra-Orthodox man who had just finished serving 10 years in jail for stabbing marchers at the 2005 Jerusalem gay pride parade.
The next day suspected Jewish extremists threw a firebomb into the northern West Bank home of the Dawabshe family as they slept, killing 18-month-old Ali and seriously injuring his parents and 4-year-old brother. The Hebrew word for revenge and a star of David were sprayed on a wall.
After Thursday's stabbings and Friday's arson, thousands of Israelis took to the streets late Saturday in anti-hate-crimes rallies in Tel Aviv, Jerusalem and elsewhere.
President Reuven Rivlin said at the Jerusalem rally that Jewish radicalism was "wreaking havoc" in Israeli society and he was "ashamed."
"Every society has extremist fringes, but today, we have to ask, what is it in the public atmosphere which allows extremism and extremists to walk in confidence in broad daylight?" Rivlin said.
Threats against Rivlin have appeared on his Facebook page, calling him a "traitor" and a "president of Arabs" for his vehement condemnation of the arson in the northern West Bank, which killed 18-month-old Ali Dawabshe and seriously injured his parents and 4-year-old brother.
Israeli Defense Minister Moshe Yaalon said he would order so-called administrative detention for Jewish extremists, a measure commonly used against Palestinian militants. It allows the arrests of people deemed security risks before they commit a crime.
The fire in Douma near Nablus sparked clashes in East Jerusalem and the West Bank. A 17-year-old Palestinian throwing stones and a fire bomb was fatally shot Friday by Israeli soldiers near Ramallah.
(c)2015 Deutsche Presse-Agentur GmbH (Hamburg, Germany). Distributed by Tribune Content Agency, LLC.
Photo: A woman holds signs during a protest against the violence towards the gay community in Tel Aviv August 1, 2015. REUTERS/Baz Ratner