New Study Reveals Crucial Element Of Trump's Base
@alexvhenderson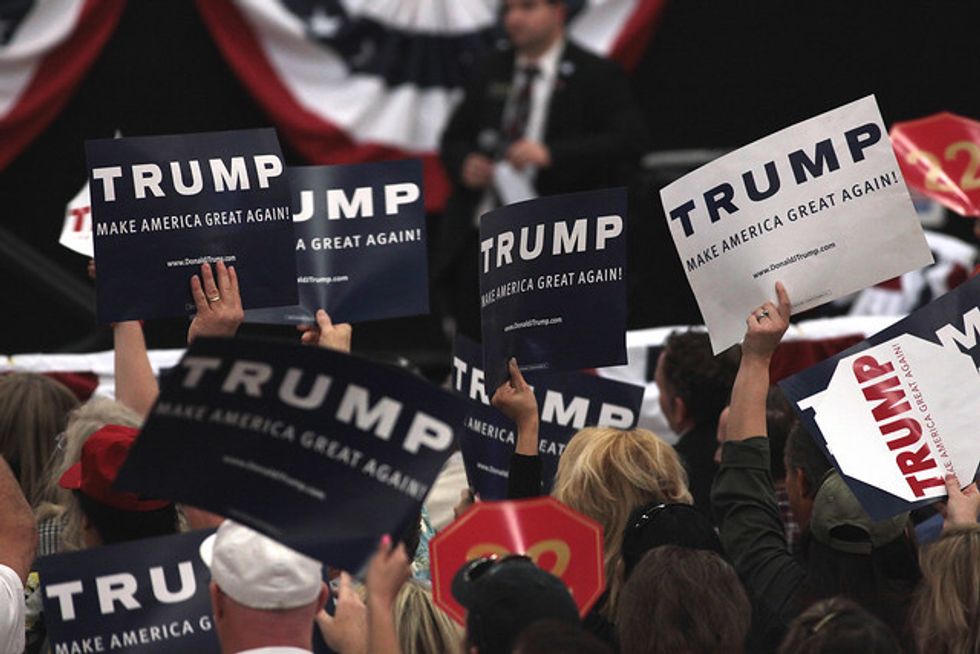 Reprinted with permission from Alternet
Much has been written about President Donald Trump's appeal among downscale white voters who live in the American Rust Belt. One of the most famous lines of Trump's 2016 campaign was "I love the poorly educated," and he continues to enjoy strong support among white males without a college degree.
But New York Times columnist Thomas B. Edsall stresses that there is one group that the media often overlook when analyzing Trump's base of support: whites who have a higher income but lack a college degree.
The phrase "downscale whites" has often been used in connection with Trump's base. But Edsall, analyzing a recent report from political scientists Herbert Kitschelt and Philipp Rehm, stresses that it is quite possible for whites who never went to college to have a higher income — not wealthy, but comfortably middle class.
And those who fit that description are an important part of Trump's base.
"Perhaps most significant, Kitschelt and Rehm found that the common assumption that the contemporary Republican Party has become crucially dependent on the white working class — defined as whites without college degrees — is overly simplistic," Edsall explains. "Instead, Kitschelt and Rehm find that the surge of whites into the Republican Party has been led by whites with relatively high incomes."
And those higher-income whites, Edsall stresses, don't necessarily have college degrees.
"High-income whites without college degrees were swing voters 60 years ago, pursued by both parties," Edsall notes. "Now, they are rock-ribbed Republicans."
In an e-mail, Kitschelt told Edsall, "Unlike much of the current debate, the 'white working class' — concentrated in the low-education/low-income sector of the white population — is not the category that has most ardently realigned toward Republicans. It's higher income/low-education whites who are currently still doing well, but fear that in the Knowledge Society, their life chances are shrinking as high education becomes increasingly the ticket to economic and social success."
Nonetheless, Edsall notes, low-income whites without college degrees are still an important part of Trump's base.
"In the 1950s and '60s," Edsall recalls, "low-income whites without degrees formed the base of the Democratic Party. Now, this group leans Republican."
Meanwhile, Edsall reports, another demographic has become increasingly important to the Democratic Party: whites who are college-educated but low-income. That demographic was almost unheard of 60 or 70 years ago, when a college degree practically guaranteed a decent income.
"Two generations ago, there were almost no low-income whites with college degrees, a group that made up 1.5 percent of white voters in 1952," Edsall observes. "These voters were a swing bloc without firm commitment to either party. By 2016, this constituency had grown to form 14.3 percent of all voters. They have, in turn, become the most loyal white Democratic constituency."
Looking ahead to 2020, Edsall asserts that the next presidential race "may well prove to be a base-vs.-base election." But he quickly adds that "the outcome may lie in the hands of the substantial proportion of the electorate that is undecided: 7 percent, according to Pew."