Nikki Haley Says Racist Killer 'Hijacked' Confederate Flag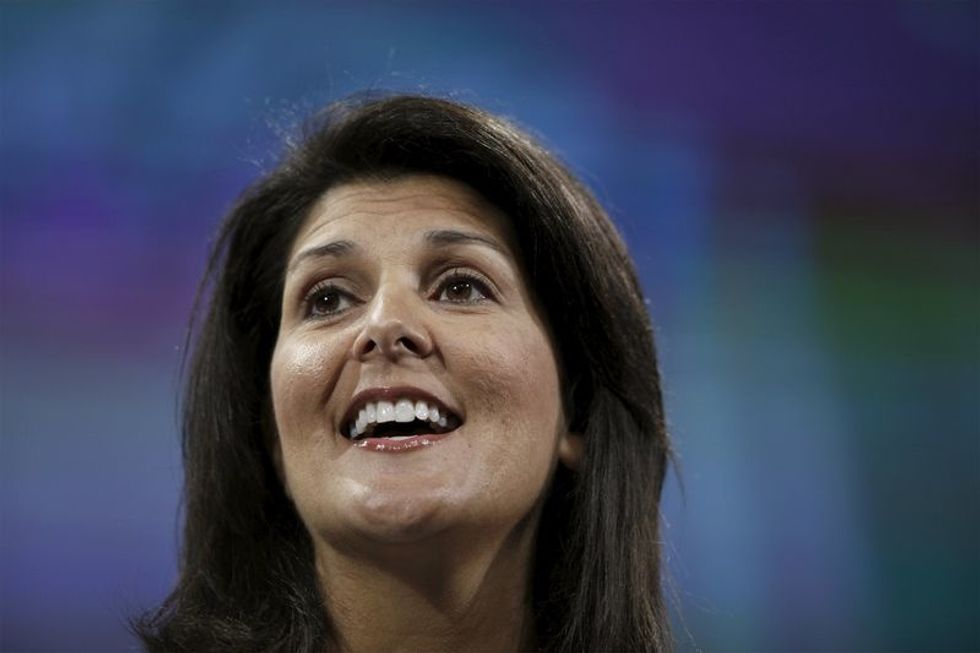 Nikki Haley — the former South Carolina governor turned ambassador to the United Nations under Donald Trump — reflected on her decision to remove the Confederate flag from South Carolina's state capital during her time as governor, saying that the symbol had once represented "service, and sacrifice, and heritage" but was "hijacked" by white supremacist Dylann Roof when he posed with the flag before shooting up an African-American church in Charleston in 2015.
"Here is this guy that comes out with his manifesto, holding the Confederate flag, and had just hijacked everything people thought of," Haley said of Roof.
People saw it as service, and sacrifice, and heritage. But once he did that, there was no way to overcome that," Haley said on conservative media provocateur Glenn Beck's podcast. "And the national media came in in droves, they wanted to define what happened, they wanted to make this about racism, they wanted to make this about gun control, they wanted to make this about the death penalty, and I really pushed off the national media."
Haley had earned plaudits at the time for removing the flag — which represents slavery and oppression — after the shooting.
"I think the more important part is it should have never been there," Haley said at the time. "These grounds are a place that everybody should feel a part of. What I realized now more than ever is people were driving by and felt hurt and pain. No one should feel pain."
However, now four years later, Haley is singing a different tune, saying her hands were basically tied in removing the symbol.
It's unclear why Haley is revising her own history. However, there has been speculation that Trump is considering removing Vice President Mike Pence from his 2020 ticket and replacing him with Haley. Haley, for her part, fueled those rumors herself when she tweeted about them.
This is also not the first time Haley has changed positions. In 2016, Haley endorsed Sen. Marco Rubio (R-FL) in the presidential primary, and took veiled swipes at Trump.
"Some people think that you have to be the loudest voice in the room to make a difference. That is just not true. Often, the best thing we can do is turn down the volume," Haley said at the time.
However, Haley went on to join Trump's administration. And recently, as she makes the rounds to promote her book, she called Trump — who lies multiple times a day — "truthful."
"In every instance that I dealt with him he was truthful, he listened, and he was great to work with," Haley said last month in an interview on NBC's "Today Show."
Published with permission of The American Independent Foundation.