No, John Kelly Isn't Leaving Yet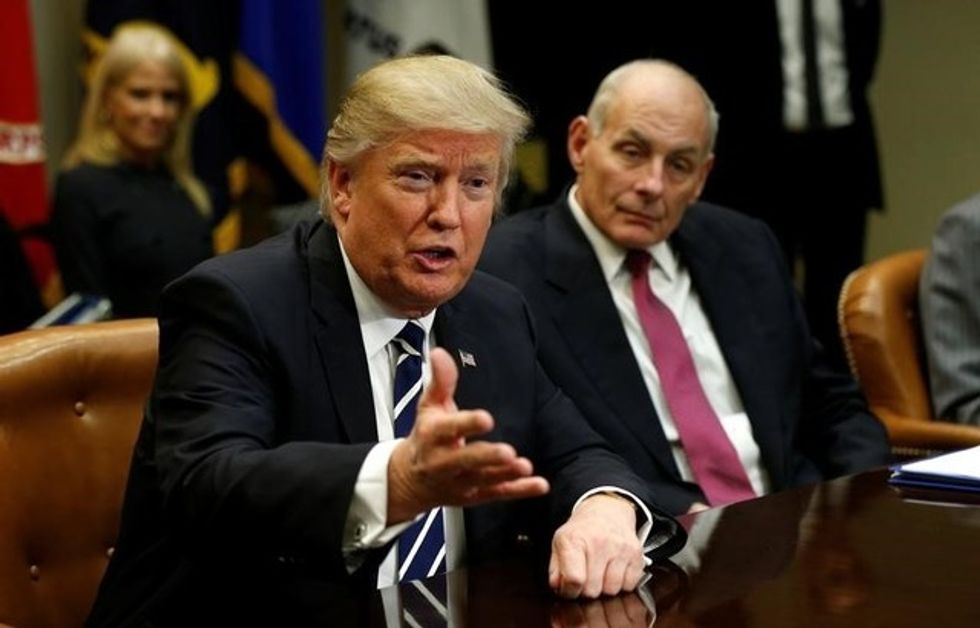 Reprinted with permission from AlterNet.
It seems President Donald Trump just can't get rid of White House Chief of Staff John Kelly, no matter how much he loathes him.
Kellyanne Conway, a counselor to the president, announced Tuesday that Kelly will be staying on past the end of the year, despite Trump's previous remarks saying he will be gone before then, as the Washington Post reported. Conway said he will be staying until Jan. 2 "at least" and added, when asked, that Trump may choose to keep him on even longer.
"I know they both love this country and want there to be a transition to the next leader here," she said.
When Trump first announced Kelly's ouster — in an apparent burst of spite — he said he would announce the chief of staff replacement in a day or two. But those plans were scrapped with Kelly's presumed replacement, vice presidential Chief of Staff Nick Ayers, posted on Twitter that he didn't want the job.
Since then, numerous reports have suggested that top candidates — including Treasury Secretary Steve Mnuchin and Office of Management and Budget Direct Mick Mulvaney — withdrew themselves from consideration. Rep. Mark Meadows (R-NC) has been one of the few people openly vying for the job, though it's not clear how serious this proposition is.
Trump has pushed back on the idea that he's struggling to find a replacement for Kelly. But the fact that his original timetable was scrapped and Conway now says Kelly could stay on indefinitely hardly strengthens his argument.
Of course, in the Trump White House, everything is up in the air — even after it's been announced. Kelly could be out by the end of the week and Conway herself could take his place. We never know what's going to happen until it happens — and sometimes, not even then.
Cody Fenwick is a reporter and editor. Follow him on Twitter @codytfenwick.