No Joke: Speaker Boehner Rents Washington Apartment From Tanning Lobbyist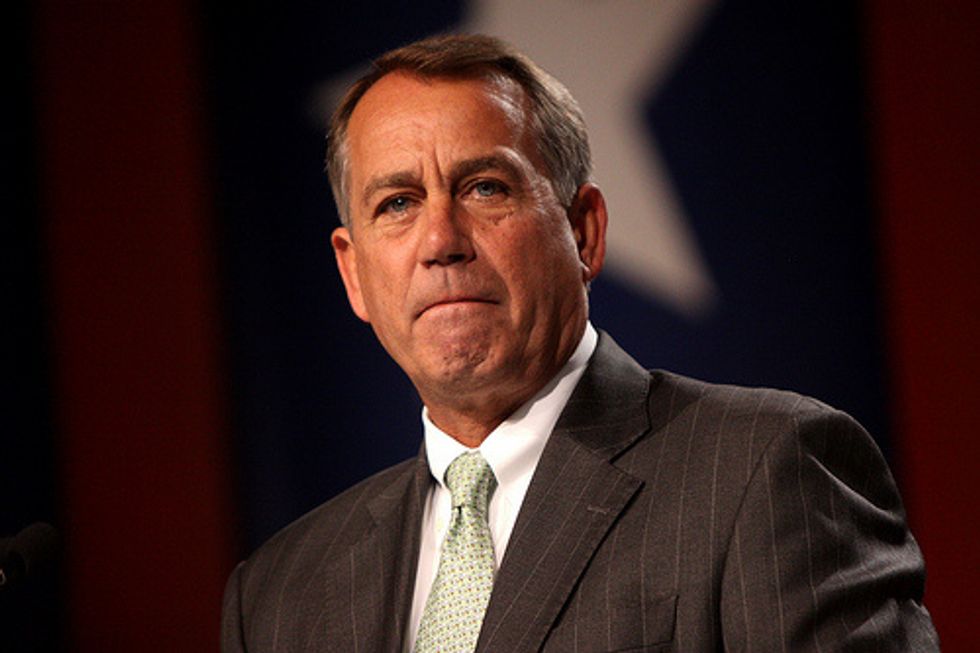 Since the Washington Postfirst reported in 2006 that House Speaker John Boehner (R-OH) rents his Washington D.C. apartment from a lobbyist, both Boehner and the political operative have stressed that their professional relationships have remained separate. But now, for skeptics everywhere, the proof is in the Speaker's skin tone.
The Daily Callerreported Tuesday that John D. Milne, Speaker Boehner's landlord, works for mCapitol, a lobby group commissioned by the American Suntanning Association in 2013. Moreover, the right-wing news site also reported that Boehner has accepted campaign donations from the Indoor Tanning Association.
Boehner is not the only recipient of campaign donations from the Indoor Tanning Association. The lobbying group contributed $54,800 to members of Congress in 2012, with all but $2,000 going to Republicans. Recipients included Reps. Michael Grimm (R-NY) and Patrick Tiberi (R-OH), who — probably not coincidentally– have sponsored a bill that would have repealed a 10 percent tax on indoor tanning included in President Obama's signature health care law. The Indoor Tanning Association applauded the move:
"The Indoor Tanning Association applauds congressmen Michael Grimm of New York, Pat Tiberi of Ohio, Phil Roe of Tennessee and the 24 original co-sponsors for their leadership in introducing H.R. 2092, legislation to repeal the regressive 10% tax on tanning services enacted as a part of the Patient Protection and Affordable Care Act (President Obama's healthcare reform legislation)," the group wrote in a 2011 press release.
Nevertheless, Boehner and his landlord insist that Milne's job is a coincidence that does not influence his legislative agenda.
"John Milne does not lobby John Boehner on any issue and has not lobbied him on any issue during the time period in which John has been renting the property," Don Seymour told the Washington Post in 2006.
Boehner, who claims that he does not artificially tan, supposedly does not enjoy any fringe benefits of having a tanning lobbyist as a landlord. "There is not nor has there ever been a tanning bed in the residence!" Milne told the Daily Caller.
Other lobbyists with close ties to the Speaker include Bruce Gates from the cigarette company Altria. Gates has been the top individual donor to Boehner throughout his long career. And Boehner, who is a smoker, once handed out checks from the tobacco industry on the House floor while members debated legislation to curtail tobacco subsidies.
But that was surely a coincidence.
Gage Skidmore via Flickr