No, Trump, Most Dangerous Place In The World Is Not Ferguson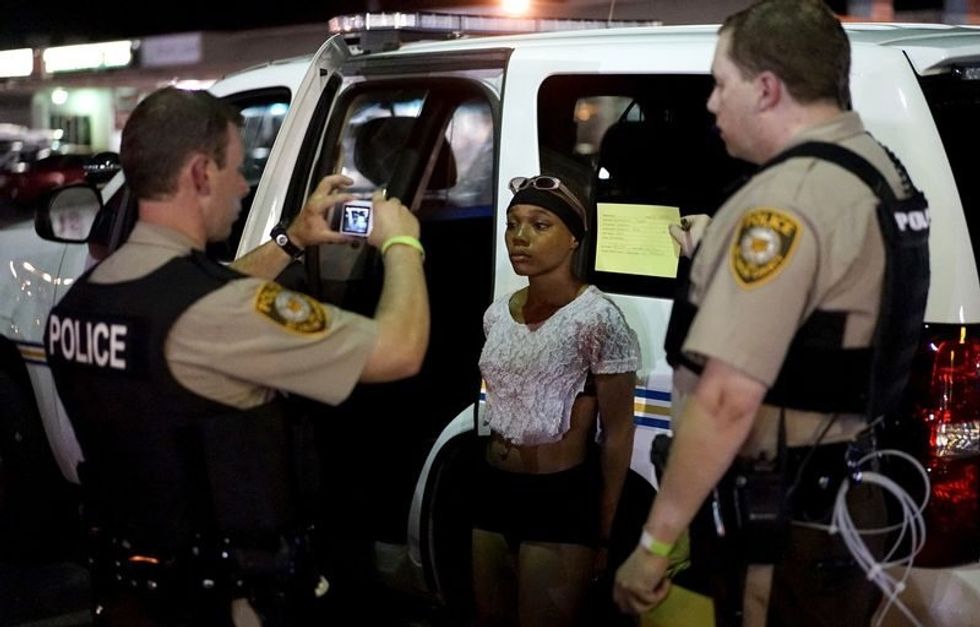 I hesitate to bring up facts.
If recent years have proven nothing else, they've proven that we have fully embarked upon a post-factual era wherein the idea that a thing can be knowable to an objective certainty — and that this should matter — has been diminished to the point of near irrelevancy.
Donald Trump is the avatar of the era. Not content to rest on his laurels, he recently provided superfluous proof of his supremacy in mendacity. Asked by The New York Times to name the most dangerous place in the world he's ever visited, Trump replied that "there are places in America that are among the most dangerous in the world. You go to places like Oakland. Or Ferguson. The crime numbers are worse. Seriously."
You wonder whether it's worth correcting him. After all, neither Trump nor his followers seem especially interested in truth. But for the record, according to the Citizens Council for Public Safety and Criminal Justice in Mexico, which tracks murder statistics around the world, only four U.S. cities make the list of the 50 most dangerous places on Earth. None of them is Ferguson or Oakland.
Trump's use of those cities, both with high poverty rates and large African-American populations, is, of course, intended as a crude dog whistle to the angry white men he's courting — some old-fashioned victim blaming and shaming to rouse the rabble. But it got me thinking about this whole concept of the most dangerous place on Earth. If by that we mean the place with potential for the greatest amount of harm to the largest number of people, maybe we should broaden our definition of "danger."
For example, climate change is sure dangerous, linked as it is to increased risk of fire, flood, famine, drought, freakish storms, high temperatures and resultant illnesses. The World Health Organization says this already contributes to 150,000 deaths a year and that between 2030 and 2050, the death toll could rise to a quarter million a year. A 2015 study in the journal Politics and Policy found the GOP is virtually the only major conservative party in any democracy on Earth still denying this reality — and opposing measures to deal with it.
So the most dangerous place on Earth could be Republican headquarters.
Lead poisoning causes behavioral problems and irreversible brain damage in children and memory loss, high blood pressure, decline in mental functioning, reduced sperm count and miscarriages in adults. The water crisis in Flint, Mich., we now find, was the tip of the proverbial iceberg, with reports that high lead levels have been found in 2,000 water systems serving 6 million people in 50 states.
So the most dangerous place on Earth might be your local water department.
The economic collapse of 2008 wiped out $7.4 trillion in stocks, $3.4 trillion in real estate and 5.5 million jobs, according to a report from the Pew Charitable Trusts. It cost the average American household $5,800 in lost income. The effects were felt worldwide amid fears of a global financial meltdown, a Second Great Depression, brought about by too-big-to-fail-banks playing the U.S. economy like a Vegas casino. Some experts say the threat of a relapse endures.
So the most dangerous place on Earth may be Wall Street.
But it isn't. No, the most dangerous place on Earth is none of the above.
Consider for a moment: To lead America through a world of complex and difficult challenges, the Republican Party offers us Donald Trump. He is pervy, thin-skinned, loud-mouthed and volatile, a preening bully and serial liar who shows little evidence of core values, nor even inner life. Yet, some large percentage of us thinks he should have access to the nuclear codes.
So if you really want to know the most dangerous place on Earth, it's simple. It's every polling place in America, come November.
Leonard Pitts is a columnist for The Miami Herald, 1 Herald Plaza, Miami, Fla., 33132. Readers may contact him via e-mail at lpitts@miamiherald.com.
(c) 2016 THE MIAMI HERALD DISTRIBUTED BY TRIBUNE CONTENT AGENCY, LLC.
Photo: Police take a mug shot of a protester who was detained in Ferguson, Missouri, in this August 10, 2015 file photo. REUTERS/Rick Wilking/Files