Not 'Both Sides': Rising Far-Right Carnage In America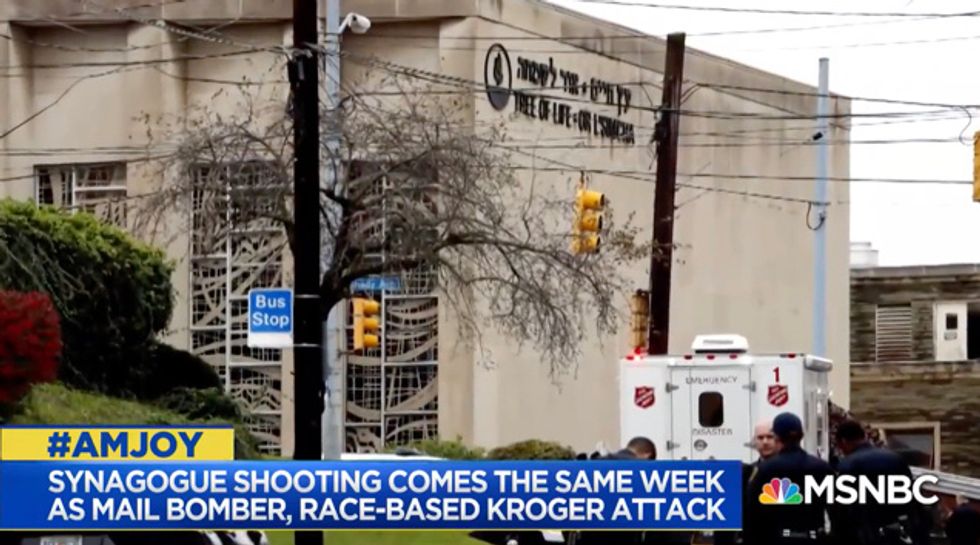 Reprinted with permission from MediaMatters.
Following a mass shooting at the Tree of Life Synagogue in Pittsburgh, PA, where a gunman inspired by an anti-Semitic right-wing conspiracy theory opened fire on parishioners with an assault weapon, expect to hear claims that "both sides" of the political aisle bear responsibility for the tragedy.
The same thing happened last week. During an attempted bombing spree that targeted prominent liberals, including former President Barack Obama, mainstream conservative press pushed the line that both the right and the left are at fault for the current detestable political environment and should equally share the blame and engage in self-reflection.
These arguments have no basis in reality; instead, they are conservatives' self-serving attempts to hide the rot in their own movement, which foments violence even at its highest levels.
The fact is violence is a feature, not a bug, of the conservative movement in the United States today. In terms of frequency and deadliness, terrorism inspired by right-wing political beliefs far outpaces left-wing violence. So, when conservatives argue that both sides should be blamed for a bombing spree targeting liberals, responsible journalists shouldn't act as stenographers for those false or deceptive claims. (And the same goes for the widespread conservative messaging effort to baselessly claim that mobs of Democrats stand ready to kill conservatives before the midterm elections.) Instead, when reporting on political violence, journalists should present the full context: Right-wing violence is a documentable pattern incomparable to violence from the left.
Here are some examples of how conservative media figures engaged in the "both sides-ing" of the pipe bomb spree before the suspect was arrested:
Conservative pundit Erick Erickson wrote, "Both sides have unstable elements among their ranks and some of those unstable elements are becoming increasingly radicalized and violent. Perhaps both sides should turn down the heat on their rhetoric a bit."
Fox News host Charles Payne drew an equivalence between the attempted bombings and Sen. Mitch McConnell (R-KY) being yelled at by protesters while he was eating dinner at a restaurant.
Fox News host Greg Gutfeld claimed on The Five, "If you want to blame rhetoric, if you want to blame violence on rhetoric, everybody is guilty, OK?"
Referencing comments made by Rep. Maxine Waters (D-CA), former Attorney General Eric Holder, and Hillary Clinton, Fox News host Brian Kilmeade said, "You can't have civility, so I think it all plays into this."
According to Fox News contributor Mollie Hemingway, "We've heard a lot of calls for incivility. We've seen a lot of mob violence. We've seen a lot of leftist groups taking over the police functions of cities — of major American cities. So, everyone needs to calm down."
Fox News host Harris Faulkner said, "I wonder if re-litigating how we got here on both sides of the political aisle is something that we need to do right now so that we don't make the same mistakes going forward."
National Review's David French:
2017 – GOP congressmen were almost massacred. Heather Heyer killed.

2018 – bomb threats against Obama, Clinton, and Soros. A man arrested for threatening GOP senators. A ricin threat against Sen Collins. That's a partial list.

Is there any momentum for toning things down? https://t.co/XQEJjgcLzl

— David French (@DavidAFrench) October 24, 2018
(While some conservatives pushed the "both sides" talking points, many others went further, terming the bombing spree a "false flag" attack presumably carried out by liberals. Disturbingly, this claim was found not only in the fever swamps of outlets like Infowars, but also on Fox News.)
The "both sides" rhetoric even crept into nonideological coverage. Introducing a segment on the pipe bomb spree on CNN on October 25, the network's chief national correspondent, John King, said, "It's a plain fact: The president has moved the boundaries of that discourse by calling critics evil, the media an enemy of the state. But it is not right or fair to chastise the president, as I believe we should, without making note of the more aggressive language from the left."
Blame for violent incidents should not be apportioned equally when there is a wide gulf between right-wing and left-wing violence. The "both sides" argument may be safe and easy political punditry, but it is at odds with documented incidents of violence.
As Mark Pitcavage, a senior research fellow for the Anti-Defamation League, told NPR in 2017, "The far left is very active in the United States, but it hasn't been particularly violent for some time." He noted that "in the past 10 years when you look at murders committed by domestic extremists in the United States of all types, right-wing extremists are responsible for about 74 percent of those murders." Two percent of murders in that period were carried out by left-wing extremists. According to a writer at the libertarian Cato Institute, "Terrorists inspired by Nationalist and Right Wing ideology have killed about 10 times as many people as Left Wing terrorists since 1992."
Indeed, according to a 2017 report from the National Consortium for the Study of Terrorism and Responses to Terrorism, "there was a sharp decline in the proportion of terrorist attacks carried out by left-wing, environmentalist extremists during the first seven years of the 2010s (from 64% to 12%). At the same time, there was a sharp increase in the proportion of attacks carried out by right-wing extremists (from 6% to 35%) and religious extremists (from 9% to 53%) in the United States."
Right-wing attacks have also caused many more fatalities in recent years, according to the report:
David Neiwert, an expert on right-wing extremism, laid out the disparities between ideologically motivated violence in a lengthy thread on Twitter:
1) For some reason, folks on the right have extremely short memories when it comes to acts of right-wing political violence. This is especially the case when they are in the middle of a propaganda campaign to make "the left" look violent. A long thread with lots of pix follows. pic.twitter.com/D6MtFP4k65

— David Neiwert (@DavidNeiwert) October 15, 2018
Noting that there have been two prominent attacks in recent years motivated by left-wing ideology — the shooting of Rep. Steve Scalise (R-LA) and others in 2017, and a 2012 shooting in the lobby of the conservative Family Research Council that injured a security guard — Neiwert listed a number of high-profile right-wing attacks, including, but not limited to:
7/27/08
Jim David Adkisson, author of a manifesto urging violent war against liberals, opens fire inside a Knoxville, TN Unitarian Church during the youth performance of a musical, killing two and wounding seven. He tells investigators all liberals should be killed. pic.twitter.com/yraKyDe7M5

— David Neiwert (@DavidNeiwert) October 15, 2018
1/21/09
Keith Luke, Brockton, MA: Luke, a neo-Nazi angry about the inauguration of Barack Obama, kills two and injures one in a rape and murder spree targeting "nonwhite people." He is halted before reaching a synagogue, and later convicted of murder. pic.twitter.com/AzeEjXr3xL

— David Neiwert (@DavidNeiwert) October 15, 2018
6/10/09
James Von Brunn, Washington, DC: Von Brunn, a neo-Nazi seemingly influenced by Posse Comitatus ideology, walks into the U.S. Holocaust Museum and opens fire, killing a black guard. He dies while awaiting trial on murder and hate crime charges. pic.twitter.com/YggGWTNS0D

— David Neiwert (@DavidNeiwert) October 15, 2018
8/5/12
Wade Michael Page, Oak Creek, WI: Page, a member of the neo-Nazi Hammerskin Nation, kills six and wounds four during a shooting rampage in a Sikh temple, before killing himself.⁰⁰https://t.co/i22jaYCMiZ pic.twitter.com/G6aSiov8nK

— David Neiwert (@DavidNeiwert) October 16, 2018
6/17/15
Dylann Roof, Charleston, SC: Roof, a white supremacist radicalized online, joins a bible study session at the Emanuel AME Church, then opens fire, killing nine and wounding another. He is convicted on 33 counts of federal hate crimes, including murder. pic.twitter.com/WVPm2CgdUA

— David Neiwert (@DavidNeiwert) October 16, 2018
Organized violence on the right has also been deadlier. While right-wing media frequently shout about antifa — whose members have caused property damage and engaged in brawls, mostly during fights with far-right extremists — there is no comparison to the 2017 Unite the Right rally in Charlottesville, VA, that ended with a neo-Nazi driving his car into a crowd of counterprotesters, killing Heather Heyer and wounding others.
There are, of course, some instances of people carrying out violence motivated by a left-wing ideology. But to say "both sides" are to blame for political violence broadly is absurd and ahistorical and ignores the way far-right members of the conservative movement have used violence as a tool dating back to the right-wing militia movement of the 1990s.
The arrest of a suspect in the bombing spree has made it clear that the "both sides" argument is vacuous. The suspect owns a van festooned with pro-Trump and anti-Democrat material, and his social media accounts indicate that he was active in the far-right meme community. And then within days, a man who promoted the conspiracy theory that Jews were behind the migrant caravan on right-wing social media platform Gab killed 11 people in a synagogue. How could Democrats share equal blame for possibly motivating these actions?