NRA Rapidly Losing Members And Money As Gun Sales Drop
@EricBoehlert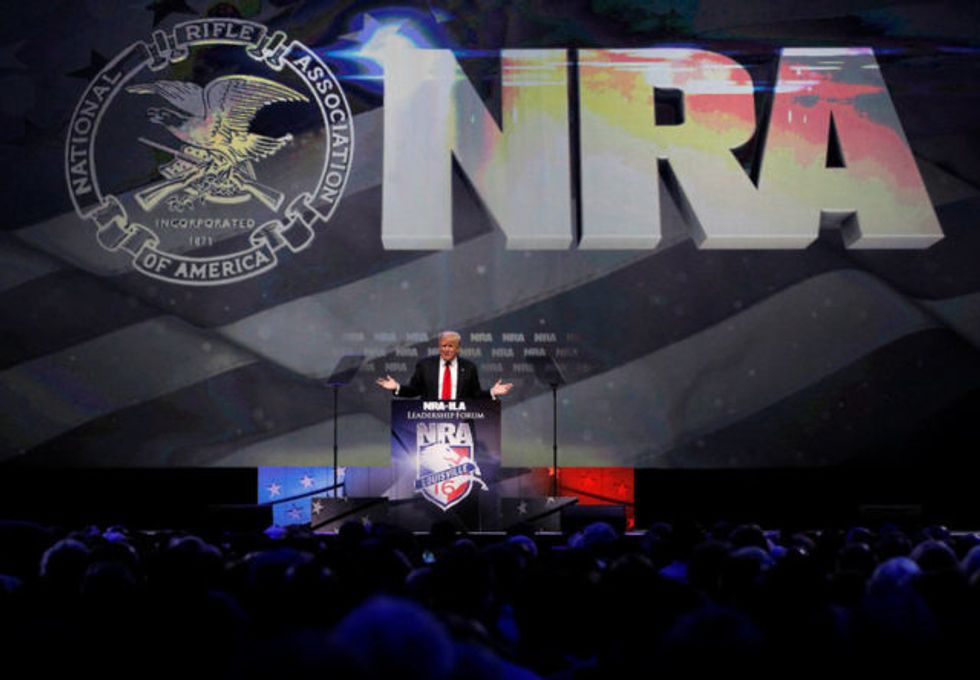 Reprinted with permission from Shareblue.
The NRA is losing membership fees, and it's running up huge deficits as a result. These grim findings, based on an audit obtained by OpenSecrets, raise doubts about the long-term prospects of the radical gun lobbying group.
"The document offers the first look at the NRA's finances in the wake of the 2016 elections," OpenSecrets reports. "It shows that for the last two years, the NRA saw plummeting income from dues-paying members, and that has, in turn, fueled growing deficits."
Specifically, the NRA ran up a $14 million deficit in 2016, which then ballooned to $31 million in 2017. That's a stunning reversal from 2015, when the NRA posted $27 million in positive assets.
The NRA's financial woes are partly fueled by its shrinking membership.
Revenue from dues fell from $163 million in 2016 to $128 million last year. Membership dues also dipped in 2016 compared to 2015, marking the first time in nearly a decade that the group suffered back-to-back years of declines.
For years, the NRA has boasted that it has 5 million members. But that claim has never been independently verified.
The NRA also broke the bank in 2016 on behalf of the GOP, spending $54 million to boost Republican campaigns. Of that, $32 million went to help Trump win the White House.
"The NRA's massive 2016 push was part of what ultimately became a $100 million spike in the group's outlays between 2015 and 2016," according to OpenSecrets.
Now, however, the coffers are depleted.
The gun industry, which the NRA represents, is also suffering huge sales losses in the Trump era. Traditionally, gun sales soar when there is a Democrat in the White House because the NRA and its allies in the right-wing press gin up hysteria about gun ownership being outlawed.
But without that artificial panic, gun sales have plummeted.
This summer, the NRA warned that it might have to shut down its media outlets, which include NRA TV and print publications.
The controversial group has also become entangled in even more controversy than usual, thanks to allegations that it acted as a front group for Russian operatives during the 2016 campaign.
Thanks to its newly shaky finances, the NRA has also had to drastically cut back on its political spending in this year's midterm election cycle.
That could be very bad news for Republicans — many of whom rely heavily on the NRA's outside spending to support them, and many of whom are facing tough re-election fights against energized Democrats.
So far this season, the NRA has committed to spend just $3 million to help Republicans. That's down from $19 million in 2016, and $11 million in 2014 at this same juncture in the midterm election cycle.
The NRA sells pro-gun extremism, and fewer and fewer Americans are buying it.
Published with permission of The American Independent.