Oath Keepers Sent Promise Of Violence To Trump After January 6
@next2godwin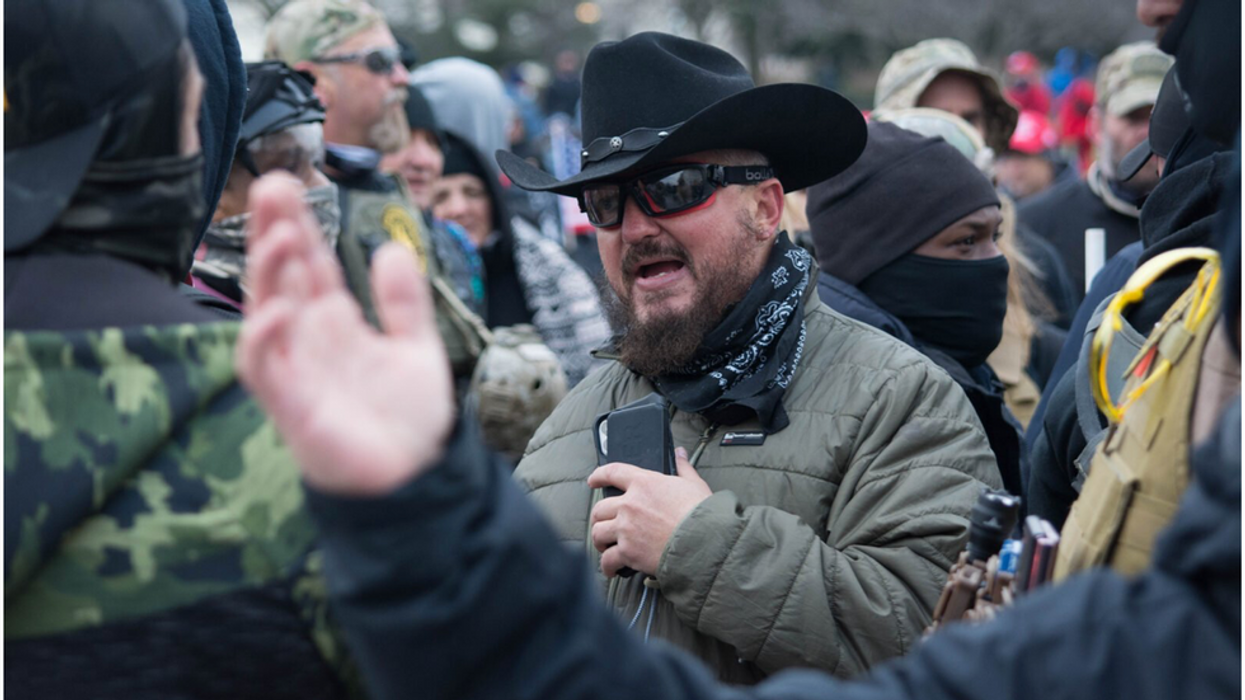 Four days after the insurrection on January 6, 2021, Elmer Stewart Rhodes, extremist leader of the far-right Oath Keepers militia, had a secret meeting in the parking lot of an electronics store in Texas.
There, a witness told the court at his sedition trial, Rhodes penned a message to then-President Trump warning of "combat here on US soil" if the lame-duck leader didn't "use the power of the President" to invoke the Insurrection Act, call up paramilitary groups, and arrest lawmakers who resisted the coup.
"If you don't, then Biden/Kamala will turn all that power on you, your family," Rhodes wrote Trump in a message prosecutors showed Wednesday. "You and your children will die in prison."
Rhodes typed the invective in the phone of trial witness Jason Alpers, identified in court as a military veteran and co-founder of Allied Security Operations Group, a cyber security firm that colluded with Trump allies, including crazed "Kraken" lawyer Sidney Powell, to spread lies about voter fraud in the 2020 elections.
On the stand, Alpers testified he had "indirect" access to Trump's "Inner circle," which was why Rhodes wanted to meet him. Rhodes, Oath Keepers lawyer Kelly SoRelle, and Joshua James, an Oath Keeper who pled guilty to seditious conspiracy in March, were present in that meeting, FBI agent Jennifer Banks told the court.
Prosecutors have presented reams of evidence — many of which were Rhodes' speech — to the jury portraying the paramilitary extremist as an obsessed Trump superfan ready to do anything to keep Biden out of the White House, for fear the Democrat would execute Republicans and destroy the country that voters elected him to govern.
"You must do as Lincoln did," Rhodes wrote in the Notes app of Alpers' phone. "He arrested congressmen, state legislators, and issued a warrant for SCOTUS Chief Justice Taney. Take command like Washington would."
Urging Trump to implement the Insurrection Act — a federal law that empowers a sitting U.S. president to deploy the military to quash a domestic uprising against the government — Rhodes continued: "You must use the Insurrection Act and use the power of the President to stop him. And all of us veterans will support you and so will the vast majority of the military."
"I am here for you and so are all my men. We will come help you if you need us. Military and police. And so will your millions of supporters," Rhodes added.
Alarmed that such "extreme ideologies" would damage his "credibility," Alpers said he didn't deliver the message to Trump but turned it and a secretly recorded audio of the encounter to the FBI.
"[Sending the message] would have wrapped me into agreeing with that ideology in some way, which I did not," Alpers said in court. "I didn't want to get involved."
After typing the ominous warning, Rhodes pivoted to a discussion to expand on his message, which Alpers told the court he secretly recorded on a thumb drive-shaped recording device.
Prosecutors played that audio for the jury, during which Rhodes could be heard telling Alpers that there would be "combat here on US soil no matter what" if Trump handed Biden the reins of power.
When Alpers denounced the storming of the Capitol by a mob of Trump supporters and said he didn't want a civil war, Rhodes expressed regret: had he known Trump wouldn't invoke the Insurrection Act, he and his band of neo-fascist extremists would have "brought rifles" and "fixed it right there and then."
"If he's not going to do the right thing, and he's just gonna let himself be removed illegally, then we should have brought rifles," Rhodes ranted in the recording. "We could have fixed it right then and there. I'd hang fucking [House Speaker] Pelosi from the lamppost."
Already, Pelosi's husband is in the hospital after his skull was fractured by a hoax-peddling Trump fanatic who broke into the Pelosi family's San Francisco home in search of the speaker.
Rhodes called the Capitol riot a "good thing" and warned of mass felony murder charges for everyone who stormed the halls of Congress "... because someone died," according to the Washington Post, to which SoRelle audibly agreed, saying, "I know it's gonna happen."
Rhodes and four of his co-conspirators — Kelly Meggs, Kenneth Harrelson, Jessica Watkins, and Thomas Caldwell — face up to twenty years behind bars if found guilty of the seditious conspiracy charges levied against them by the U.S. government.
Prosecutors are expected to rest their case on Thursday, but their arguments, supported by a litany of evidence, as well as the outcome of this highly-publicized trial, are expected to set a precedent for the December seditious conspiracy trail of another far-right militia: the Proud boys.