Imagine If Obama Offered Trump Advice From His Island Paradise
@JamieStiehm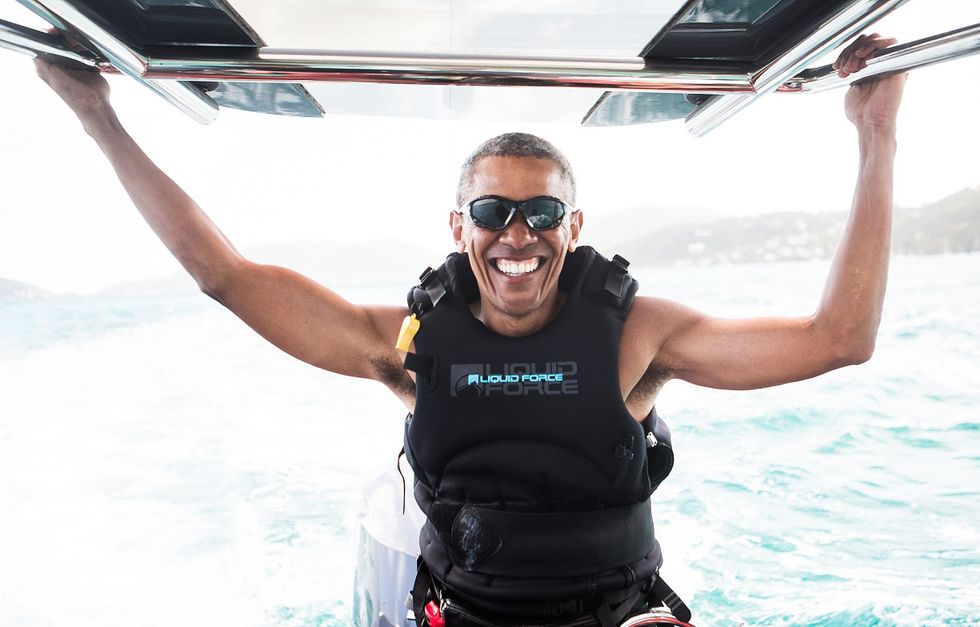 Got your tweet. True, I'm the only living president you can talk to — or who will talk to you. Barack means blessed, don't ask me what Donald means. Cursed?
So, you're missing me already? Obamacare not as easy to replace as all that? Senate staying up late and judges giving you grief? The Oval can be lonely when it's just you and Andy Jackson for company. Gets worse when you watch Saturday Night Live.
But, dude, you've made a truly remarkable debut. All the president's men, all over again? In less than a month, Michael Flynn resigned over his intercepted secret chats with the Russian ambassador, ol' Sergey Kislyak. General Flynn, national security chief, very nice. I fired Flynn from defense intel because he was stone cold crazy — just your type. All your appointments are crazy, with the possible exception of Neil Gorsuch, sitting in my seat.
I heard your voice like a firebell in the middle of the night — from that beautiful phone — but you know, I can't be at your beck and call. Here I am on an island in the blue, taking time out from writing timeless prose from the chamber of my mind. The world is waiting for another memoir. Michelle's here, but she does not send her regards. My wife has serious issues with you, and says Melania does, too.
You're asking what I remember from the Russian briefing. How could I forget what the FBI told us about hacking and contacts during the campaign? Director Comey was so late to the real spy game because he was pursuing some kind of demon with Hillary and her emails. And somehow he "forgot" to tell the DNC they were being hacked.
And I'm the guy who appointed him. I'm the guy who appointed the most self-righteous Republican in town. And Comey threw the election to you, let's be honest. That's what I get for turning the other cheek. It's my worst flaw.
No, I won't tell till I'm asked to testify, when that day comes. Investigations are underway and your friends are few on the Hill. You aren't asking me to be part of a cover-up, right? Let me make this perfectly clear: This unseemly stuff happened on my watch, but I had nothing to do with it. I was too busy being perfect.
Now let me point out that if Flynn hadn't lied to Mike Pence, we wouldn't even be having this talk. Mike didn't like being set up to lie — to the press — because Flynn later admitted he gave him "incomplete information." In his resignation, Flynn apologized for misleading Mike, but not for the real reason he was gone: his Russian contacts. Nothing about the danger of blackmail. Then he praised himself for his "distinguished service." A rich brag.
Rich, like you. Moral of the story: One honest man can wreck a whole conspiracy. Just sayin.' Does the name Alexander Butterfield sound familiar? He told Congress there was a taping system in the Nixon White House.
You say it's not fair, you haven't had one day of peace to enjoy White House splendor and joy rides on Air Force One. The Women's March on Washington came to your doorstep your first full day in office, half a million strong. It wasn't "just" women's voices, Donald. It was everybody who ever felt insulted by you. You have a curious talent for cutting anybody down; ask John McCain, one of the Senate Republican votes you need, about being called a loser.
The March set off a contagious wave of protests in airports and downtowns. The travel ban on seven Muslim countries set off quick-burning anger across the country. Firing Sally Yates, the acting attorney general, for taking a stand against the ban fell like a slap against women and the rule of law. Especially now that we know it was Sally who took concerns about Flynn to the White House in the first place. She was disrespected.
May I suggest you resign with honor over an imaginary illness. After a short recovery at Mar-a-Lago in Palm Beach, you could replace Arnold on the "The Celebrity Apprentice." And then we'll have that golf game.
To find out more about Jamie Stiehm and read features by other Creators Syndicate writers and cartoonists, visit creators.com.
IMAGE: Obama sits on a boat during a kite surfing outing with British businessman Richard Branson during his holiday on Branson's Moskito island, in the British Virgin Islands. Jack Brockway/Virgin Handout via REUTERS