Remember When Obama Saved 1.5 Million Auto Industry Jobs?
@EricBoehlert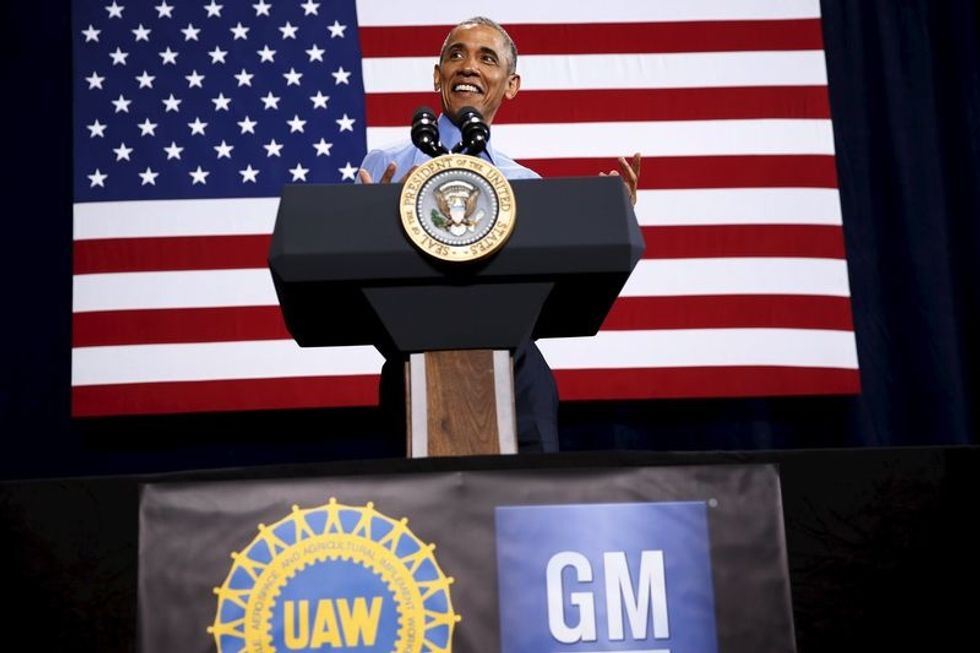 Reprinted with permission from Media Matters. 
Fox News and much of the conservative media slipped into messiah mode coverage this week when news broke that Carrier, the air conditioner giant, has decided to not move approximately 1,000 manufacturing jobs from Indiana to Mexico as the company had previously planned. President-elect Donald Trump took credit for having negotiated the respite.
Cheering Trump's hands-on approach and his commitment to the working class, Fox talkers portrayed the Republican's maneuver in relentlessly glowing terms. "A Big Win For Donald Trump," announced Bill O'Reilly's show last night.
Fox's Stuart Varney claimed Trump had played hardball with Carrier and won: "He strong-armed them. What's wrong with that?" (According to reports, it was likely the lure of additional tax incentives that convinced Carrier to keep the jobs in Indiana, not being "strong-armed" by Trump.)
Trump's cheerleader-in-chief Sean Hannity was just gobsmacked by the whole thing, saying on his radio program that he "can't think of a time in my lifetime where a president-elect or a president ever" did this.
Hannity loved the fact that Trump reached out to corporate America, which is fascinating because you know what Hannity didn't love in 2009? He didn't love when newly elected President Obama reached out to Detroit's auto industry in the form of an $80 billion-dollar bailout. Back then, an unhinged Hannity called Obama every name in the book as conservative pundits accused the president of trying to destroy democracy and capitalism.
Fox News and the entire right-wing noise machine relentlessly denounced Obama as he tried to rescue American manufacturing jobs, which the federal bailout eventually did. One independent study estimated the aggressive government move saved 1.5 million jobs. "This peacetime intervention in the private sector by the U.S. government will be viewed as one of the most successful interventions in U.S. economic history," the study's author wrote.
Lots of people might forget, especially in light of the bailout's stunning success, but Obama's push to help the Detroit industry once served as a defining line of GOP attack. The bailout symbolized the dangers of Obama's alleged socialist/gangster leanings. This, despite the fact it was actually President George W. Bush who unveiled the first phase of the bailout plan during the final weeks of his presidency, in order to "avoid a collapse of the U.S. auto industry."
Nonetheless, the topic soon became a cornerstone of the Tea Party and its overheated attacks on Obama, amplified by Fox News.
Remember how Varney this week toasted Trump for having "strong-armed" Carrier? Back in 2009, the host was furious that Obama was allegedly trying strong arm the public into buying American cars: "[N]ow you're in the position where the government somehow has to coerce or force us all into buying the small cars that it insists Detroit puts out." (Varney routinely whined that Obama was a "bully" to business.)
Meanwhile, Glenn Beck, then with Fox News, claimed the bailout reminded him of "the early days of Adolf Hitler." Fox favorite Michelle Malkin compared the auto deal to a "crap sandwich," and a "lemon" the U.S. taxpayers would be stuck with "for life."
Hannity himself berated Obama for engaging in what he called a "mission to hijack capitalism." And in the infamous words of Rush Limbaugh, it was as if General Motors and Chrysler "bent over and grabbed the ankles." (Limbaugh loves Trump's Carrier deal, by the way.)
Question: Why would conservatives be so upset about saving American manufacturing jobs? Seems bizarre, right? But they were furious. So wrapped up in hatred for the new Democratic president, conservative pundits despised the government's attempt to save GM and Chrysler from bankruptcies. They also seemed to despise the companies' union workers, suggesting they were wildly overpaid. (Pundits even lied about how much the Detroit autoworkers made.)
Republican politicians were also angry. Mitt Romney, who's reportedly being considered for a cabinet position in Trump's administration, derided the auto bailout as a "sweetheart deal disguised as a rescue plan," and guaranteed that if Detroit companies accepted the aid, you could "kiss the American automotive industry goodbye."
In the end, the bailout that Obama championed saved more than one million jobs, and Fox News still hated it.
If only Obama had saved 1,000 Carrier jobs instead.
IMAGE: President Obama delivers remarks on the U.S. auto industry at the UAW-GM Center for Human Resources in Detroit, January 20, 2016. REUTERS/Jonathan Ernst