Obama To Nominate Yellen As Fed Chief
@AFP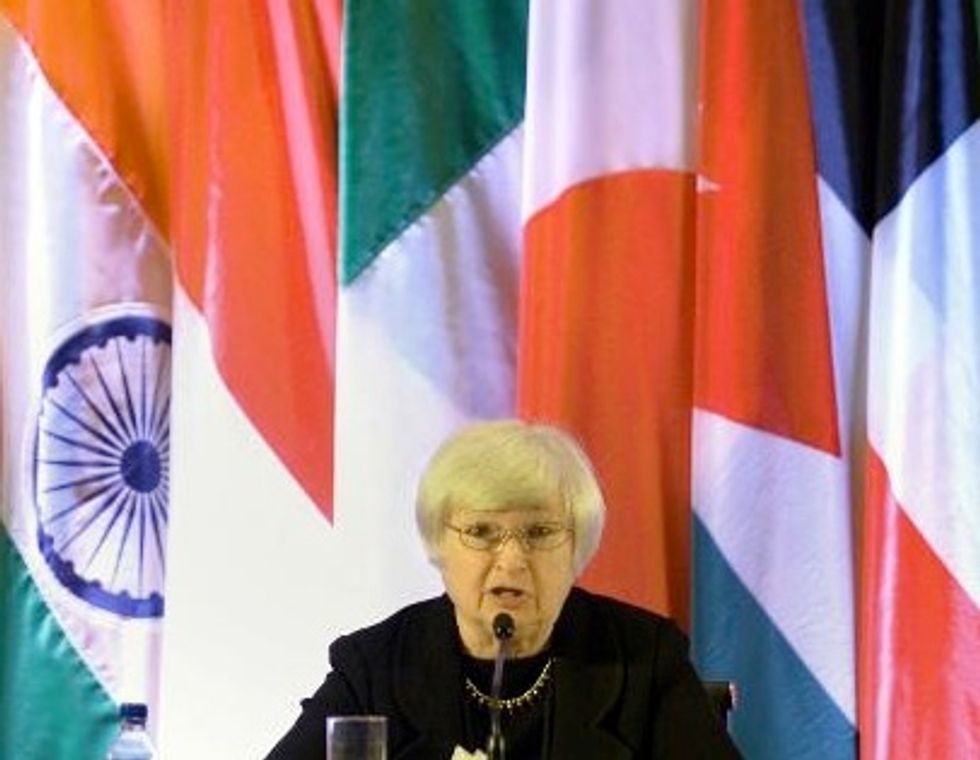 Washington (AFP) – President Barack Obama will nominate Janet Yellen Wednesday as the first female head of the U.S. Federal Reserve, at a time when raging political turbulence imperils a fragile American economy.
Obama will put Yellen forward for a four-year term, succeeding outgoing U.S. central bank chief Ben Bernanke, whose tenure and policies will forever be associated with tackling the global financial crisis and navigating a recovery.
A U.S. official said Tuesday that the announcement will be made at a White House event at 1900 GMT, also attended by Bernanke, paving the way for confirmation hearings.
Yellen, a vice chair of the Fed for four years, was always a contender for the top post but she emerged a clear favorite after another possible pick, former Treasury secretary Lawrence Summers, pulled out of the running due to opposition from Obama's Democratic allies in the Senate.
Yellen, 67, sits in the middle of the Fed "doves" — those focused on stimulating the economy back to full employment and, not yet at least, worried about the specter of easy money sparking uncontrollable inflation.
But one of her first tasks as Fed chief, if confirmed by the Senate, will be to judge how quickly to taper off the monetary stimulus policies that the central bank had earlier appeared set to ease by the end of the year.
Economists and markets widely expected the $85 billion a month quantitative easing program to be scaled back after September's Federal Reserve Open Market committee (FOMC) meeting.
But a worsening of some key economic indicators, as well as political battles over economic policy in Washington, forced a rethink. Market confidence had also been rattled by talk of a sudden end to Fed stimulus.
Yellen has spent more than a dozen years altogether at the Fed in various roles.
Born in New York, she is married to economics Nobel prize winner George Akerlof and is the mother of economics professor Robert Akerlof. She studied economics at Brown University and then Yale, where she earned a doctorate.
Yellen has been a professor at Harvard and, more recently, at the University of California, Berkeley, where her husband also teaches and conducts research.
She will begin to prepare for her confirmation hearings at a time of stark partisanship in Washington, with Obama and Republicans facing off over the need to lift the U.S. debt ceiling and a government shutdown.
Summers, who served as a key White House economic advisor in the crisis-marred initial few years of Obama's first term, had run into trouble over his record on policy while a member of the Clinton administration in the 1990s and for a reputedly abrasive personality.
In particular, three Democratic senators on the Senate Banking Committee, the first stop for congressional approval, raised questions about Summers having driven the banking deregulation that led directly to the financial crisis, and about his ties to Wall Street.
Yellen, by contrast, won the backing of around 500 economists, who signed a petition stating that she was one of the first members of the FOMC to realize the financial sector's difficulties in 2007 could cause a major recession.
Democratic Senator Sherrod Brown, who pushed for Yellen's appointment, said the current bank vice chair "would work to prevent future bailouts, boost our housing markets, and give the Fed's mandate to maximize employment the attention it deserves."
"In the midst of a fragile economic recovery, it will be more important than ever to have a steady hand and consensus builder at the helm of the Fed," Brown said.
Yellen is not expected to face serious opposition from Democrats in the Senate, but could face some tough questions on the monetary easing program from Republican senators.
Senator Tim Johnson, Democratic chairman of the Senate Banking committee, said Yellen had a "depth of experience that is second to none" and would be an excellent Federal Reserve Chairman.
Democratic Senator Chuck Schumer said he believed Yellen would be confirmed by a wide margin.
Bernanke has led the Fed since 2006, through one of the most turbulent economic periods in U.S. history. He was originally chosen by Republican president George W. Bush. Obama kept him on for a second term in 2010.
Yellen has been close to the Democratic party power center at least since the 1990s. Then-president Bill Clinton selected her for the Fed board in 1994 and named her to his Council of Economic Advisers from 1997-1999.
AFP Photo/Peter Parks