Obama Urges World To Fight IS 'Network Of Death'
@AFP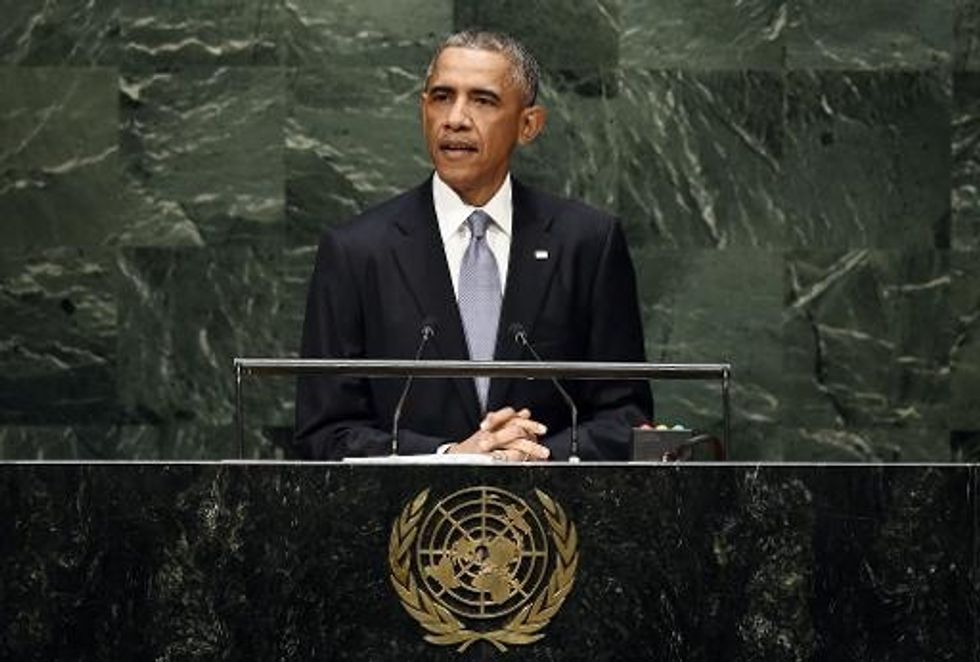 United Nations (United States) (AFP) – President Barack Obama called on the world Wednesday to join the U.S.-led coalition to defeat jihadists in Iraq and Syria, branding them terrorists engaged in a "network of death."
"The United States of America will work with a broad coalition to dismantle this network of death," Obama told the UN General Assembly. "Today I ask the world to join in this effort."
The U.S. president spoke as the United States, backed by its Arab allies, carried out a second wave of air strikes in Syria, the latest front in its campaign to destroy the Islamic State group.
"The only language understood by killers like this is the language of force," Obama said in his address to the 193-nation Assembly.
"We will use our military might in a campaign of air strikes to roll back ISIL," he asserted, referring to the Islamic State of Iraq and the Levant that has since been renamed the Islamic State.
Obama was among the first speakers at the podium of the week-long debate and is to chair a special UN Security Council meeting during which a resolution will be adopted on stemming the flow of foreign fighters to Iraq and Syria.
The U..S-drafted resolution calls on all countries to "prevent and suppress" recruitment and all forms of assistance to foreign fighters, and would make it illegal to collect funds or help organize their travel.
Obama warned "those who joined ISIL should leave the battlefield while they can."
The resolution falls under Chapter 7 of the UN charter, which means the measures could be enforced by economic sanctions or military force.
The appeal for support of the US-led effort was coupled with a call to Muslim countries to reject the ideology of radical Islam, by cutting off funding to extremists and taking aim at militant propaganda on the Internet.
"The ideology of ISIL or al-Qaeda or Boko Haram will wilt and die if it is consistently exposed, confronted and refuted in the light of day," he said.
Appealing directly to the Muslim youth, Obama declared that Islam had traditionally valued education, innovation and the dignity of life.
"Those who call you away from this path are betraying this tradition," he warned.
The United States will be a "constructive partner" with Muslim countries in the fight against radical Islam, said Obama, but ultimately, this is a "task for the people of the Middle East themselves."
AFP Photo/Jewel Samad