On Charlottesville Anniversary, Activists Hit Organizers With Anti-KKK Act
@alexvhenderson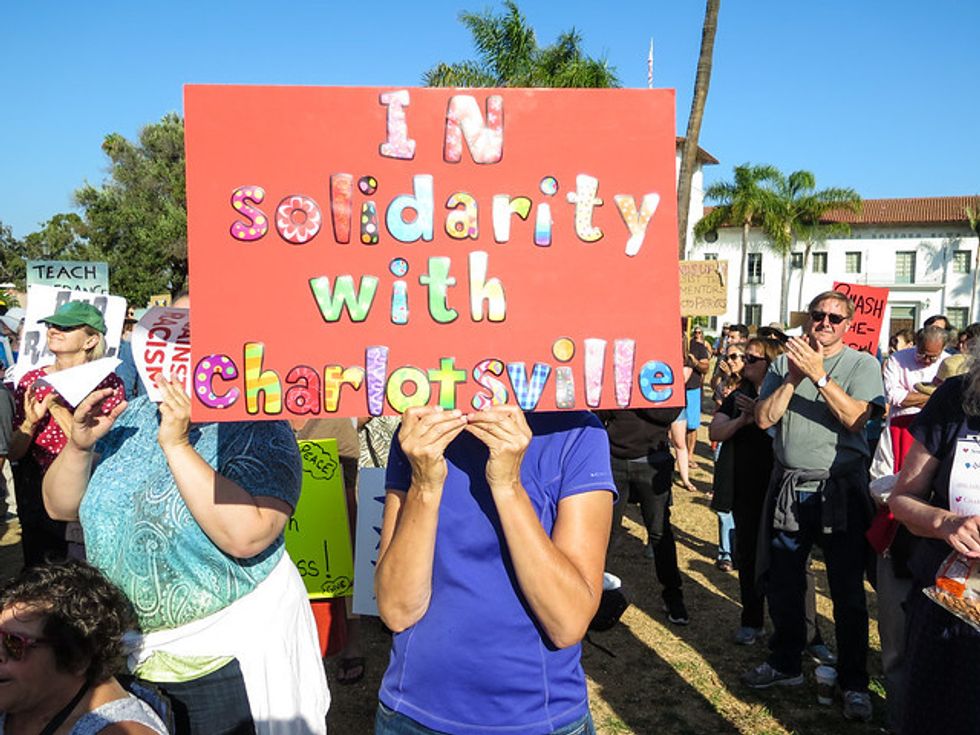 Two years have passed since the Unite the Right rally of August 2017, when hundreds of white supremacists, white nationalists and neo-Nazis gathered in Charlottesville, Virginia and one of them murdered counter-demonstrator Heather Heyer by driving his vehicle into a crowd of counter-demonstrators. Many other acts of white nationalist terrorism have occurred since then — mostly recently, an anti-Latino attack in El Paso, Texas that left 22 people dead. But activist Amy Spitalnick, in an August 12 article for NBC News, explains how a law used to fight the KKK in the 19th century can be used to fight extremists in Charlottesville in 2019.
Spitalnick, who heads the organization Integrity First for America, notes that her organization is "working with a coalition of Charlottesville community members injured in the Unite the Right rally to sue the two dozen individuals and organizations responsible." And the Ku Klux Klan Act of 1871, Spitalnick stresses, is "central to our case" and is "one of the few legal remedies intended to deal with private — rather than government — conduct that violates civil rights."
The KKK was founded in 1865 and quickly became a major source of domestic terrorism in the United States. Six year later, the Ku Klux Klan Act was passed by a post-Civil War Congress and signed into law by Republican President Ulysses S. Grant — and it offered a "civil remedy," Spitalnick explains.
"Following its passage," Spitalnick recalls, "the first iteration of the Ku Klux Klan organization was effectively dismantled and did not resurface until decades later." And 148 years later, that law is still on the books and can be used to address the harm caused by events like "what happened in Charlottesville."
The organizers of the Unite the Right Rally, Spitalnick emphasizes, engaged in activity that violated the civil rights of Charlottesville residents.
"Over August 11 and 12, 2017, they marched military-style on the University of Virginia and downtown Charlottesville," Spitalnick asserts. "They carried semiautomatic weapons, swastikas and other hate symbols — as well as torches to evoke the tactics of the Ku Klux Klan and the Nazis. They chanted 'Jews will not replace us,' 'blood and soil' and 'white lives matter.' They violently attacked students, clergy and other community members."
Spitalnick goes on to discuss her lawsuit against the Unite the Right organizers, writing, "If everything they own now and in the future can be jeopardized, it makes it much more difficult to recruit followers for these horrific causes. Some defendants cited the lawsuit in deciding against returning to Charlottesville last August."
Spitalnick wraps up her article by noting that the Ku Klux Klan Act of 1871 can be used not only against extremists in Charlottesville, but in other places as well.
"The last two years have proven that Charlottesville was not an isolated incident, but a flashpoint in the rise of extremist violence that's connected to the attacks that followed," Spitalnick writes. "Before killing 11 Jews in a synagogue last October, the Pittsburgh shooter communicated with some of the Charlottesville leaders…. With this trial — and the judgments we expect to win against these extremists — we can help reverse that deadly and hate-filled cycle."