Pennsylvania GOP Nominates 'Full-Blown Insurrectionist' For Governor
@alexvhenderson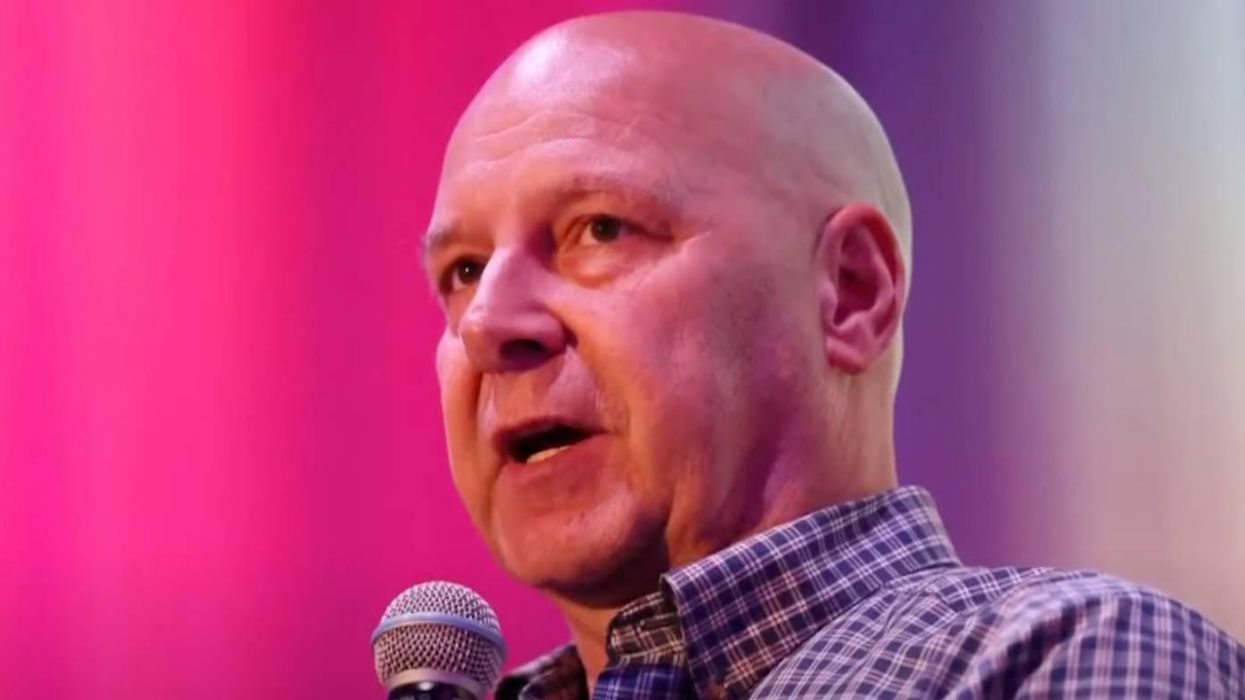 Youtube Screenshot
In Pennsylvania's 2022 GOP gubernatorial primary, Republican voters in the Keystone State went with their most extreme option: Pennsylvania State Sen. Doug Mastriano, a Christian nationalist and far-right conspiracy theorist who has promoted the Big Lie and falsely claimed that the 2020 presidential election was stolen from former President Donald Trump in his state. The primary election, held on Tuesday, May 17, wasn't even close: Mastriano defeated fellow Republican Lou Barletta by 24 percent and will be going up against Democratic Attorney General Josh Shapiro in the general election.
Mastriano's primary victory is being described as a troubling development by a variety of his critics, ranging from liberal Washington Post opinion columnist Greg Sargent to Never Trump conservative Amanda Carpenter. Sargent, in his May 18 column, stresses that Pennsylvania Republicans went with a flat-out "insurrectionist" when they chose Mastriano.
Sargent has been complaining that mainstream media coverage of Mastriano fails to capture just how dangerously authoritarian his views are. And now that Mastriano is officially Pennsylvania's 2022 gubernatorial nominee, Sargent is sounding the alarm even more.
Stop calling Doug Mastriano an "election denialist." Let's be clearer: He's an insurrectionist who's running to use the office to ensure that a Dem presidential candidate never wins his state as long as he's governor. Key to this is Christian nationalism:https://t.co/yS7T5jbJuE
— Greg Sargent (@ThePlumLineGS) May 18, 2022
Pennsylvania has had a variety of governors in recent decades, from Republican Tom Ridge (a moderate conservative and Never Trumper who was popular in the Philadelphia suburbs during his two terms) to centrist Democrats such as Ed Rendell (a former two-term Philly mayor who chaired the Democratic National Committee in the early 2000s) and the late Bob Casey, Sr. (father of Sen. Bob Casey, Jr.). But if Mastriano defeats Shapiro in the general election, the Keystone State will have a dangerously authoritarian governor who is way to the right of even former Sen. Rick Santorum.
"For the love of democracy, please stop using the phrase 'election denier,'" Sargent writes. "Now that Doug Mastriano has won the GOP nomination for governor in Pennsylvania, countless news accounts are describing him with that phrase. This is meant to convey the idea that Mastriano won't accept Donald Trump's 2020 presidential reelection loss."
Sargent continues, "That's true, but it's insufficient. Let's state this plainly: Pennsylvania Republicans just nominated a full-blown insurrectionist who intends to use the power of the office to ensure that, as long as he is governor, no Democratic presidential candidate wins his state again."
The Post columnist also points out that "Christian nationalism" is a key element of Mastriano's ideology. In other words, Mastriano believes that God Almighty wants him to throw out election results if they favor Democrats.
"Mastriano's victory also highlights another story that's bigger than this one contest: the role of Christian nationalism in fueling the growing insurrectionist streak on the right," Sargent explains. "This nexus underscores the danger this movement poses in a way that also demands more clarity about the worldview of candidates like Mastriano."
Sargent adds that Mastriano "is running on what is functionally an open vow to use the power of the governor's office to nullify future election losses, even if they are procedurally legitimate, and even if he knows this to be the case."
"When Mastriano tried to help Trump in 2020," Sargent notes, "he adopted the radical argument that the Pennsylvania legislature had the 'sole authority' to reappoint new electors for Trump, because (Joe) Biden's win was 'compromised.' Mastriano's claim of a 'compromised' Biden win, of course, wasn't tethered to actual facts. But here's the crucial point: It didn't have to be. The aim of overturning the election was itself such a righteous goal that the creation of a pretext for accomplishing it was justified on that basis."
Meanwhile, in an article published by the conservative website The Bulwark on Tuesday night after the Republican primary election was called for Mastriano, Carpenter declares, "Doug Mastriano is an insurrectionist, period."
Sargent and Carpenter have their differences politically. While Sargent is liberal, Carpenter is among the Never Trumpers who has been condemning the MAGA movement from the right. But one thing they obviously agree on is that Mastriano is quite dangerous. Mastriano, Carpenter notes, "bused supporters to the Capitol on January 6, was photographed on the Capitol grounds, and ever since has sought to use his limited political powers as a Pennsylvania state senator to overturn the election."
This is must read material here. You have to understand how the Christian message and election subversion—both on January 6 and going forward—work together. https://t.co/JOZarEHLWV
— Amanda Carpenter (@amandacarpenter) May 18, 2022
Carpenter points out that "behind the scenes, Republicans have fretted about Mastriano's candidacy" — fearing that Shapiro would defeat him in the general election. And Shapiro himself, during the primary, said that Mastriano would be the easiest Republican primary candidate to defeat. But Carpenter isn't so sure.
Carpenter writes, "Do you want to assume Mastriano is going to get shellacked by the super popular, likable, nice man that is Democratic gubernatorial candidate Josh Shapiro? The same Shapiro that was so confident that he put out an ad during the GOP primary that looked like he was trying to boost Mastriano's prospects with Trump voters?"
The conservative adds that in 2016, some pundits insisted that Donald Trump couldn't defeat Hillary Clinton in Pennsylvania. Indeed, the Biden campaign left nothing to chance in the Keystone State in 2020 because they remembered some famous last words from four years earlier: Trump can't win in Pennsylvania.
Like Sargent, Carpenter points out that the Pennsylvania secretary of state position is chosen by the governor.
"Republicans are still willing to bet our democracy on someone else cleaning their own house for them," Carpenter warns. "Oh, and keep in mind that in Pennsylvania, the secretary of the commonwealth — the top elections official — is appointed by the governor. Does anyone doubt that Mastriano would fill that position with someone willing to do whatever it takes to ensure Republicans win the state in 2024?"
Carpenter continues, "There's an obvious lesson: Hoping that Democrats will solve the problems of the Republican Party has been a grave mistake. It's not often countries get second chances. But if the GOP now gets behind insurrectionists like Mastriano, it's January 6th forever. Which is exactly what Mastriano is campaigning on."
Reprinted with permission from Alternet.