Poll: Democrats Could Win Obamacare Debate, Still Lose Senate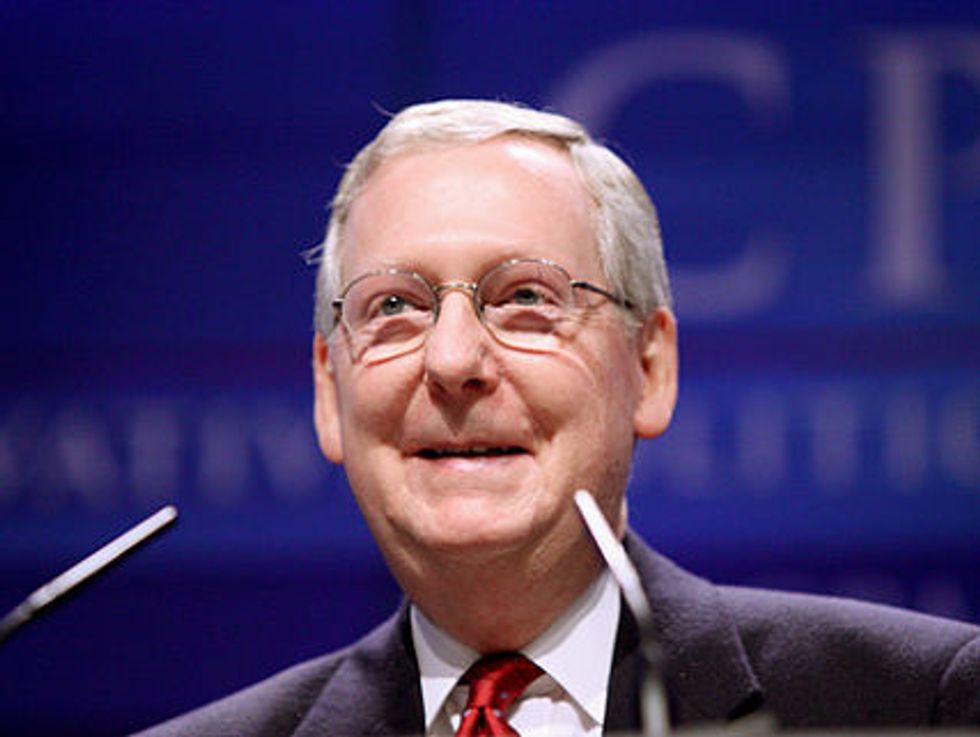 Republicans are in a good position to win majority control of the U.S. Senate — despite their poor poll numbers on almost every key political issue, including health care reform — according to a revealing new Washington Post/ABC News poll.
The poll finds Republicans comfortably ahead in states holding Senate elections in 2014. If the elections were held today, 50 percent of registered voters in those states would vote for the Republican candidate, while 42 percent would vote for the Democrat and 5 percent are unsure.
This 8 percent advantage suggests that the GOP is in good shape to win the net six seats it needs to claim a Senate majority. Republicans already seem likely to win the elections in West Virginia, South Dakota, and Montana, where Democratic incumbents are retiring — Senator Max Baucus (D-MT) has already left office, and was replaced by John Walsh, the likely Democratic nominee in November. That would leave Republicans needing victories in just three of six winnable races in Alaska, Arkansas, Colorado, Louisiana, Michigan, and North Carolina, provided that the GOP defends its own vulnerable seats in Georgia and Kentucky.
Despite Republicans' apparent advantage in the polls, however, the party still has major problems with the American electorate. On a wide range of issues, voters across the country side strongly with the Democratic Party over the GOP:
Voters trust Democrats to handle immigration issues over Republicans by a 44 to 36 percent margin
On energy policy, Democrats lead Republicans 43 to 35 percent
On helping the middle class, Democrats lead 47 to 34 percent
On health care, Democrats have a 44 to 36 percent advantage
The GOP's health care problem actually runs even deeper than that. According to the poll, the Affordable Care Act — opposition to which is literally many Republicans' only political platform — is not going to play a big role in the election.
How can Republicans be winning the Senate vote by 8 percent, while losing on so many key issues? The answer, as Alan Abramowitz explains at Sabato's Crystal Ball, is that the battleground strongly favors the GOP. Because Democrats were so successful in the 2008 elections, when President Obama's big victory expanded the electoral map and they won a net of eight Senate seats, they now find themselves playing defense in states that have since reverted to their Republican voting habits. As such, Republicans may be able to make real gains in November, even while losing the national argument.
The Washington Post/ABC News poll does contain one good suggestion for how Democrats can fight back this year. Although Obamacare doesn't appear to be uniting the public, the minimum wage is:
Democrats (72 percent) and Independents (50 percent) are strongly in favor of a minimum-wage hike, and even among Republicans, the numbers are fairly even (26 percent would be more likely to vote for a candidate who supports a higher minimum wage, while 37 percent are less likely, and 34 percent say it wouldn't make a difference). In other words, this is an issue on which red-state Democrats can play offense.
Some already have. Over the past week, Senator Mark Pryor (D-AR) launched a petition to gather support for a minimum-wage increase, while Senator Kay Hagan (D-NC) has slammed Republican candidate Thom Tillis for suggesting that there shouldn't be a minimum wage at all. Expect to see other endangered Democratic incumbents like Senators Mark Begich (D-AK) and Mary Landrieu (D-LA) making similar headlines soon.
Photo: Gage Skidmore via Flickr