Poll: House Republicans Face Political Risk For Not Extending Unemployment Benefits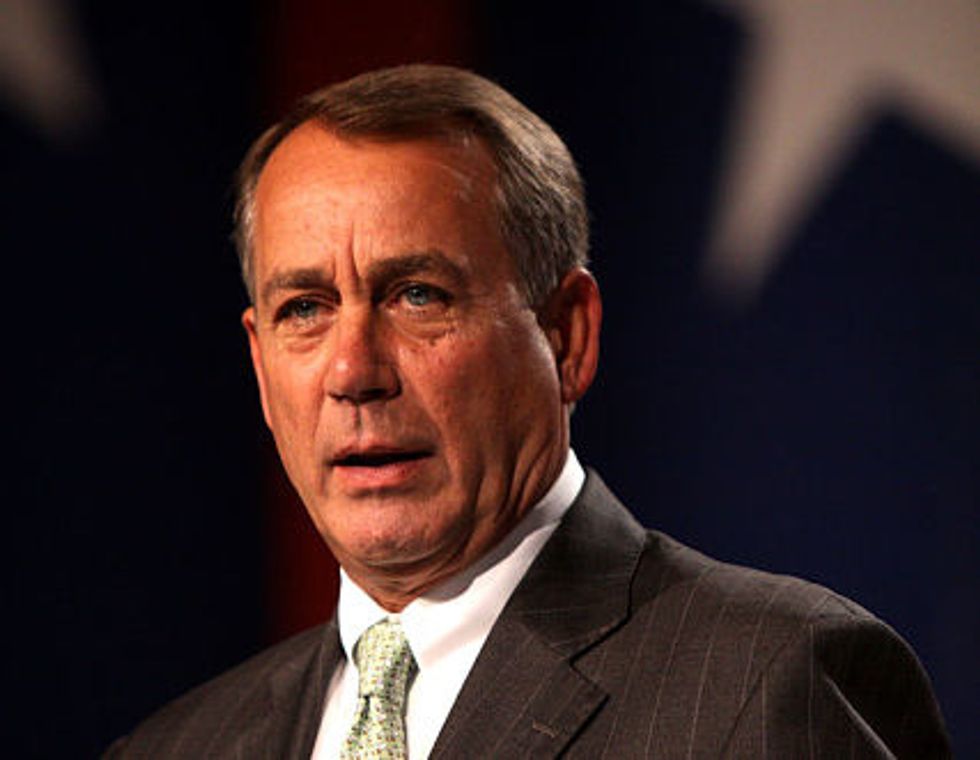 With temporary federal benefits for long-term unemployed Americans set to expire on December 28, a new Public Policy Polling poll finds that bipartisan majorities in Republican-controlled swing districts overwhelmingly support an extension of the program – something the GOP opposes and refused to include in the newest budget deal.
The PPP poll, released on Monday, shows that some vulnerable Republican congressmemembers risk losing support from voters over their stance on the Emergency Unemployment Compensation program.
In each of the districts – California's 31st, Colorado's 6th, Michigan's 1st, Illinois' 13th, and Ohio's 8th – voters said they were less likely to re-elect the incumbent if their representative refused to extend the program.
Republican congressman Gary Miller represents the district with the greatest bipartisan support for an extension of unemployment benefits: 68 percent of voters say they want the benefits continued as opposed to 28 percent who do not. More notably, Republicans voiced support for an extension by 54 percent to 41 percent.
Similarly, in the districts represented by Dan Benishek (R-MI) and Rodney Davis (R-IL), majorities of voters support extending the program, 66 percent to 29 percent. In Michigan's 1st district, 60 percent of Republicans say the benefits should be extended past the new year, and in Illinois' 13th district, 53 percent say the same.
House Speaker John Boehner (R-OH) says the progress showed in November's job report should "discourage calls for more government 'stimulus'," but the voters in his district disagree — 63 percent want the program extended, while 34 percent do not. A majority of Republicans – 52 percent – also support an extension.
The only district in which a majority of Republicans did not voice support for an extension was Colorado's 6th district, currently held by Mike Coffman (R). Still, 63 percent of voters say they want to see the program extended, and a plurality of Republicans – 48 percent – say the same.
With the poll also showing low approval ratings for the Republican lawmakers – Miller with 29 percent, Coffman with 42 percent, Davis with 33 percent, Benishek with 41 percent, and Boehner with 40 percent – there's a chance that "voting to cut off benefits for unemployed people struggling to find work would make their existing problems worse," as PPP director Tom Jensen said in a release accompanying the poll.
Still, it's also possible that the issue will not be as politically salient in 2014. By then, voters may have prioritized other issues besides the extension of unemployment benefits — which is in the news now, with the passing of the budget deal and a looming expiration date.
Jeremy Funk of Americans United for Change, which funded the PPP poll, argues that Republicans should do what is "not just in America's economic interest" but in "their own political interest."
Americans United for Change also points out that congressional Democrats have been alone in their fight for extending the emergency unemployment benefits. A week ago, the liberal group posted a video highlighting the battle that Democrats can use to their advantage. You can watch the video below:
Video:Americans United via YouTube
Photo: Gage Skidmore via Flickr