Poll: Many Americans Say Vote Suppression Kept Them From Ballot Box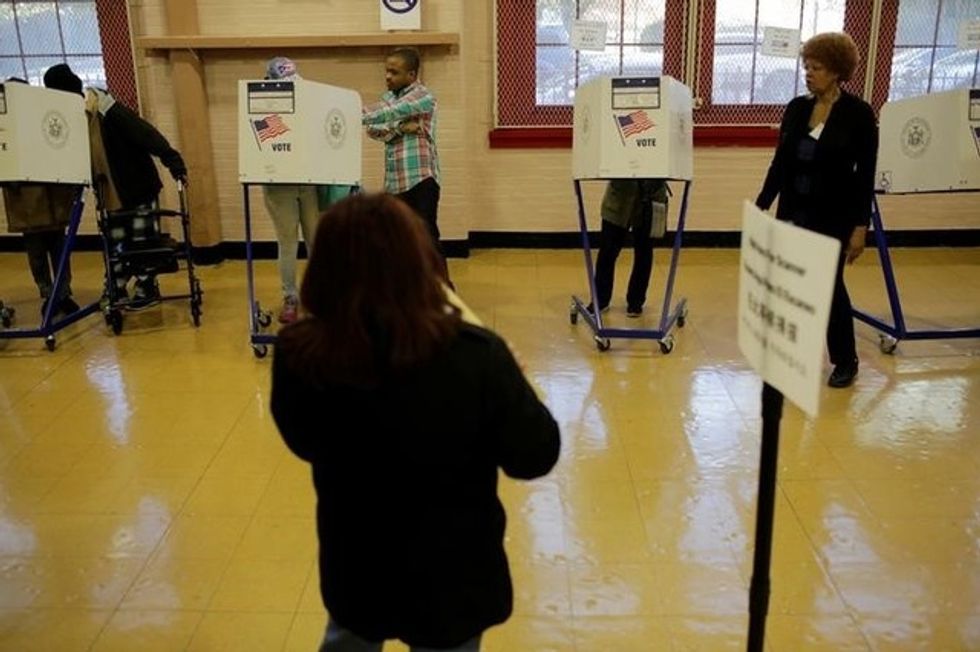 Reprinted with permission from Shareblue.
Democrats dominated the midterm elections this year and took back the most House seats they have since Watergate.
But the news was also full of reports about Americans facing long lines and broken voting machines — or even being unable to cast a ballot at all because of Republican-passed laws that make it harder to vote, especially in minority communities.
And a new post-election poll includes a shocking indication of just how bad this problem was: At least 10 percent of people who didn't vote say that either voter suppression tactics or voter ID laws got in the way when they tried to vote.
About 1 in 10 people who didn't vote or weren't registered to vote (9 percent) said the following statement applied to them: "I was not able to vote, or it was harder for me to vote, because of voter suppression tactics in my state or at my polling location."
Another 10 percent of non-voters said they didn't have the right kind of identification in order to vote or register to vote.
The poll, a survey of 4,159 adults conducted by USC Dornsife/Los Angeles Times between Nov. 7-15, has a margin of error of 2 percentage points.
A couple of caveats: It's not clear from the poll results how many people experienced both voter suppression and ID problems, versus how many experienced just one or the other.
It's also not clear how many non-voters would have definitely been able to cast a ballot if they didn't run into either of these problems; some may still not have been able to get time off work, for instance. And the poll question didn't specify what exactly "voter suppression tactics" meant.
But even given all that, this result is shocking, and should scandalize anyone who supports free and fair elections in America.
Many close midterm elections this year were determined by less than 1 percent of voters. If even a fraction of these non-voters had been able to cast a ballot, it could have changed the outcome of some close elections.
Voter suppression tactics and voter ID laws are used heavily by Republicans in order to depress turnout among minority groups, college students, and others who are likely to vote for Democrats.
These dirty tricks actually work. Voter ID laws, for instance, consistently suppress voters of color, but have little if any effect on white voter turnout.
And voting problems have been a major point of contention in some very close high-profile races — especially in Florida and Georgia — that Democrats are losing, but that are still counting and recounting ballots and that may be subject to court challenges.
The poll also found that 35 percent of non-voters reported being unable to vote because they could not take the time away from work or other personal obligations.
That's also an outrage, and it's why many voting rights advocates are calling to expand early voting and make Election Day a federal holiday.
As their very first bill after taking the majority in January, House Democrats plan to introduce a sweeping proposal to protect voting rights, as well as address other problems like partisan gerrymandering that have been central to the Republican war on voting.
And given these disturbing poll results on voter suppression, it's clear that such reforms are more needed than ever.
Published with permission of The American Independent.