Rand Paul, Here's Your Evidence That African-Americans Are Being Stopped From Voting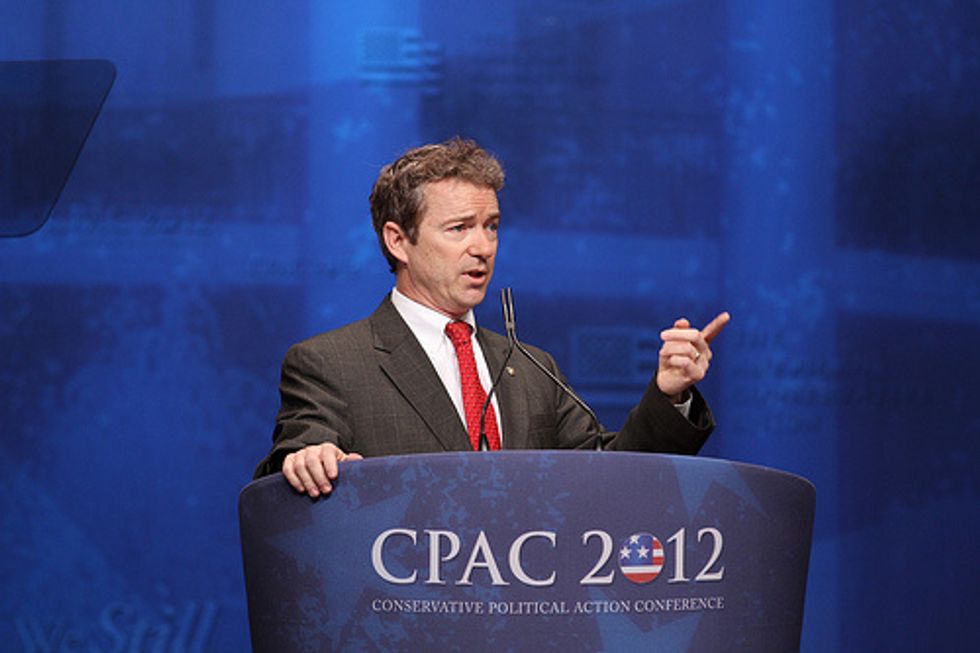 Just days after Hillary Clinton said, "Anyone that says that racial discrimination is no longer a problem in American elections must not be paying attention," Senator Rand Paul has proven her point.
At a speech in Louisville, Kentucky, Paul said, "I don't think there is objective evidence that we're precluding African-Americans from voting any longer."
Apparently, the junior senator from Kentucky missed those reports of Floridians waiting hours and hours in line to vote last November. He hasn't heard about the study that showed blacks and Latinos waited twice as long as whites to vote. Maybe he hasn't heard that last year federal courts ruled again and again that states were creating barriers to voting that disproportionately affected people of color. For instance, a federal court found that Texas' redistricting was "enacted with discriminatory purpose."
In response to Paul's comments, The Nation's Ari Berman tweeted:
I can show @SenRandPaul a whole lot of evidence that new NC elections law discriminates against minority voters http://t.co/KnwmNUp4bi

— Ari Berman (@AriBerman) August 14, 2013
The article he links to breaks down "the country's worst voter suppression" law, which was just signed by Governor Pat McCrory (R-NC) on Monday, though the governor doesn't seem to have read it.
"African-Americans are 23 percent of registered voters in the state, but made up 28 percent of early voters in 2012, 33 percent of those who used same-day registration and 34 percent of those without state-issued ID," Berman writes.
Early voting, same-day registration and voter ID requirements are all part of the monster law that "eliminates practically everything that encourages people to vote in North Carolina, replaced by unnecessary and burdensome new restrictions."
There's objective evidence that the law is designed to stop black people from voting. And since the conservatives on the Supreme Court decided that the law that prevented voting discrimination like this was no longer valid, the Department of Justice is having to invent ways to fight it.
However, if Paul wants to be honest, he could make the argument that Texas Republicans have turned to, now that the Justice Department is trying to crack down on its discriminatory practices: We're only trying to stop Democrats from voting.
Paul could say, "When Republicans get in power, they do everything they can to stop people who aren't Republicans from voting. And if black people are disproportionately Democrats, they get what they deserve."
Then he would only be cynical and crude and not unforgivably naive at best… and blatantly dishonest at worst.
Photo: Mark Taylor via Flickr.com