Report: Snowflake Trump Won't Discuss Russian Election Meddling
@alexvhenderson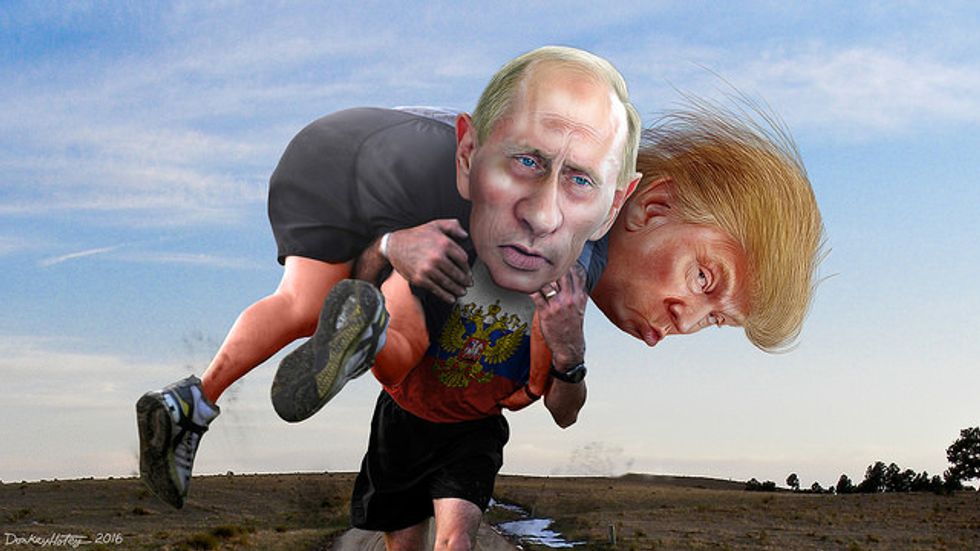 Reprinted with permission from Alternet.
Although special counsel Robert Mueller's Russia investigation found that the 2016 Trump campaign's interactions with Russians did not rise to the level of a criminal conspiracy, Mueller's final report left no doubt that Russian government operatives went to great lengths to interfere in that presidential election. And cybersecurity experts are warning that Russian interference in the 2020 presidential election could also be a major problem for the United States.
But journalist Eric Lutz, in an article published by Vanity Fair this week, reports that President Trump's hypersensitivity on this subject and his "fragile ego" are getting in the way of efforts to protect U.S. elections from Russian interference.
One of the things that frustrated former Homeland Security Secretary Kirstjen Nielsen about the president, according to the New York Times, was his reluctance to discuss cybersecurity with her. Acting White House Chief of Staff Mick Mulvaney, Lutz notes, asked Nielsen to refrain from bringing up Russian interference in U.S. elections during meetings with the president—as it was a sore subject with him.
"Trump's election-meddling angst has long been a pain point for his administration," Lutz reports. "The president has consistently cast doubt on the extent of Russia's 2016 interference, going so far as to take (Russian President) Vladimir Putin's word over that of his own intelligence officials."
Lutz reports that Trump deeply resents "the notion that he didn't beat" Democratic presidential nominee Hillary Clinton "all by himself" in 2016 and had any outside help. Regardless, Lutz adds, Russian interference in the 2020 presidential election is "already being deployed" against Sen. Bernie Sanders (I-VT), Sen. Kamala Harris (D-CA), and other Democratic primary candidates. And Trump Administration decisions like the elimination of a White House cybersecurity director position "may have kneecapped the government's ability to address the problem, even as 2020 looms," Lutz observes.
Lutz concludes his Vanity Fair piece with a quote from Kevin Carroll, a former Department of Homeland Security official who told the Times, "Russian intelligence's 2016 covert actions to divide Americans by interfering in our election were so successful. Putin will amplify them in 2020."
IMAGE: Flickr/DonkeyHotey