Rick Perry Hits At Trump — And Trump Hits Right Back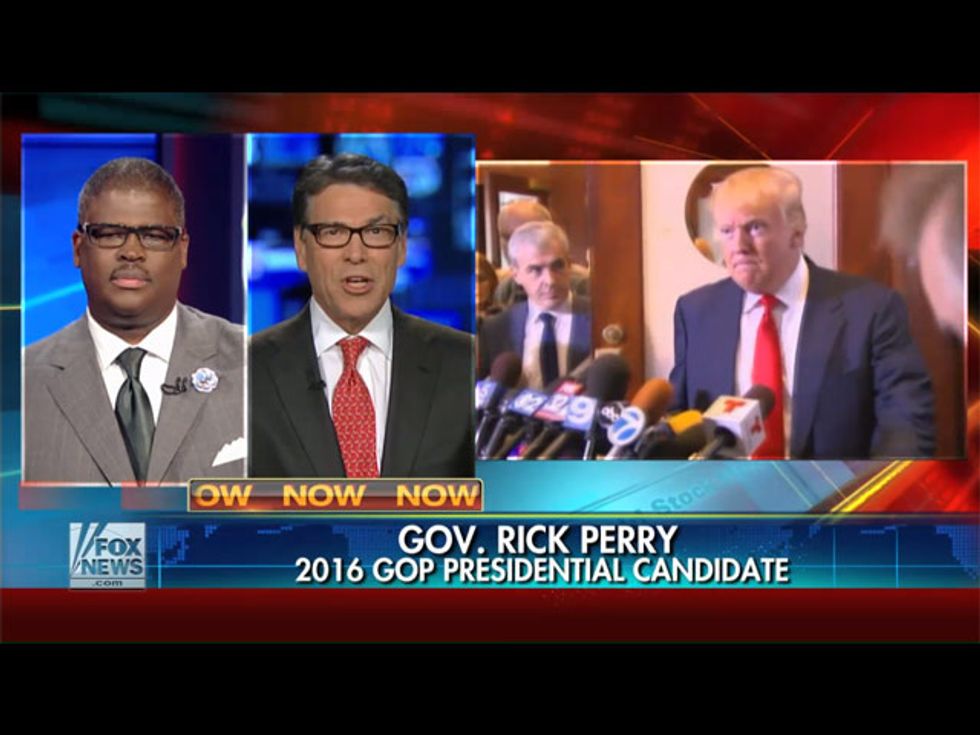 Rick Perry is one of the first Republican presidential candidates to seriously take on Donald Trump's comments about Mexican immigrants being rapists and other types of criminals. And for his part, The Donald is answering right back — by trash talking Perry on Twitter.
"Well I don't think he's reflecting the Republican Party with his statements about Mexicans. I think that was a huge error on his part — and number one, it's wrong," Perry said Thursday, during an appearance on Fox News. "When I think about the Hispanics in Texas, and I think about the individuals who have paid a great price, whether they were Tejanos at the Alamo in 1836, or whether it's been as late as the last wars that we've had — when you see Hispanics being killed, for America."
Fox News guest host Charles Payne interrupted to say that Trump was referring to people who are here illegally. Perry replied: "But I will suggest to you — he painted with a very broad brush, and I think that's the problem."
Perry also touted his own experience with the southern border as governor of Texas.
"What I would say is that we want somebody that's actually dealt with this before, not somebody that's just gonna shoot from the hip," he said. "And I will suggest to you, I know how to secure the border.
"And the border security is the real issue here —it's not painting with this broad brush that, obviously, I think Donald Trump painted with where he tried to say, you know, Mexicans are bad people, they're rapists and murderers. Yes, there are bad people that cross the border. But how about, let's get a Commander-in-Chief that knows how to secure the border, and at that particular time we can have a conversation about how to deal with this immigration issue — but not until that border is secure."
Payne asked Perry whether the many companies that are dumping their deals with Trump were right to do so. "Listen, that's their call," Perry said. "My way to address this is to talk about the contributions that the Mexican-American has made to this country."
Later that night, Trump posted on Twitter:
As Governor of Texas, Rick Perry could have done far more to secure the border – but that's O.K., I like him anyway! @GovernorPerry

— Donald J. Trump (@realDonaldTrump) July 3, 2015
Perry previously got in trouble with the GOP base during his campaign for president in the last cycle, when at a September 2011 debate hosted by Fox News he defended his state granting in-state tuition at public colleges to students who had been brought into the United States as children of undocumented immigrants.
But if you say that we should not educate children who have come into our state for no other reason than they've been brought there by no fault of their own, I don't think you have a heart. We need to be educating these children, because they will become a drag on our society.
Within about a week's time, however, he walked that comment back: "I probably chose a poor word to explain that. For people who don't want their state to be giving tuition to illegal aliens, illegal immigrants in this country, that's their call, and I respect that."