He Got Rich By Pushing America's Judiciary Toward the Far Right
@alexvhenderson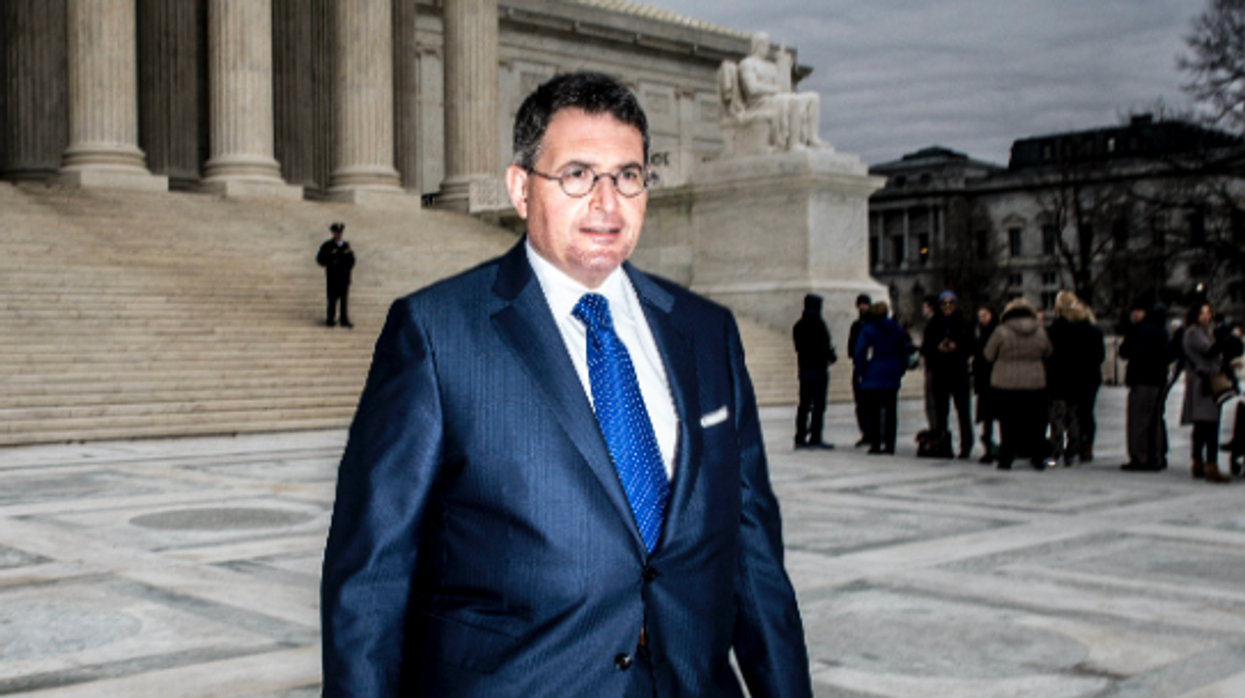 The religious right movement, which gained considerable momentum during President Ronald Reagan's 1980 campaign, has had a complex relationship with Catholicism over the years. The religious right is dominated by far-right white evangelical Protestant fundamentalists, who are vehemently critical of Catholic practices (the confessional, physical images of Jesus). Yet Republican evangelicals will work with the Catholic right when it comes to fighting abortion or same-sex marriage.
The Catholic right is by no means universally loved by American Catholics. President Joe Biden and former House Speaker Nancy Pelosi (D-CA), for example, are both known for being devout Catholics, but they are also major critics of the Religious Right and its influence on the U.S. Supreme Court — which the Catholic right now dominates. Justice Clarence Thomas, Justice Samuel Alito, Justice Brett Kavanaugh and Justice Amy Coney Barrett are all hard-right Catholics and GOP appointees who voted to overturn Roe v. Wade in the Dobbs v. Jackson Women's Health Organization ruling of 2022.
In contrast, Justice Sonia Sotomayor, a Democratic Barack Obama appointee, is a Catholic who was a dissenter in Dobbs and has been a scathing critic of the High Court's current direction. She even used the word "stench" to express her disdain. Sotomayor is to the left of the Vatican, while Thomas, Alito ,and Barrett are to the right of the Vatican.
One of the Catholic right's most influential figures is judicial activist Leonard Leo, former executive vice president of the Federalist Society. Leo has spent decades lobbying to push the federal courts to the far right. And according to Politico's Heidi Przybyla, he has made a fortune in the process.


In an article published by Politico on March 1, Przybyla reports, "A network of political nonprofits formed by judicial activist Leonard Leo moved at least $43 million to a new firm he is leading, raising questions about how his conservative legal movement is funded. Leo's own personal wealth appeared to have ballooned as his fundraising prowess accelerated since his efforts to cement the Supreme Court's conservative majority helped to bring about its decision to overturn abortion rights. Most recently, Leo reaped a $1.6 billion windfall from a single donor in what is likely the biggest single political gift in U.S. history."

According to Przybyla, Politico's analysis of "dozens of financial, property and public records dating from 2000 to 2021" shows that Leo's "lifestyle took a lavish turn beginning in 2016." And his fortunes grew considerably during the Trump years, Przybyla reports.
The Politico journalist explains, "The spending by Leo-aligned nonprofits on his for-profit businesses coincided with changes in his personal lifestyle and finances. IRS and other public records between 2016 and 2020 show a major expansion of Leo's personal wealth that coincided with the start of his work for Trump and the creation of his own for-profit entity called BH Group. Both happened in 2016."
The former Federalist Society vice president forcefully lobbied for many of the severe social conservatives who are now on the Supreme Court, including Barrett. In 2016, he encouraged then-Senate Majority Leader Mitch McConnell (R-Kentucky) to do everything he could to derail then-President Barack Obama's nomination of Merrick Garland following the death of Justice Antonin Scalia (a far-right Catholic social conservative). It worked; that seat stayed open until 2017, when then-President Donald Trump appointed Justice Neil Gorsuch — another justice who voted to overturn Roe in 2022. Gorsuch was raised Catholic but has more recently attended an Episcopal church.
Trump was very specific about the type of justices he wanted: hardcore social conservatives. Former Justice Anthony Kennedy was a right-wing fiscally conservative 1987 Reagan appointee, but he was much more of a libertarian than Scalia, Alito or Thomas and often voted with Democratic justices when it came to abortion or gay rights. And that wasn't the type of justice that Trump and Leo wanted.
Przybyla notes, "The Court's 2022 decision overturning half a century of the federal right to abortion was widely seen as a victory for the conservative legal movement led by Leo. Trump picked his Court nominees from a list drawn up by Leo, who then served as his unofficial adviser in the White House. A constellation of outside groups affiliated with Leo poured tens of millions of dollars in anonymous donor funds into promoting those nominees — Neil Gorsuch, Brett Kavanaugh and Amy Coney Barrett — thereby cementing a new conservative majority for the next generation."
Reprinted with permission from Alternet.