Romney Starts Foreign Policy Trip, Instantly Offends Britain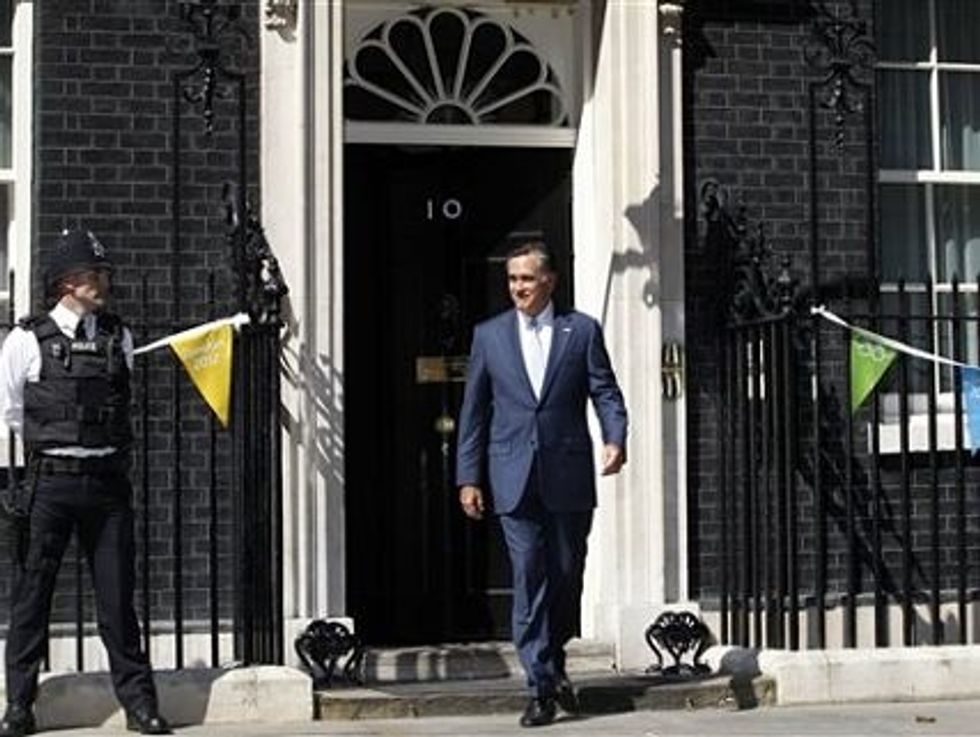 It took less than a day for Mitt Romney to bungle the first step of his overseas trip, which is designed to prove his foreign policy credentials. As Alex Spillius of The Telegraph puts it: "Mitt Romney is perhaps the only politician who could start a trip that was supposed to be a charm offensive by being utterly devoid of charm and mildly offensive."
In an interview with NBC's Brian Williams last night, Romney indicated that he doubted London's readiness for the Olympics, and called Britain's preparations to be "disconcerting." Referring to the G4s security firm troubles and a threat from immigration officials to strike, Romney said, "It is hard to know just how well it will turn out."
He then switched to antagonizing the British people by questioning their enthusiasm for the Games: "Do they come together and celebrate the Olympic moment? And that's something which we only find out once the Games actually begin." It seems that Romney's "Anglo-Saxon heritage" isn't helping him understand diplomacy with Britain as well as his advisers had hoped.
Romney's remarks promoted a sharp rebuke from British Prime Minister David Cameron, who told reporters "You're going to see beyond doubt that Britain can deliver."
"In terms of people coming together, the torch relay demonstrated that this is not a London Games, this is not an England Games but this is a United Kingdom Games," he continued. "We'll show the world we've not only come together as a United Kingdom but are extremely good at welcoming people from across the world."
Cameron also took a dig at Salt Lake City, the site of the 2002 Winter Olympics which were organized by Romney, saying "We are holding an Olympic Games in one of the busiest, most active, bustling cities anywhere in the world. Of course it's easier if you hold an Olympic Games in the middle of nowhere."
Having caused a stir among the media and British leaders, Romney attempted to amend his comments today. After pointing out the "beautiful weather," Romney walked back his comments on the Olympics.
"My experience with regards to the Olympics is it is impossible for absolutely no mistakes to occur," he said. "Of course there will be errors from time to time, but those are all overshadowed by the extraordinary demonstrations of courage, character and determination by the athletes."
Later, after meeting with Prime Minister Cameron, Romney expressed his sudden newly found confidence in the 2012 Olympic Games: "I am very delighted with the prospects of a highly successful Olympic Games. What I have seen shows imagination and forethought and a lot of organization."
If this is the best Romney can do in friendly London, then the Middle East portion of his trip should be must-see TV.