District Of Columbia Bar Counsel Urges Disbarment Of Rudy Giuliani
@next2godwin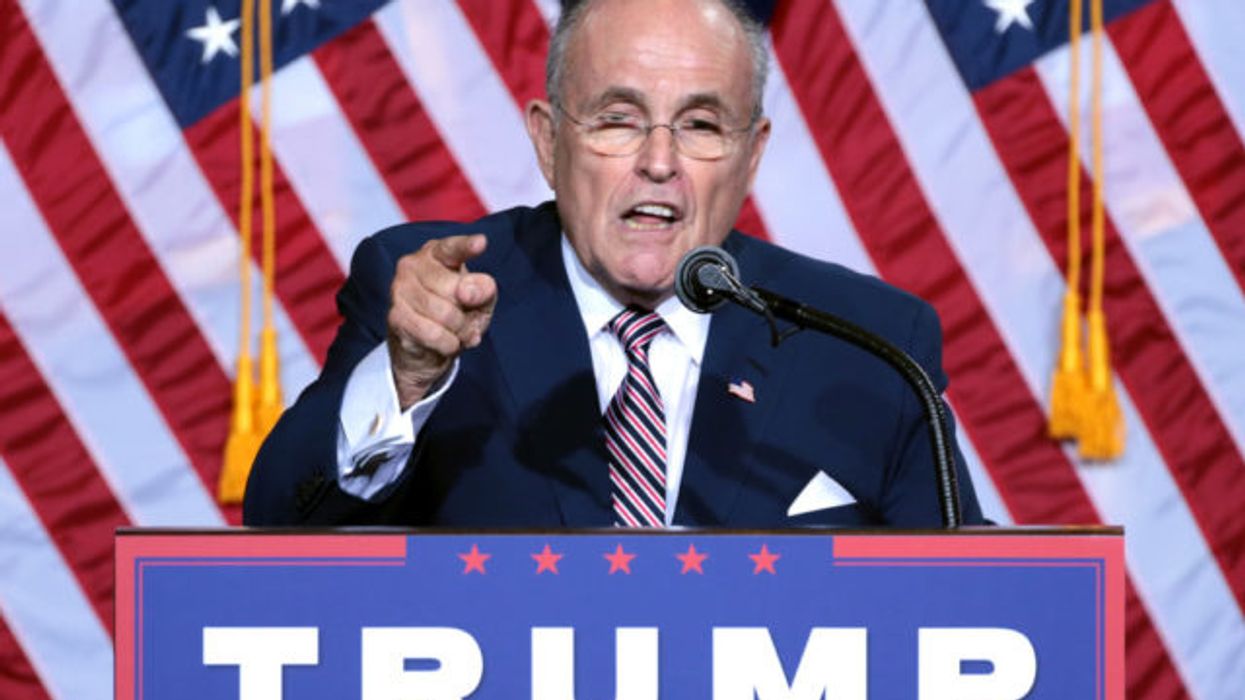 Rudy Giuliani, ex-New York mayor and personal Trump lawyer, "weaponized his law license" in a constitution-undermining gambit to overturn the 2020 presidential election results in Pennsylvania, violating the terms of his law license, a D.C. Bar's disciplinary counsel declared on Thursday.
Lead prosecuting attorney Hamilton "Phil" Fox, whose Office of Disciplinary Counsel brought forth the charges, argued that since Giuliani's election-subverting crusade in Pennsylvania was part of a large scheme to undermine democracy, only the most severe sanction — losing his license to practice law in the jurisdiction — would be appropriate.
"I think the seriousness of misconduct calls for only one sanction, and that is the sanction of disbarment," Fox told the D.C. Bar.
The finding, panel chairman Robert C. Bernius said, was "preliminary and nonbinding," reached after a week of testimony from Giuliani and other witnesses, including Bernard Kerik, a former Trump adviser; Trump lawyer Christina Bobb; and disgraced ex-senior Trump adviser Corey Lewandowski, who was accused of — and indicted for — sexual harassment.
"What Mr. Giuliani did was use his law license to undermine the legitimacy of a presidential election, to undermine the basic premise of the democratic system that we all live in, that has been in place since the 1800s in this country," Fox said.
Giuliani, Fox alleged during the turbulent first hearing, spearheaded former President Trump's nationwide effort to overturn his defeat, partaking in legal crusades — in particular, a frivolous and ultimately futile lawsuit in a Pennsylvania federal court — baselessly alleging voter fraud.
"Mr. Giuliani was responsible for filing a frivolous action asking a court in Pennsylvania to deny millions of people the right to vote," Fox said, noting that many had marched and died for voting rights.
Giuliani, the panel's complaint, alleged sought audacious and extraordinary relief in his Rolodex of post-election litigations in Pennsylvania and other states, including orders barring the certification of the 2020 presidential election results and "[a] declaration that Donald Trump was the winner of the legal votes cast in Pennsylvania in the November 3, 2020, election and thus the recipient of Pennsylvania's electors."
In a tense questioning session during the hearing, Giuliani repeated false 2020 election fraud allegations and accused the Biden administration of persecuting him.
"Mr. Giuliani has testified on several occasions that he believes there was a conspiracy. There was a conspiracy, and he was the head of it," Fox countered.
On Thursday, Fox insisted that "Any lawyer that engages in this kind of misconduct, harming the country as this has done, has at least got to realize that his or her law license is at risk."
He also noted that Giuliani's election denialism was unbecoming, especially considering his "distinguished" career "twenty years ago" as a former U.S. attorney and federal prosecutor.
"It's like there are two different people. I don't know if something happened to Mr. Giuliani or what," Fox said.
Giuliani took umbrage at the recommendation and — ignoring his attorney's advice — launched into a tirade when the proceedings wrapped up, lambasting the panel for permitting Fox to present what he called a "typical, unethical, cheap attack."


"The fact you advocate another side in a case does not make you a traitor. I have put my life up and at risk for democracy," Giuliani barked.
I'll put my work on democracy … up against Mr. Fox and anyone else. For that man to engage in that kind of a personal attack when there was no record of that, and for you to allow him to do that, I consider an outrage," he added.
Giuliani's attorney, John Levanthal, formerly a New York judge, accused the panel of putting for politicized argument and argued for a lighter disciplinary measure, noting that the Pennsylvania fraud lawsuit at issue was rejected.
The D.C. Bar will consider written statements from Fox and Giuliani before issuing its recommendation to the D.C Court of Appeals, which will then make its decision after deliberations.
This process, the Washington Post notes, could take up to a year.
From Your Site Articles
Related Articles Around the Web