Sad! Spicy's White House Memoir Tanking With Trump Endorsement
@EricBoehlert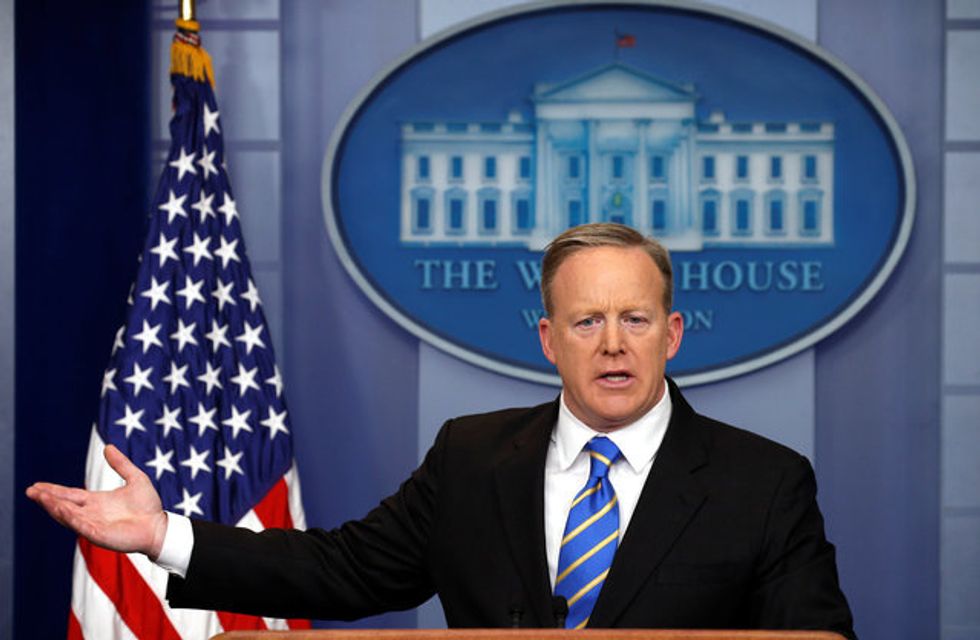 Reprinted with permission from Shareblue.
Twelve months after the leaving the White House as a failed press secretary, Sean Spicer is still struggling to get people to care about him. Over the weekend, Trump himself tried to pitch in by tweeting out a plug for Spicer's upcoming book.
"A friend of mine and a man who has truly seen politics and life as few others ever will, Sean Spicer, has written a great new book, 'The Briefing: Politics, the Press and the President,'" Trump wrote. "It is a story told with both heart and knowledge. Really good, go get it!"
Given Trump's more than 52 million followers, you'd think his tweet would've catapulted sales. Even if just .01 percent of Trump's followers acted on his advice, that would translate into 5,000 books sold.
Sadly for Spicer, the promotion definitely did not work, as Politico reporter Annie Karni pointed out:
How valuable is a @RealDonaldTrump book endorsement? On Sat, he tweeted of the upcoming Spicer book, "go get it!" Book sold 14 hardcovers on Saturday and 17 Kindle copies Sat and Sun, according to this tracking site: https://t.co/lLCM8C5BLF

— Annie Karni (@anniekarni) July 2, 2018
That's right — Trump's tweet appeared to prompt fewer than two dozen people to pre-order Spicer's book on Amazon.
As CNN's Brian Stelter noted, when Trump attacked books he didn't like by James Comey and Michael Wolff, his tweets helped rocket those books to the No. 1 sales spot in the country. Trump seems to be better at promoting his foes than this friends.
Spicer, who famously found himself hiding in the White House bushes the night Trump fired FBI Director James Comey last year, continues to have a hard time finding an audience after his disastrous work as a Trump flack.
He's reportedly working on a pilot for a political talk show — but no network has yet agreed to pick it up. And two of the first guests Spicer tried to book for the show, CNN's Jim Acosta and Stormy Daniels' attorney Michael Avenatti, both turned him down.
Rather than offer unguarded insights into how the chaotic Trump White House operates, Spicer's book appears to be a boilerplate telling of his brief time inside the West Wing. It's not expected to reveal embarrassing or shocking new information.
Instead, Spicer sticks to the Trump-approved script — just like he used to when he lied daily as Trump's press secretary.
"I can tell you from first-hand experience of the rampant hostility President Trump faces daily from the mainstream press, and I want the American people to have an opportunity to hear the truth they won't hear from mainstream media," he announced last year when his book deal with the right-wing publisher Regnery was announced.
Spicer opted to write the Trump-friendly book after news organizations last year refused to hire him as a pundit.
"A number of network insiders who spoke on the condition of anonymity to protect their business relationships said none of the networks were interested in hiring Spicer because of a 'lack of credibility,'" NBC reported.
The collective pass came after Spicer met with ABC, CBS, NBC, CNN, and Fox News representatives soon after leaving the White House.
Also last year, more than 1,000 Harvard alumni signed a petition urging the university to withdraw its invitation to host Spicer as a visiting fellow.
Spicer's book will be released on July 24. A crew will reportedly film his book tour — and the likely sparse crowds in attendance.
Published with permission of The American Independent.