Sandra Bland's Family: Perjury Charge Against Trooper A 'Slap On The Wrist'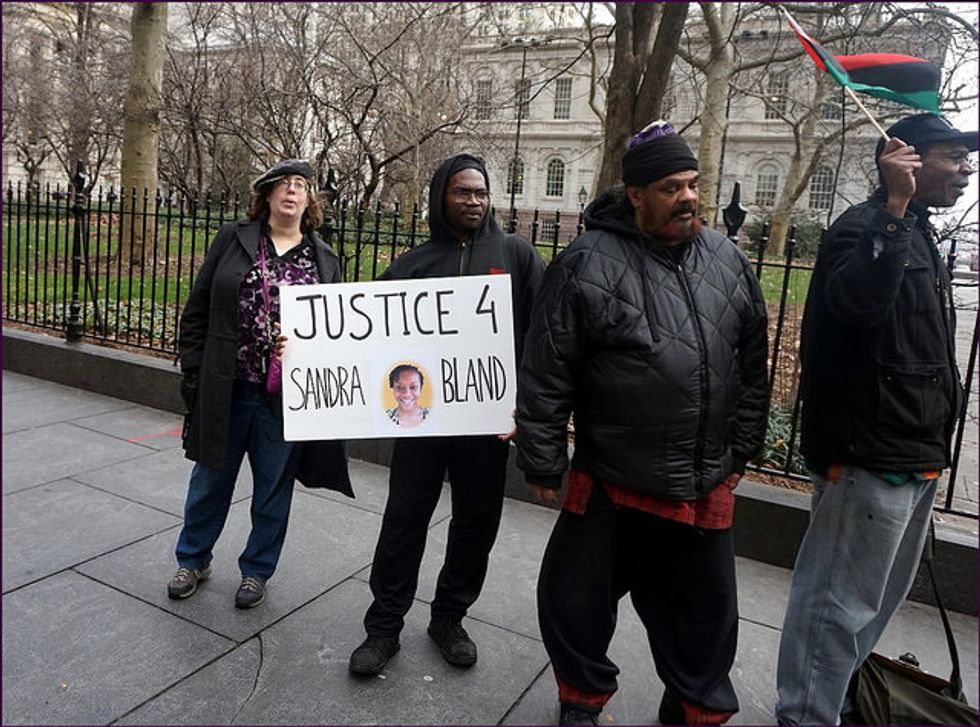 By Dawn Rhodes, Chicago Tribune (TNS)
CHICAGO — Sandra Bland's family scoffed at the decision to charge the Texas state trooper who arrested her in a confrontational traffic stop last summer with perjury, saying any potential punishment for the misdemeanor offense would amount to "a slap on the wrist."
"Where is the indictment for the assault, the battery, the false arrest?" Geneva Reed-Veal, Bland's mother, said in a news conference Thursday at her attorney's office. "I can't be expected to be excited about that because I felt there's so much more that he should have been indicted on. My daughter was slapped."
Bland's mother and three sisters said the widely disseminated dash-cam video of Bland's arrest makes clear Trooper Brian Encinia is culpable for more than simply lying about the circumstances of the controversial arrest. Bland, 28, who had lived in the Chicago suburbs including Naperville and Aurora, was found dead in her jail cell three days after the traffic stop, and officials ruled she committed suicide.
Encinia could face a maximum of a year in jail if convicted. He has been on paid administrative duty since the July 2015 incident, and Texas law enforcement officials announced shortly after the indictment that they planned to fire him.
Family members and attorneys also said Texas authorities have failed to share any developments in the investigation, and that the family learned of the indictment through media reports. Reed-Veal said she wants officials to follow through with efforts to fire Encinia, but the misdemeanor charge does not do enough to explain exactly what happened to Bland.
"(The indictment) doesn't make a difference to me," Reed-Veal said. "An indictment needs to be followed up by a conviction. You can indict all day long. If you get convicted, that might mean something. But right here, right now, that's not justice to me."
Attorney Cannon Lambert said the perjury charge against Encinia could bolster the family's case in a civil rights lawsuit.
"There's no question that there's an acknowledgment that he lied. If you lie once, you'll lie 50 times," Lambert said. "We know that when you're a liar, you have no credibility. We know that when you have no credibility, it's difficult for you to support a claim that you make."
Lambert said he wants to depose Encinia and thoroughly question his account of the day Bland was arrested.
"We want to ask him, 'Why is it that you did what you did?'" Lambert said. "What were you thinking when you did what you did?"
Bland's death continues to fuel widespread protests over police misconduct and transparency. One of Bland's sisters, Sharon Cooper, said that for the family, fighting for information while also privately mourning has been difficult.
Cooper said the family struggled to get through the holiday season without Bland. They soon will commemorate what would have been her 29th birthday.
"It's draining, but it's worth the fight," Cooper said. "It's worth the struggle, the getting up and putting one foot in front of the other. We realize what happened to our daughter and our sister is so much bigger than us. It has always been our responsibility as a family to be an advocate on behalf of a family member who's no longer here and who's been silenced, but also for other people."
©2016 Chicago Tribune. Distributed by Tribune Content Agency, LLC.
Photo: Otto Yamamoto via Flickr