Hannity Faceplants In Frantic Bid To Make Jim Jordan Speaker (VIDEO)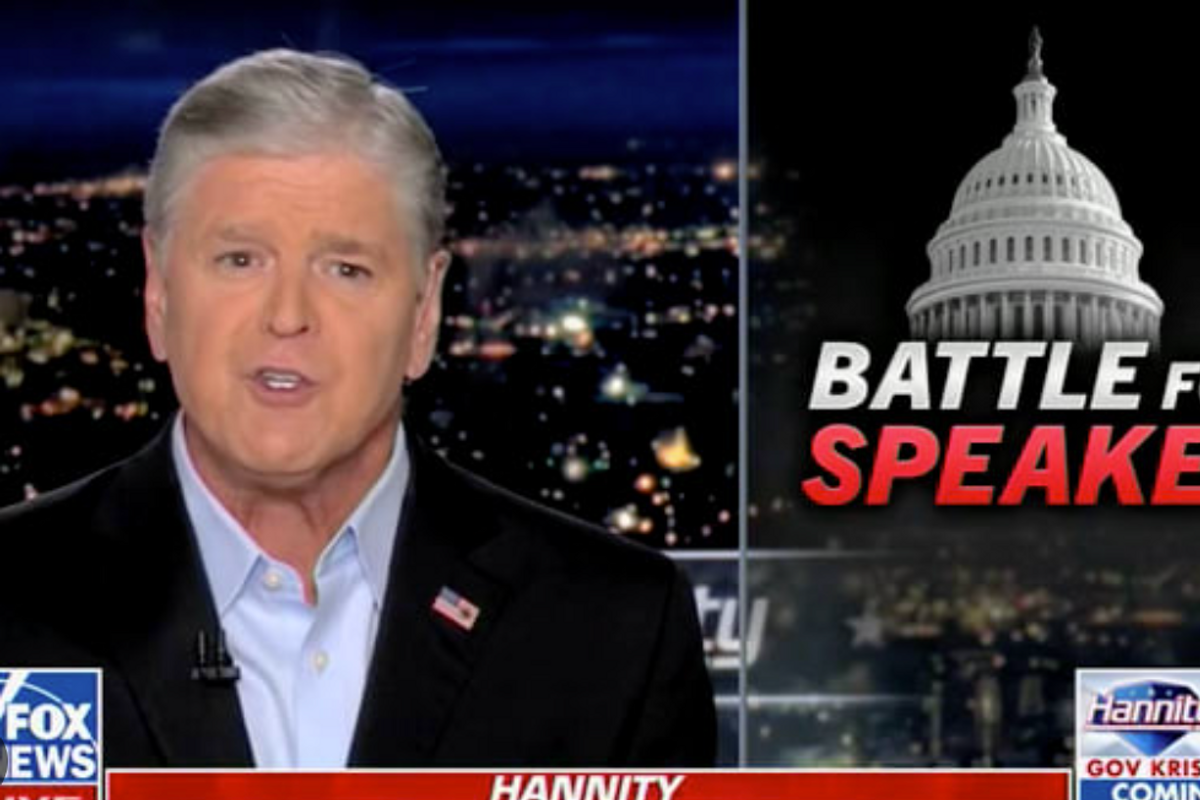 Rep. Jim Jordan's Fox News-fueled bid for speaker of the House lies in shambles. The Ohio Republican failed to win enough votes to attain the post on Tuesday and lost ground in a second vote the next day. Thursday brought more chaos, and after Jordan refused to drop out at a Friday morning press conference, he promptly lost a third vote by an even larger margin.
The slow-motion collapse of Jordan's campaign can be chronicled through the commentary of his most vocal and influential supporter in the right-wing media, Sean Hannity. Over the course of the week, the Fox News star gradually shifted from making bellicose demands for Republican members to support his chosen speaker candidate to desperately pleading for them to somehow rally behind someone.
Hannity had helped Jordan build his national profile, aiding the congressman's rise from backbencher to Judiciary Committee chairman with more than 150 interviews since August 2017 (out of an astounding 565 appearances across all Fox weekday programming, the most of any member of Congress).
The Fox host and GOP kingmaker endorsed Jordan for speaker earlier this month, following the removal of Rep. Kevin McCarthy (R-CA), and spent several days early this week whipping votes for Jordan, threatening and insulting Republican members who opposed him, and instructing his audience to call their members of Congress and urge them to support the Ohio Republican. After Jordan failed to amass enough support in Tuesday's vote, his Hannity.com website published a list of the names and office phone numbers of the 20 "GOPers who voted against Jordan and party unity," asking readers to "to call them — politely, of course — and encourage these holdouts to throw their support behind Jordan and get the country moving again!"
But something changed for Hannity later that day, between his afternoon radio show and prime-time Fox broadcast. Perhaps the host came to believe that his demands were counterproductive and costing Jordan support, or he decided that Jordan's bid was already toast and it wasn't worth going to the mat for him again. Either way, Hannity's Fox show on Tuesday night featured none of the threats to members of Congress and exhortations for viewers to take action that had characterized his output over the previous days.
Instead, Hannity opened his discussion of the topic by saying that Jordan "did not garner enough votes to cross what would have been I believe the 216-vote threshold today" but that he is "confident that Republicans will eventually pick a speaker, and soon." He claimed that Democrats are "targeting the Republicans that voted against Jordan today and they are encouraging them" to instead install House Minority Leader Hakeem Jeffries (D-NY) as speaker (this isn't true; Jeffries called for a bipartisan coalition government).
After attacking Jeffries, Hannity turned to former House speaker and longtime Fox contributor Newt Gingrich, who plugged his plan for empowering Patrick McHenry (R-NC) if Jordan can't get the votes to win. Hannity called that idea a "Band-Aid" that "is not Republican leadership" and does not "show the country that they can make tough decisions." But all in all, it was a fairly tepid showing from the Fox host, with none of the stridency of his earlier showings.
On Wednesday, Jordan lost a second speaker vote with even more Republican members voting for a different candidate. Hannity's website once again plugged the contact information of the "holdouts." But Hannity himself seemed resigned to Jordan's defeat — and more focused on stopping the McHenry push, which was reportedly gaining support from weary members.
House Republicans should "put aside petty differences and elect the speaker of the House so the people's House can be open again. And I wouldn't leave the room until you guys finally decided who that person is," he told Rep. Chip Roy (R-TX) on his radio show that afternoon. "I'd like it to be Jim Jordan, but if you guys pick someone else, that's up to you."
The Fox star was even more tentative in his support for Jordan that night. Hannity didn't address the speaker situation at all until late in his program, ignored the results of the vote that day, and urged House Republicans to "lock themselves in a room" until they pick a speaker while only mentioning in passing, "I like Jim Jordan."
By Thursday night's show, Hannity wouldn't even go that far. He mentioned briefly that "there is no doubt Republicans need to elect a speaker as soon as possible" and "need to reopen the people's house," but he did not even mention the name of the candidate he had once rallied behind
A flurry of reports this week pointed to Jordan's reliance on his right-wing media boosters to carry him to victory. Indeed, the fact that Jordan, a radical on policy and extremist on procedure who is tainted by scandal, was able to get as close to the speakership as he did is a testament to the power of that apparatus within GOP politics. But at a crucial moment, his most powerful backer blinked.
Reprinted with permission from Media Matters