Special Counsel Appointment Exposes Bad Faith Of Right-Wing Media (Again)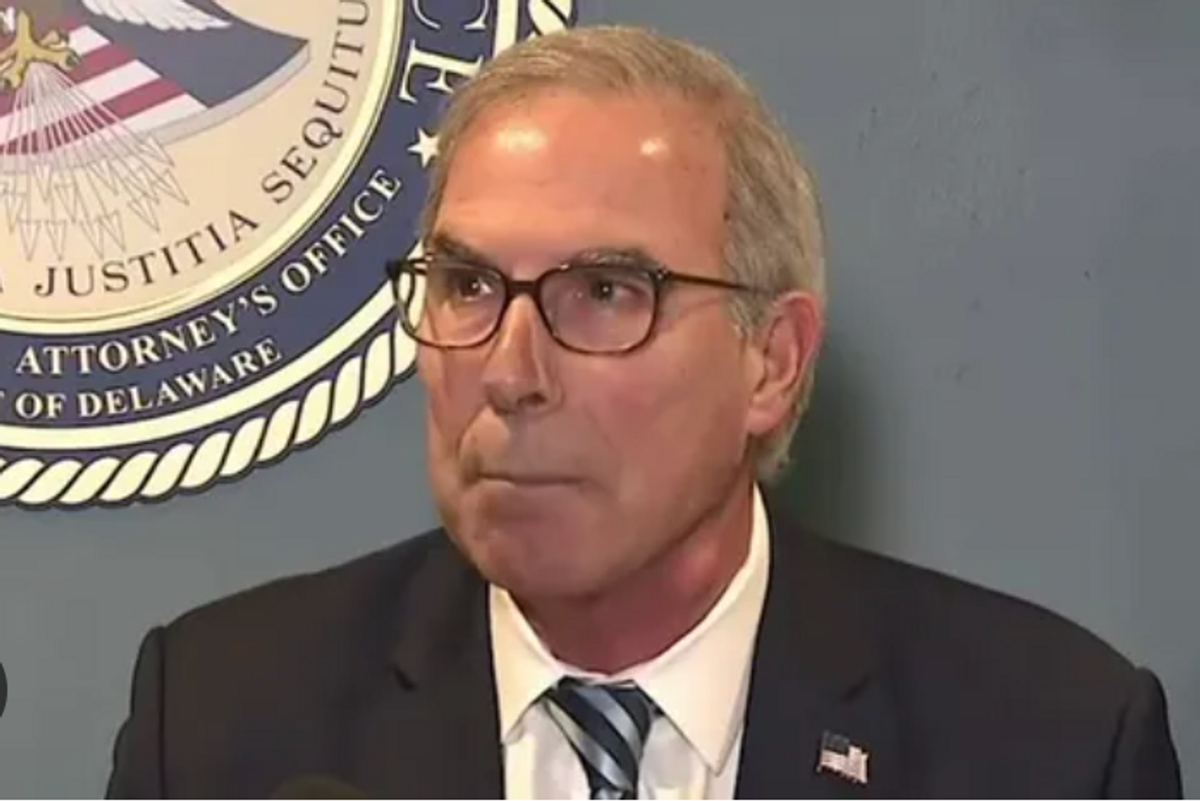 There's simply no reason for reporters to give credence to the Republicans and right-wing media figures currently rending their garments over Attorney General Merrick Garland's grant of special counsel powers to David Weiss, the prosecutor investigating President Joe Biden's son.
The right's interest in Hunter Biden's alleged crimes begins and ends with whether they can use him to harm his father's reelection campaign. They are willing to pretend to be mad that Weiss wasn't appointed special counsel — and then get mad that he was; for political gain, they're even willing to pretend to care about tax crimes after years of trying to defang the Internal Revenue Service's ability to target tax cheats. But reporters covering their responses don't have to play along with this charade.
Weiss, a U.S. attorney first appointed by former President Donald Trump and retained by President Biden, has been investigating Hunter Biden for five years. The probe has overlapped with a storm of spurious right-wing claims that foreign actors had used Hunter Biden's business interests to bribe his father. In June, Weiss charged Hunter Biden with two misdemeanor counts of failure to pay taxes and one count of felony gun possession as part of a plea agreement; the agreement fell apart during a court hearing and Hunter Biden pleaded not guilty. On Friday, Garland announced that Weiss had requested special counsel status and he had granted it after talks to revive the plea deal failed.
Republican politicians and the party's media propagandists reacted to Weiss' appointment with feigned fury. Just weeks ago, right-wingers were denouncing Garland's supposed refusal to grant Weiss special counsel status as evidence of the Biden administration's corruption. But now that Garland has actually done it, that too is a signal of the Biden administration's corruption — with some on the right even claiming Weiss is ineligible for the position.
Sean Hannity, the Trump adviser and GOP mouthpiece who also has a prime-time Fox News show, and Gregg Jarrett, the Fox contributor Hannity brings on to explain that Democrats are criminals and Republicans are not, showed how this game is played on Friday night.
Hannity opened his show by describing Garland's appointment of Weiss as "a pathetic new sleight of hand from Biden's clearly weaponized and politicized DOJ" and "a new strategy — yup — to help shield the big guy and the entire Biden family operation, but especially President Joe Biden." He added that Weiss' appointment may not be legal because special counsels are supposed to be appointed from outside government, citing Jarrett. After railing against the newly minted special counsel, Hannity concluded, "So let me be very clear: David Weiss is not to be trusted. This is a sham from the get-go."
"I think this is a farce, more cover-up and corruption by Merrick Garland," Jarrett added when Hannity brought him on later in the program. "The attorney general is not allowed to appoint David Weiss as special counsel. Under federal regulations, you can only appoint somebody outside the government because Weiss is conflicted." Jarrett went on to call Weiss "the absolute last person on Earth who should be special counsel. This is the guy who effectively stopped the case. So, Sean, you know, the fix is in. It's a sham."
That's not what Jarrett was telling Hannity back in April. Then, the story was that "the fix is in" because Garland had supposedly refused to grant Weiss special counsel status (Weiss denied this happened).
"You know, David Weiss, who wanted to file the charges against Hunter Biden, went to Merrick Garland and asked to have him elevated to special counsel status, to give him independence and autonomy which Garland promised in his testimony," Jarrett said on the April 21 edition of Hannity. "What did Garland do? He said absolutely no. That tells you everything you need to know about this."
As for Weiss' eligibility to be named special counsel, the situation is nearly identical to Trump attorney general William Barr's 2020 grant of that status to John Durham, the U.S. attorney whose investigation of the origins of the Russia probe the right trumpeted.
When that news was announced, Jarrett reacted by telling Hannity viewers, "This was a shrewd and smart move by Bill Barr. He's essentially made John Durham Eliot Ness. He's untouchable, giving him elevated status as special counsel. Remember, the A.G. is gone when a new administration comes in and so are the 93 U.S. attorneys, and Durham is one of those."
That's a revealing statement. Contrary to Jarrett, President Biden did not fire every U.S. attorney — he left Weiss in place to complete the investigation of his son. The move was one of several Joe Biden took in order to maintain the credibility of the justice system after his election. For that, he gets no credit from the likes of Hannity and Jarrett, as their interests are purely partisan and results-oriented. The integrity of the process doesn't really matter — if it finds Republicans guilty or Democrats not guilty, it must be flawed.
For decades, Fox talking heads like Hannity and the rest of the right's scandal machine have relied not just on keeping their audience perpetually angry — but on a pliant mainstream press willing to parrot their preposterous arguments as if they were offered in good faith.
They do not actually care about tax crimes. The GOP's top policy priority is repealing funding for the IRS to target wealthy tax evaders, and right-wing personalities denounced potential new hires for that agency as President Biden's "army," "Gestapo," and "Praetorian Guard."
They do not actually care about politicized justice. Trump regularly used the justice system to target his political opponents, he and his presidential primary foes are openly running on ending the independence of the Justice Department from the White House, and his media allies regularly call for politically motivated prosecutions.
And they do not actually care about the purported corrupt dealings of members of a president's family. The allegations regarding Hunter Biden pale in comparison to reporting about Trump, his sons Eric and Don Jr., and his daughter Ivanka and son-in-law Jared Kushner, who worked in his White House.
They are pretending to care, and reporters should not pretend to believe them.