'Flip-Flop Fest': Republicans Whine After Garland Names Hunter Biden Special Counsel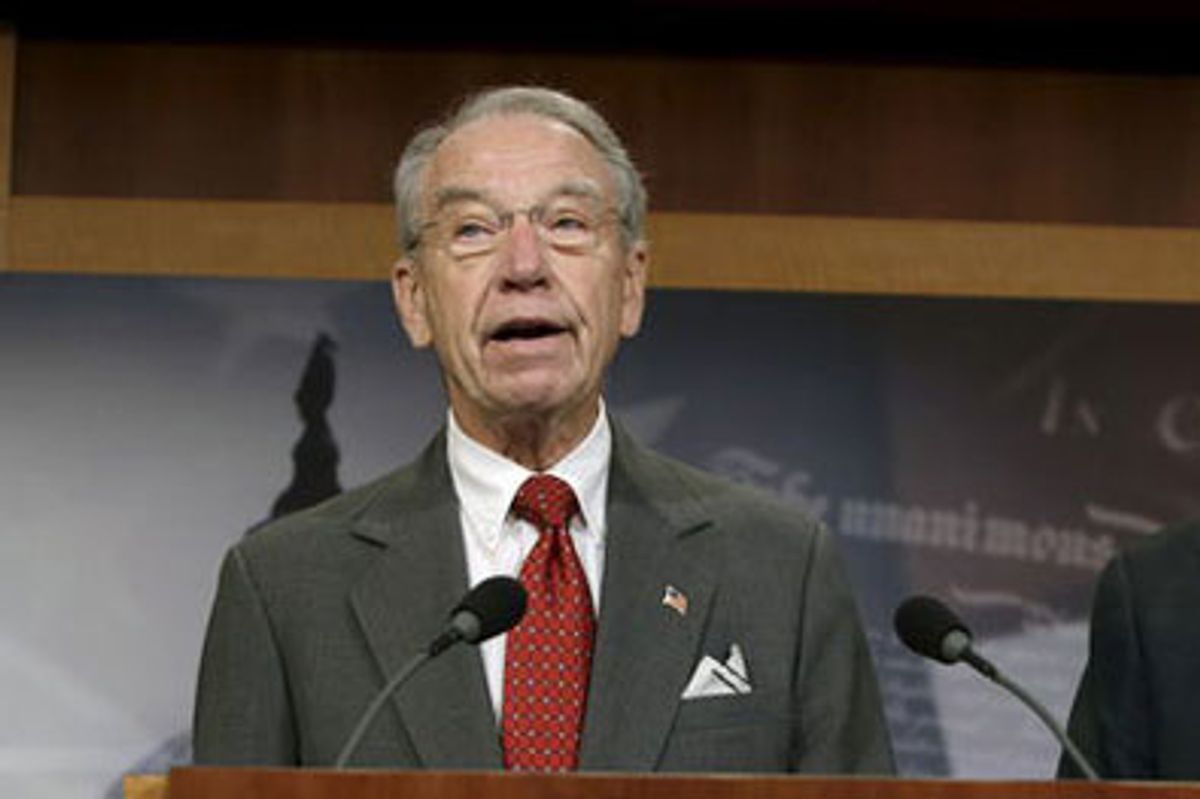 Republicans expressing outrage after Attorney General Merrick Garland on Friday elevated the Trump-appointed U.S. Attorney investigating Hunter Biden to special counsel status are now being mocked and chastised after it was revealed they have been demanding the Attorney General appoint a special counsel to investigate Hunter Biden for over a year.

"Half of the House Republican conference wrote to Merrick Garland last year asking him to appoint a special counsel in the Hunter Biden case. Now that he's done it they are acting mad," wrote Aaron Fritschner, deputy chief of staff for Rep. Don Beyer (D-VA).
Fritschner pointed to this letter to Garland from April, 2022, signed by nearly 100 House Republicans, demanding he appoint a special counsel.
"We believe that in the case of Hunter Biden a Special Counsel must be appointed to preserve the integrity of this investigation and any subsequent prosecution. A Special Counsel would also ensure there is no bias in the investigation or undue influence from the White House," the Republicans wrote.
Doing so, they insisted, would "help restore" some "trust for the American people…in government institutions."
For example, among the House Republicans who signed the April 2022 letter demanding a special counsel, is Rep. Alex Mooney (R-WV), who on Friday, responding to a report about the elevation of David Weiss to special counsel status, wrote: "The Biden Justice Department is trying to stonewall congressional oversight. All this while the House Oversight Committee has put fourth mounting evidence of President Joe Biden's role in his family's schemes."
The ridicule of Republicans came quickly.
Fritschner blasted U.S. Senators Lindsey Graham (R-SC) and Ron Johnson (R-WI):
Talking Points Memo founder Josh Marshall, pointing to Fritschner's comments, responded: "Friends don't let friend[s] try to appease Republicans."
Rep. Jared Moskowitz (D-FL), known for his sarcastic and scathing remarks ridiculing Republicans during House committee hearings, ridiculed the entire House GOP Friday afternoon. After pointing to a post from February they made demanding a special counsel, he suggested they might need treatment for amnesia.
Fritschner blasted Senators Lindsey Graham (R-SC) and Ron Johnson (R-WI):
That social media post from the House GOP included a letter from Judiciary Chairman Jim Jordan blasting Garland for not appointing a special counsel.
National security attorney Brad Moss slammed Sen. Chuck Grassley (R-IA) for demanding a special counsel be appointed, only to complain when one was.
Norman Ornstein, the political scientist and emeritus scholar at the American Enterprise Institute, responded, adding: "Chuck Grassley has long been an embarrassment to the Senate and clearly seems to have been privy to the attempt to steal the election. He needs to resign."
Indeed, Sen. Grassley was one of 33 GOP Senators who, in September, not only demanded Garland appoint a special counsel, but demanded David Weiss be granted special counsel status.
"Under Department of Justice regulations and federal law, you have the power to provide special counsel authorities and protections to U.S. Attorney Weiss. Given that the investigation involves the President's son, we believe it is important to provide U.S. Attorney Weiss with special counsel authorities and protections to allow him to investigate an appropriate scope of potentially criminal conduct, avoid the appearance of impropriety, and provide additional assurances to the American people that the Hunter Biden investigation is free from political influence," the GOP Senators wrote.
Read the tweets above or at this link.
Reprinted with permission from Alternet.