Select Panel Seeks 'Cooperation' Of Lawmaker Who Led January 5 Capitol Tour
@Brandi_Buchman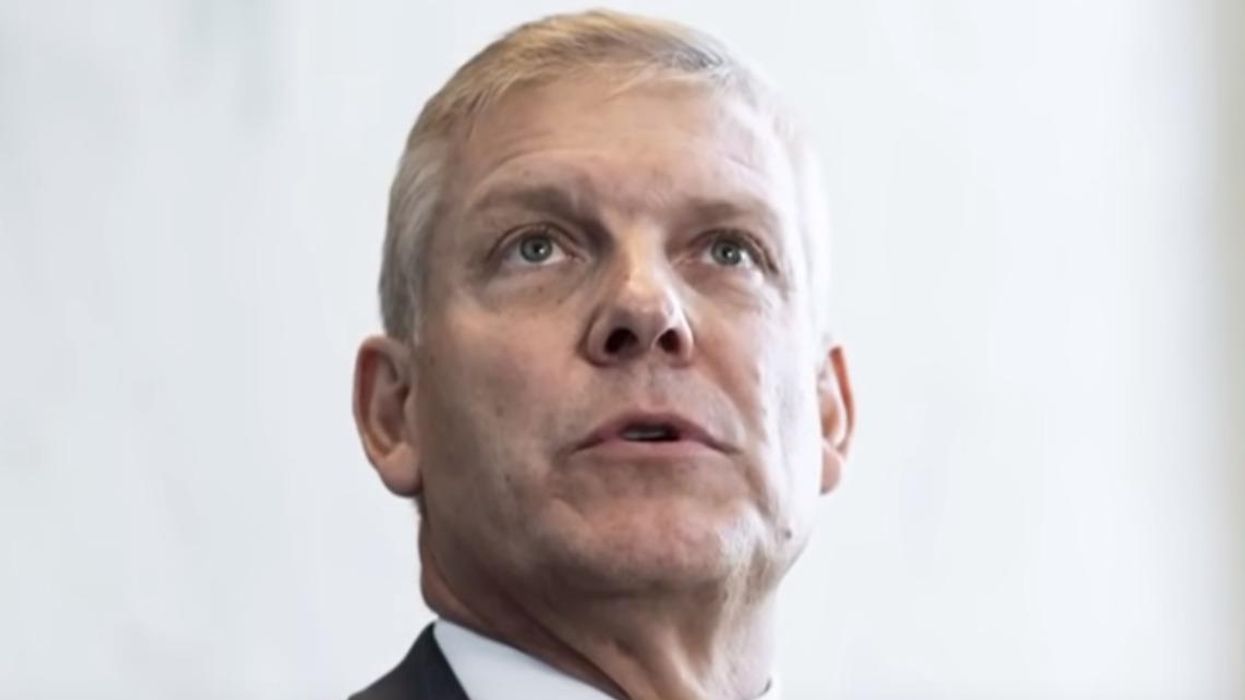 Youtube Screenshot
The House Select Committee has requested cooperation from another sitting lawmaker; this time it is Rep. Barry Loudermilk, a Georgia Republican, who investigators say gave a tour of the U.S. Capitol one day before a mob violently stormed the complex.
The letter sent to Loudermilk on Thursday is not a subpoena. It is a request for voluntary cooperation. Committee chairman Rep. Bennie Thompson (D-MS) asked that Loudermilk make an appearance next week:
"We believe you have information regarding a tour you led through parts of the Capitol complex on January 5, 2021. The foregoing information raises questions to which the Select Committee must seek answers. Public reporting and witness accounts indicate some individuals and groups engaged in efforts to gather information about the layout of the U.S. Capitol, as well as the House and Senate office buildings in advance of January 6, 2021."
The week after former President Donald Trump incited an insurrection at the Capitol, New Jersey Democrat Mikie Sherrill alleged publicly that she witnessed sitting Republican lawmakers lead tours through the Capitol on the eve of the attack.
Other Democrats, like Rep. Mary Gay Scanlon of Pennsylvania, also said they saw small "unauthorized" groups touring the Capitol on January 5. Scanlon told PhillyVoice in January that she witnessed a group of up to eight people, wearing ill-fitting face masks, on one of those tours.
This stuck out to her, Scanlon recalled at the time, because the Capitol had stopped public tours due to the COVID-19 pandemic.
For Sherrill, a moderate Democrat, a sitting member of the House Armed Services Committee, and a Navy veteran, the accusation drew sharp rebuke.
Sherrill has been publicly mum about the details of what she claims to have seen on January 5, but she did join more than two dozen other Democrats who demanded that the House and Senate Sergeant-at-Arms investigate the "suspicious behavior."
🚨BREAKING: Rep. Mikie Sherrill (D-NJ), a Navy veteran and Annapolis grad who sits on the House Armed Services Committee, said she saw fellow members of Congress "who had groups coming through the Capitol that I saw on Jan. 5, a reconnaissance for the next day." pic.twitter.com/YbZkW1qq7T
— John Kruzel (@johnkruzel) January 13, 2021
Denials from Republicans came swiftly. Rep. Loudermilk, who sits on the House Armed Services Committee with Sherrill, lashed out by filing a complaint against her—and 33 other Democrats who called for a probe—with the House Ethics Committee.
Loudermilk called the Democrat's request "a stain" on Congress and flatly denied that any member of the GOP led "reconnaissance tours" through the Capitol on January 5.
"Security footage captured by U.S. Capitol Police easily confirms these facts," Loudermilk wrote in the full-throated denial.
Loudermilk was one of several Republicans on the House Administration Committee who reviewed security footage from January 6. Many of those same Republican lawmakers said after reviewing it that there were "no tours, no large groups, [and] no one with MAGA hats on."
In fact, Rep. Rodney Davis, once nominated to serve on the House Select Committee by GOP Leader Kevin McCarthy, led a call for House Speaker Nancy Pelosi to have the Capitol security footage made public.
His review, Davis said, did not support allegations from Democrats that members of the GOP led tours of the Capitol on Jan. 5. Pelosi, he screeched, must release the tapes.
But Davis was barking up the wrong tree: Pelosi does not have the authority to release U.S. Capitol security footage. That is up to the U.S. Capitol Police.
Arguably, Davis should have known that. As a member of the Committee on House Administration, he serves on a committee that, in part, oversees the Capitol Police.
Incidentally, Davis was also approved by Pelosi to serve on the January 6 committee when it was first being formed.
McCarthy nominated Davis and four other Republicans—including Trump cronies Rep. Jim Jordan and Rep. Jim Banks—to serve in the probe. But Pelosi didn't want Jordan or Banks and sent McCarthy back to the drawing board.
Instead of continuing negotiations, McCarthy abandoned the committee altogether and slammed it as a partisan witch hunt.
Since then, Davis has served on what amounts to a shadow committee investigating January 6. Its members are all those Republicans who were not placed on the House Select Committee, including Banks and Jordan.
The shadow panel has no subpoena power, so it has relied on voluntary cooperation only and has reportedly focused its efforts almost entirely on the U.S. Capitol Police.

Loudermilk has been a vocal opponent of the investigation of the attack on the U.S. Capitol. Before the probe was officially formed, Loudermilk said any select committee formed in Congress would fail to produce new information.
So far, the select committee has interviewed more than 1,000 witnesses and obtained critical first-hand witness testimony about what was happening inside of the White House during the insurrection incited by the former president.
Some of that information includes texts from Loudermilk to Trump's then chief-of-staff Mark Meadows.
While a mass of the former president's supporters—and members of domestic extremist networks like the Oath Keepers and Proud Boys—carried out the assault, Loudermilk texted Meadows.
"It's really bad up here on the Hill," he wrote. "They have breached the Capitol."
Meadows responded to Loudermilk that Trump was "engaging."
Loudermilk thanked him, but he lamented where they found themselves.
"Thanks. This doesn't help our cause," Loudermilk said.The lawmaker had spent weeks publicly promoting the idea on Twitter that election fraud was rampant in Georgia, as evidenced by
posts collected in a social media field guide first compiled by Rep. Zoe Lofgren.
Entities that are investigating Jan. 6:

- Department of Justice
- U.S. Attorney's Office
- FBI
- Committees in both House and Senate

What can Pelosi's partisan committee tell us that they haven't? NOTHING.
— Rep. Barry Loudermilk (@RepLoudermilk) July 21, 2021
A representative for Loudermilk did not respond to a request for comment to Daily Kos on Thursday.
He did, however, tell The Guardian:
New from GOP Rep. Barry Loudermilk — "A constituent family with young children meeting with their Member of Congress in the House Office Buildings is not a suspicious group or 'reconnaissance tour.' The family never entered the Capitol building."
— Hugo Lowell (@hugolowell) May 19, 2022
Loudermilk ultimately voted to object to the certification of the 2020 election results on January 6 after hundreds of police officers had been badly beaten, one person had died, and the Capitol endured more than $1 million in damages.
Reprinted with permission from Daily Kos.