Senator Who 'Joked' About Lynching Is A Neo-Confederate, Too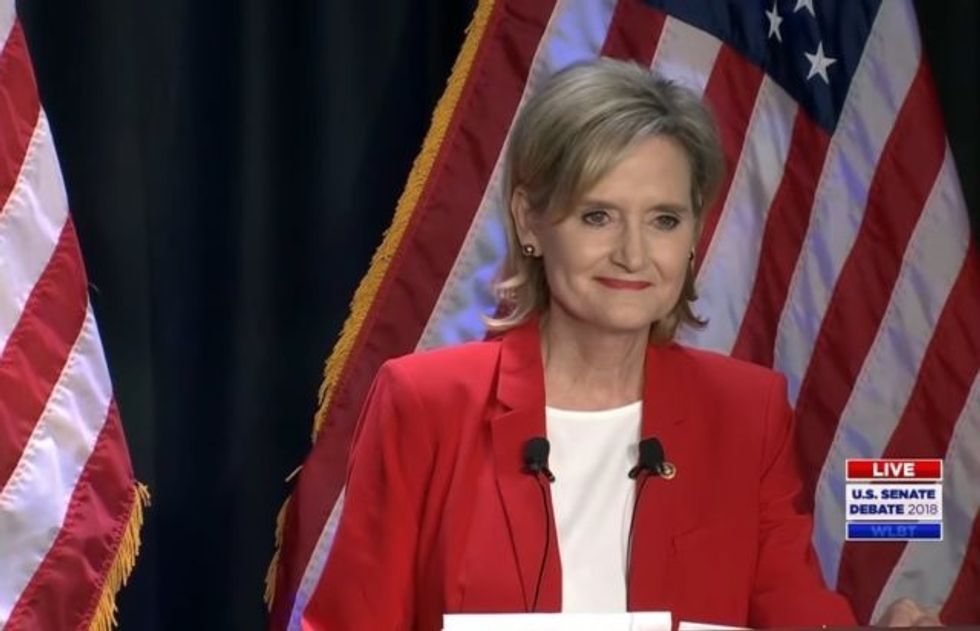 Reprinted with permission from Shareblue.
Sen. Cindy Hyde-Smith's campaign adamantly denies she is a racist — but a 2014 Facebook post features a photo of her wearing a Confederate soldier's hat, holding a rifle, and smiling, with a caption praising the Confederate era in her state as "Mississippi history at its best!"
What's more, the man Hyde-Smith is smiling and posing with is reportedly a member of a white nationalist hate group.
The Facebook post, first reported by Politico, included several photos from Hyde-Smith's visit to the Jefferson Davis Home and Presidential Library. Jefferson Davis was the president of the Confederate States of America during the Civil War, and fought to maintain the institution of slavery in America.
His former home has been turned into museum celebrating the Confederacy. The museum's gift shop sells such items as a book called "The South Was Right!" and a "Flags of the Confederacy" coffee mug.
And according to journalist Judd Legum of Popular Information, the man smiling and posing next to Hyde-Smith with rifles and Confederate hats is Greg Stewart, a member of a white nationalist group that fought to keep the Confederate symbol on the state flag.
Legum noted that the group, called "Free Mississippi," has been identified as a hate group by the Southern Poverty Law Center.
Hyde-Smith, a white woman, is locked in a close race with Democrat Mike Espy, a black man, for the U.S. Senate seat Hyde-Smith has held since April. Both Hyde-Smith and Espy received roughly 40 percent of the vote on Nov. 6, and will face off on Nov. 27 in a runoff election.
Hyde-Smith is already dealing with a scandal over a racist remark. In a recent video, she made a "joke" about attending a public hanging with one of her supporters, a phrase that brought to mind Mississippi's dark history of racist mobs lynching black people.
Her comments have brought rebukes not only from the Espy campaign, but from corporations as well. Walmart has withdrawn its support from Hyde-Smith and demanded a refund of its $2,000 donation to her campaign. Union Pacific and Boston Scientific have also demanded refunds and sought to distance themselves from Hyde-Smith's divisive campaign.
Hyde-Smith also shocked Americans by praising voter suppression tactics that make it harder for liberal college students to vote.
Hyde-Smith's racist missteps in particular have many Republicans "unnerved," according to the New York Times.
But despite her many controversies, the Republican Party steadfastly stands beside Hyde-Smith, and is even willing to spend $1 million to help her hold on to her seat.
Trump, also known for making racist comments, is planning to visit Mississippi to hold a rally with Hyde-Smith.
Espy, meanwhile, is looking to pull off a Doug Jones-style upset in the deep South.
If Espy won, he would become the first Democratic senator elected in Mississippi since 1982 — and the state's first black senator since the Reconstruction era, when America started trying to clean up the racist mess that Hyde-Smith's beloved Confederacy had left behind.
Published with permission of The American Independent.