What Sessions Should Tell Trump About Pardons — Before It's Too Late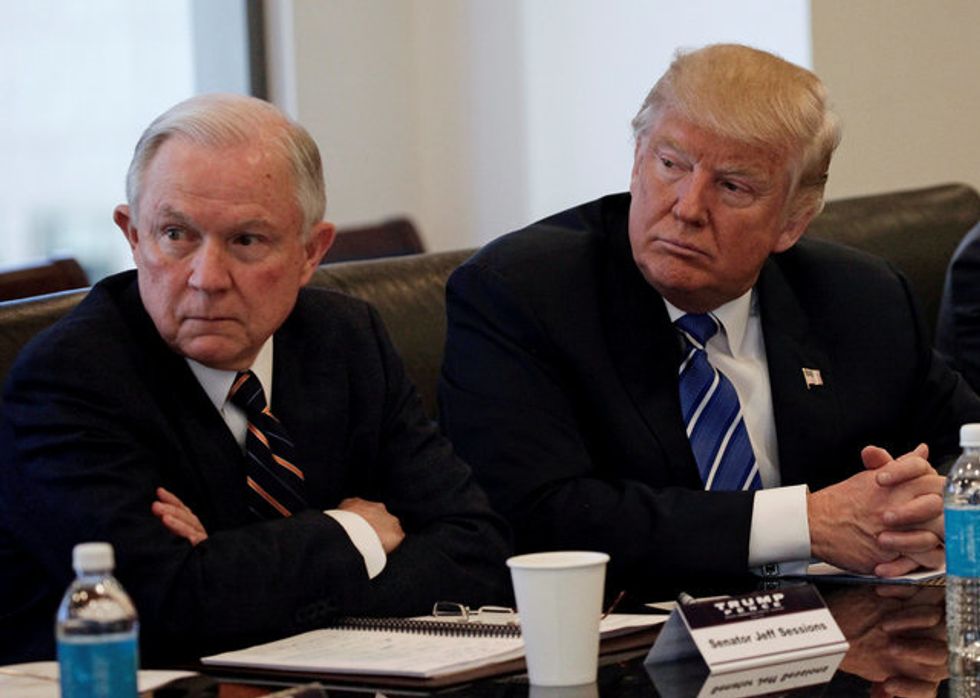 When Donald Trump issued a tweet reminding everyone that as president he has "the complete power to pardon," did he mean to suggest that he can pardon himself? Or simply to boast that he can issue pardons without consulting any other authority or facing any consequences?
The impact of Trump's provocative statement — along with news accounts suggesting he may issue a flurry of pardons to stonewall special counsel Robert Mueller — forced a denial from his lawyer Jay Sekulow. But whatever impulse propels him now, someone ought to tell Trump that while the pardon power is indeed a solo prerogative of his office, it isn't quite absolute. And should he appear to use that power for a corrupt purpose, such as obstruction of justice, he could place himself in serious legal jeopardy. Not only could he be impeached, since the Constitution specifically prohibits pardoning any impeached official, but he might just be criminally prosecuted as well.
If Trump has any doubts about that possibility, he should ask Bill Clinton or James Comey — or his own Attorney General Jeff Sessions.
Within weeks after President Clinton pardoned the fugitive oil trader Marc Rich, on his final day in office, that widely denounced decision became the subject of a criminal investigation by the Justice Department. Acting on the premise that Rich might have bribed Clinton by channeling political contributions via his ex-wife Denise, U.S. Attorney Mary Jo White announced the probe's launch on February 15, 2001.
A Clinton appointee, White was outraged by the pardon, like many of her colleagues in law enforcement, and determined to settle the score. Her office issued scores of subpoenas to the former president's associates, donors, and friends, as well as to the Clinton Foundation, while FBI agents conducted dozens of interviews across the country, seeking any evidence that Clinton had sold the Rich pardon.
As for Clinton, he gritted his teeth and cooperated with the investigation, which added fresh legal bills to the enormous debt he already owed his attorneys.
Years later, after Comey had replaced White as U.S. Attorney, the pardon investigation finally sputtered to a close in 2005 when the government gave up looking for evidence that didn't exist. (I examined the real motivation behind the Rich pardon, which had become obvious long before Comey closed the investigation, in my recent book Man of the World: The Further Endeavors of Bill Clinton.)
The Rich pardon probe went nowhere, slowly. Yet for Trump its outcome isn't nearly as important as the precedent it established. A president may issue a pardon to anyone (except perhaps himself), but if his purpose is corrupt then he is not necessarily exempt from prosecution.
Nobody appears to have disagreed with that judgment at the time, least of all the Congressional Republicans who were pursuing their own enthusiastic investigation of the Clinton pardons.
Among the prominent lawmakers who endorsed the pardon inquiry was none other than Senator Jefferson Beauregard Sessions III (R-AL), who offered his own theory of the case to ABC News: "If a person takes a thing of value for themself [sic] or for another person that influences their decision in a matter of their official capacity, then that could be a criminal offense." And in principle, any criminal motive for a pardon could leave the president equally culpable.
Perhaps someone should ask Sessions on the record whether he still believes a pardon can be a criminal act — before Trump fires him.