#EndorseThis: Seth Meyers Surveys Trump Chaos, From Capitol Hill To Mar A Lago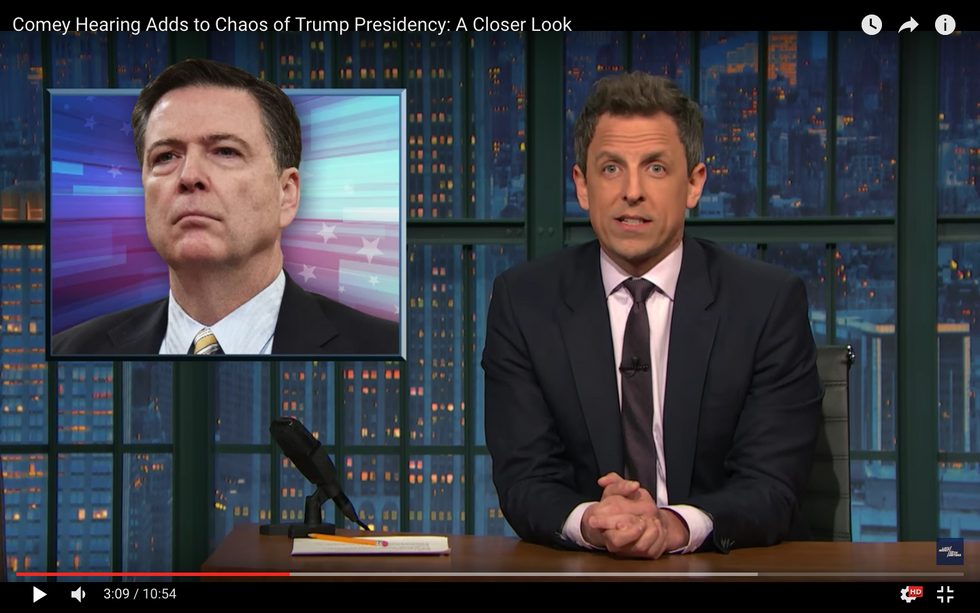 To Seth Meyers, the ongoing chaos in the Trump White House — and what the president preciously calls "the southern White House," meaning Mar a Lago — is fascinating. He talks about meetings that never happen, he behaves like a dejected schoolboy with the German chancellor. But with FBI director James Comey's confirmation in Congress that his agency is investigating collusion between Trump staffers and the Kremlin during the 2016 presidential campaign, it all just got a lot worse.
Taking "a closer look" at that hearing, the Late Night host is bemused by the behavior of the House Republicans, who were keen to discuss anything but the bombshell Comey laid before them.
So committee chair Devin Nunes (R-CA) asked whether the Russians had somehow changed vote tallies in specific states — Michigan, Pennsylvania, Wisconsin, Florida, North Carolina, or Ohio — an allegation that nobody has ever made. (Comey said no.) Trey Gowdy (R-SC), whose Benghazi special committee leaked continuously to the press for partisan purposes, wanted to know whether the FBI is investigating leaks that have embarrassed the White House. And in his usual manner, Gowdy insinuated without evidence that the leakers were Obama administration officials, including the former president himself.
As always, Meyers adeptly highlights the low mental acuity of the nation's elected representatives. Even he was surprised by the question framed by Rep. Mike Conaway (R-TX), who came up with a special subject to waste Comey's time.
Just click.