Shakespeare Echoes In Today's Politics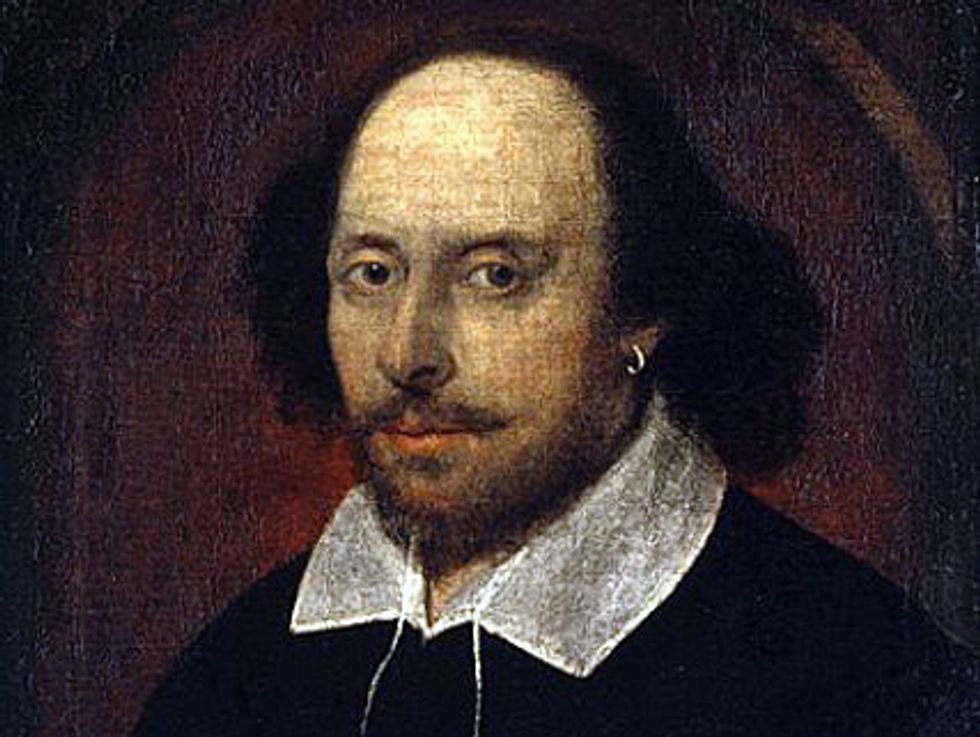 Observing Washington politics close-up has given me a new appreciation of Shakespeare. Now I see where he got his ideas.
"Today, you could say that almost all of our political rhetoric, comes from two books from the 16th and 17th centuries: the King James Bible and Shakespeare's plays," Michael Witmore, director of Folger Shakespeare Library, told me last year.
I recently talked to Witmore again at the 71-year-old independent research library and theater, which sits only a block east of the Capitol.
What, I wondered, would Shakespeare say about today's era of government shutdowns, debt-ceiling showdowns and Obamacare website meltdowns? He wouldn't be surprised, Witmore said with a smile, "After all, he wrote the script."
Indeed, after perusing some of the Bard's most famous quotes, it is not hard for me to look at today's headlines and imagine, say, President Barack Obama confronting congressional Republicans with, "Do you think I am easier to be played on than a pipe?" (Hamlet).
Or Treasury Secretary Jack Lew reporting on job growth: "We have seen better days." (Timon of Athens)
Or House Speaker John Boehner (R-OH) looking over his shoulder at Tea Party rivals: "Yond Cassius has a lean and hungry look; He thinks too much: such men are dangerous." (Julius Caesar).
Or Sen. Ted Cruz (R-TX) defending his ill-fated push into the partial government shutdown: "Though this be madness, yet there is method in't." (Hamlet).
Or maybe Health and Human Services Secy. Kathleen Sebelius as Lady Macbeth dealing with Obamacare's website woes: "Out! Out, damn glitch…!"
But Witmore called my attention to As You Like It, a comedy that in Act 5, Scene 4, delivers "one of the great comic treatments of the politics of brinksmanship (that) we in the capital know well."
In the scene, a jester named Touchstone instructs us in the etiquette of giving "the Lie with Circumstance," a gesture to soften disputes — of which today's Capitol Hill has many.
To express disagreement, he recommends the little word "if" in a way that almost sounds like you are conceding agreement — as in, "If you said so, then I said so."
"Your If is the only peace-maker," Touchstone concludes. "Much virtue in If."
Brilliant. Cut through the Elizabethan English and one hears Shakespeare capturing what I call the essence of passive-resistant diplomacy. The "if" accepts the validity of the other person's judgment without closing the door on the possibility that the other person is wrong.
President Obama offered an excellent example, in my view, when he recently was confronted in an Associated Press interview with a controversy that he did not need, yet could not easily avoid: the long-building uproar over the racial slur that the Washington's pro football team, the Redskins, uses as their name.
In May, the current team owner Dan Snyder told USA Today, "We'll never change the name. It's that simple. NEVER — you can use caps."
No matter how much some well-meaning fans try to sugarcoat it, the name is a slur and needs to go. But how does a president make that point without sounding like a hater of the team? How about a virtuous "if?"
"If I were the owner of the team," the president said in a fatherly tone, "and I knew that there was a name of my team — even if it had a storied history — that was offending a sizable group of people, I'd think about changing it."
That's about as forceful as anyone can call for banishing a racial slur without giving anyone a good reason to feel offended. Snyder responded with an open letter to fans that defended the name, although this time he didn't say "NEVER," all caps or not.
If the name's days are numbered, as I suspect they are, Obama helped move the ball down the field.
Germany's first chancellor, Otto von Bismarck, called politics "the art of the possible." Such is the magic of the Shakespearean "if," I believe. Leaders need to think not only about how bad things are but also how good they could be.
(Email Clarence Page at cpage@tribune.com.)
Image via WIkimedia Commons