Shock Poll: Trump Destroying Rubio — In Florida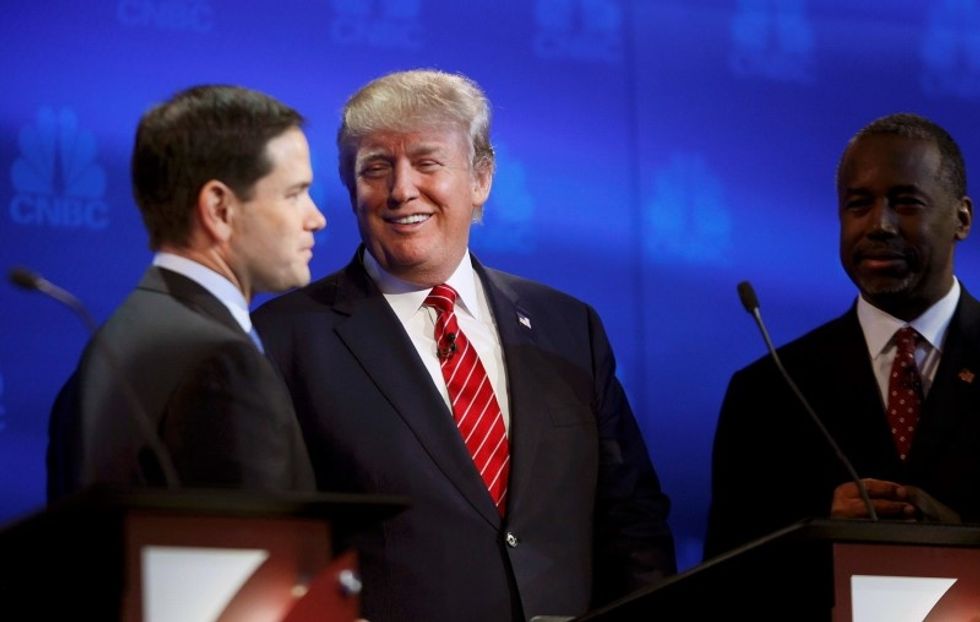 It's time for Marco Rubio to hit the panic button — and then hit it again, and again, and again.
The new Quinnipiac University poll of Florida, released Thursday morning, shows Donald Trump defeating Rubio in his home state by a landslide: Trump 44 percent, Rubio 28 percent, Ted Cruz 12 percent, John Kasich 7 percent, and Ben Carson 4 percent.
The Florida primary will be held this March 15. It will award 99 delegates, on a statewide winner-take-all basis. If this poll were to become the actual election result, Rubio's campaign would be definitely over — and Trump's nomination would be near certain.
From the pollster's analysis: "Florida is the single biggest prize of the primary season because it is the largest state to allocate its delegates on a winner-take-all basis. If Sen. Rubio can't win in his own home state, it is difficult to see how he can win elsewhere."
Trump was previously running ahead of Rubio in Florida polls, but the last public surveys were held way back in January, before Rubio solidified his position as the establishment's favorite and his fellow Floridian Jeb Bush dropped out. But with all of The Donald's victories so far, he's more than holding firm in the Sunshine State.
Someone else who is sure to tout this poll's findings: Donald Trump, who will doubtless be talking all about it at tonight's Republican debate on CNN.
Update: Republican media consultant Todd Harris, who is a senior advisor for the Rubio campaign, has just tweeted this rebuttal to the poll:
Media needs to chill. The FL Q poll #'s are way wrong. We are going to win Florida. Period. Take it to the bank.

— Todd Harris (@dtoddharris) February 25, 2016
Well that settles it, then.
Photo: Republican U.S. presidential candidate U.S. Senator Marco Rubio (L) talks with businessman Donald Trump (C) as Dr. Ben Carson (R) looks on during a commercial break at the 2016 U.S. Republican presidential candidates debate held by CNBC in Boulder, Colorado, October 28, 2015. REUTERS/Rick Wilking