Some #NeverTrumpers Have Already Committed To Voting For Hillary Clinton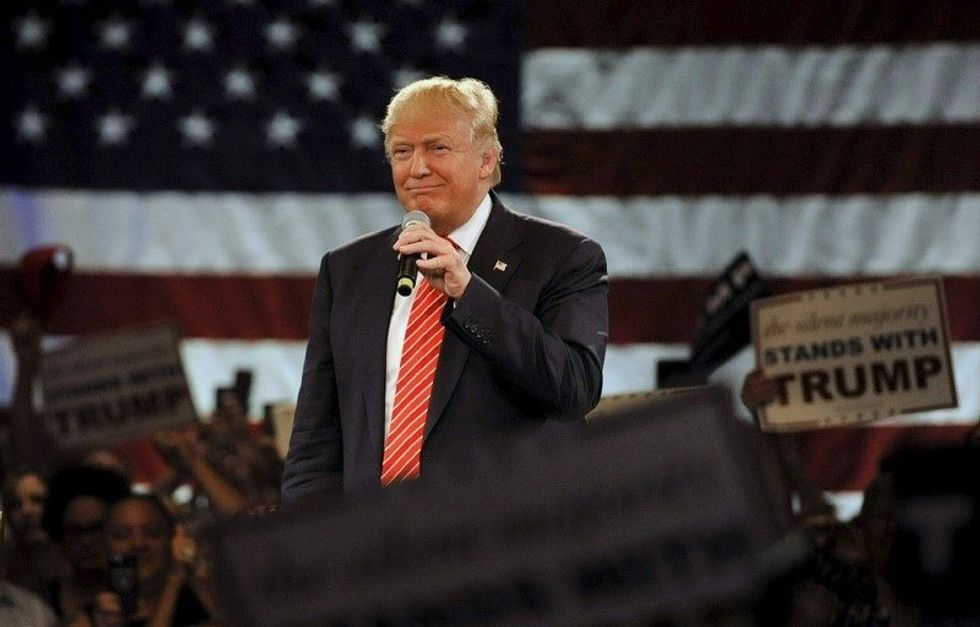 Some of the most principled members of the conservative movement woke up Wednesday morning to an unrecognizable party — what had been an organization advocating fiscal and social conservatism has turned into something else entirely: a cult of personality. Populists. Know Nothings.
The new reality facing #NeverTrump Republicans became even more apparent following campaign suspension announcements of Ted Cruz and John Kasich. The Texas senator shut down his campaign before the votes had even been fully counted in Indiana. John Kasich waited until this afternoon. With no one left to lead the anti-Trump movement in the presidential nomination race, some Republicans have done the unthinkable — pledge to support Hillary Clinton in the presidential election.
The social media statuses and official announcements came flooding in last night as soon as it became clear that Trump had won the Indiana primary, effectively guaranteeing that he would be the Republican nominee.
"If it's a competitive election, I probably will be compelled to vote for Hillary," said Leon Wolf, editor of Red State, a conservative digital news site, to The Daily Beast. " I wouldn't go to bed every night worrying about a mushroom cloud opening up somewhere in the world because of some insane thing Trump had done."
Fellow Red State editor Ben Howe simply tweeted:
Former John McCain advisor Mark Salter also tweeted:
the GOP is going to nominate for President a guy who reads the National Enquirer and thinks it's on the level. I'm with her.

— Mark Salter (@MarkSalter55) May 3, 2016
The Clinton campaign is already capitalizing on Trump's victory, sending out a campaign email with an exhaustive list of conservatives and Republicans who have said they would never vote for Trump. Nebraska senator Ben Sasse, one of the most prominent voices of the #NeverTrump movement, said in a Facebook post, "Mr. Trump's relentless focus is on dividing Americans, and on tearing down rather than building back up this glorious nation. … I can't support Donald Trump."
Trump's victory in Indiana only solidified already existing conservative opposition to his candidacy. In March, former New Jersey governor Christie Todd Whitman said, "While I certainly don't want four more years of another Clinton administration or more years of the Obama administration, I would take that over the kind of damage I think Donald Trump could do to this country, to its reputation, to the people of this country."
David Bernstein, a professor at George Mason University, wrote in an op-ed in The Washington Post, "I'd rather Hillary Clinton win. I'd rather (and I never thought I'd say this) Barack Obama serve a third term. I'd even rather Bernie Sanders win, though if it came down to Sanders vs. Trump it might be time to form a breakaway republic. If Trump wins the nomination, I will actively seek to prevent him from becoming president."
Even in the realm of international affairs, Trump's promise to commit war crimes and "bomb the shit out of" America's enemies has turned away even the most ardent neocons. "She [Clinton] would be vastly preferable to Trump," said Max Boot, a conservative foreign policy analyst, to Vox. Boot had previously advised the McCain, Romney and Rubio campaigns on foreign policy.
The list goes on. But the reality is that while Trump may have a mandate from the 10.6 million people who have voted for him in Republican primaries, he has earned a lot of powerful enemies in his usurping of establishment power in the party. In heralding the start of a new, post-Reagan Republican Party, Trump's army has spurred an exodus of its old guard. And while these are the last people to support a Clinton presidency, their seeming willingness to cross party lines shows just how desperate a place Donald Trump's America would be.
Photo: Donald Trump talks to supporters during a campaign rally at the Tampa Convention Center in Tampa. REUTERS/Steve Nesius