Stanley Rubin, Prolific TV And Movie Writer-Producer, Dies At 96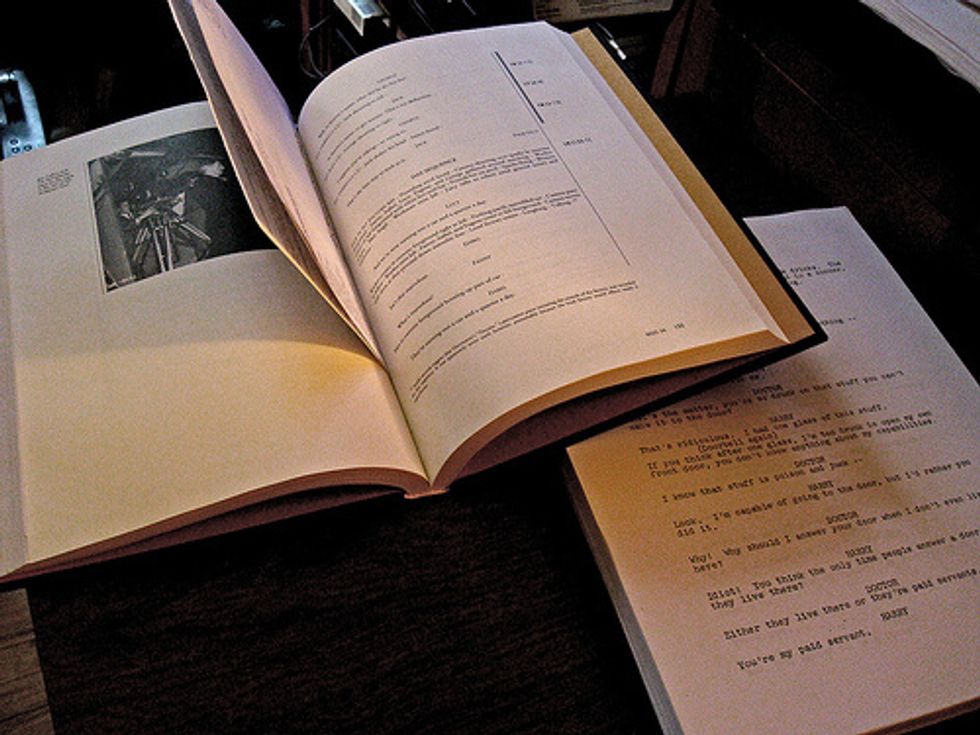 By Bob Pool, Los Angeles Times
LOS ANGELES — There was a 69-year gap between the time Stanley Rubin enrolled at the University of California, Los Angeles, in hopes of launching a writing career and 2006, when he actually graduated.
And during that seven-decade break in schooling, the prolific film and television writer and producer left his mark at nearly every studio in Hollywood, helped run the Writers Guild and Producers Guild, and took home one of the first Emmys ever awarded.
Rubin, 96, died Sunday in his sleep at his home above the Sunset Strip, said actress Kathleen Hughes, his wife of 59 years.
Born Stanley Creamer Rubin on Oct. 8, 1917, in the Bronx, he was a teenager when he took a Greyhound bus across the country to enroll at UCLA in 1933. After working as the editor of the school's newspaper, the Daily Bruin, he was a few units shy of graduating when he dropped out in 1937 to work for a weekly Beverly Hills newspaper owned by Will Rogers Jr.
From there he went to work in the Paramount Pictures mailroom, where his radio, TV and film career was launched. In 1949, the first year the Emmys were awarded, he accepted the statue for best film made for television for an episode of the dramatic anthology series "Your Show Time" called "The Necklace."
By 1940 he had become a writer at Universal Studios; in 1946 he switched to Columbia Pictures, and in 1948 he moved to a producing job at NBC. Rubin worked as a theatrical film producer for a variety of movie studios in the early 1950s before returning to television producing at CBS. He moved back to TV production at Universal Studios in 1960, took a TV producing post at 20th Century Fox in 1967 and then at MGM from 1972 to 1977.
Along the way, he wrote 19 movies and produced more than two dozen feature and TV films, including a 1955 Francis the Talking Mule comedy and 1967's The President's Analyst starring James Coburn. Producing River of No Return in 1954, Rubin turned into a diplomat when he mediated between strict director Otto Preminger and mercurial star Marilyn Monroe.
After leaving MGM, he worked as an independent film producer. His last screen credit in 1990 was as co-producer of Clint Eastwood's White Hunter Black Heart.
Hughes said her husband's favorite movie was The Narrow Margin, a 1952 thriller about assassins stalking a woman taking a train from Chicago to Los Angeles to testify against the mob.
The movie's release was delayed when RKO Radio Pictures head Howard Hughes became enthused by the film and asked Rubin to reshoot it with an A-list cast instead of Marie Windsor starring as the woman and Charles McGraw playing a police detective trying to protect her. Rubin refused on grounds that the whole film would have to be recast and reshot.
Rubin could be stubborn when he stood up to studio chiefs, recalled a friend, film historian Alan K. Rode. He once refused when another studio head insisted that a fictional movie about Adolf Hitler escaping Nazi Germany and hiding in the U.S. be changed to a film about communists making nerve gas in the Midwest, said Rode, director of the Film Noir Foundation.
During World War II, Rubin served a stint with the Army's First Motion Picture Unit. He hammered out contracts for the Writers Guild and spent five years as president of the Producers Guild.
Rubin's decision to return to UCLA to make up his missing 14 units found students in a 2006 School of Theater, Film and Television history class in awe of him after they discovered who he was. They were shocked to learn that the grandfatherly man who always sat near the front of the class had been a genuine pioneer of radio, television and film.
Rubin's 20-page term report was about how advertisers determined the content of 1940s radio shows.
"Most of the scripts I wrote ran about 120 pages," he confided to one of his young classmates. "So this was a piece of cake. But don't tell the professor."
Besides his wife, he is survived by daughter Angie, a film music editor; sons John, a documentary filmmaker, and Michael, who formerly worked in postproduction. Another son, Chris, died in 2008.
Photo: geminicollisionworks via Flickr