Former Trump Advisor Reveals New Details About Bannon's Role in Coup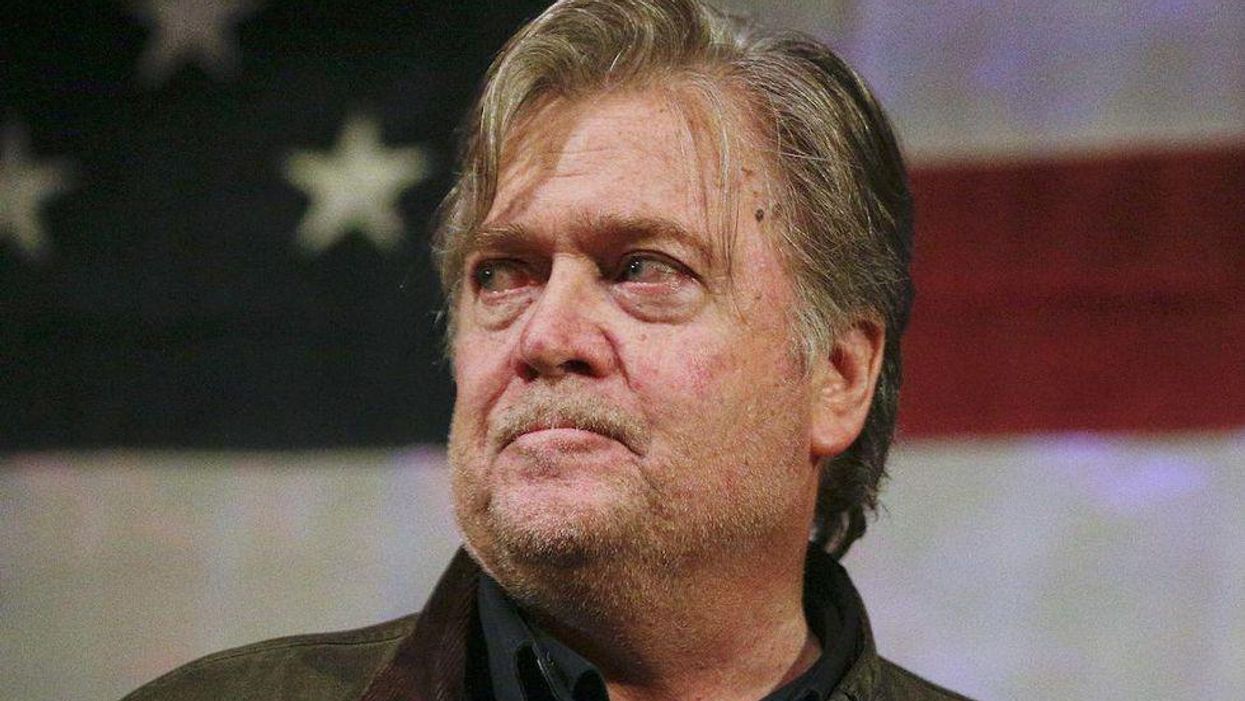 Steve Bannon
Reprinted with permission from Alternet
A former Trump White House advisor has revealed he collaborated with a right-wing agitator to execute a behind-the-scenes effort to halt the certification of President Joe Biden's election victory.
Speaking to The Daily Beast last week, Peter Navarro —ex-adviser to former President Donald Trump— touched on his role in the plans and how he and former Trump White House strategist Steve Bannon collaborated with Republican lawmakers like Sen. Ted Cruz (R-TX) and Rep. Paul Gosar (R-AZ.) to halt the certification of the election results.
"We spent a lot of time lining up over 100 congressmen, including some senators. It started out perfectly. At 1 p.m., Gosar and Cruz did exactly what was expected of them," Navarro told The Daily Beast. "It was a perfect plan. And it all predicated on peace and calm on Capitol Hill. We didn't even need any protestors, because we had over 100 congressmen committed to it."
The commitment Navarro discussed came as lawmakers were affirming the presidential election certification highlighting Biden's victory over Trump. Although they failed to successfully overturn the election, their goal was to stall as much as possible in hopes of pressuring then-Vice President Mike Pence to send election results back to the six states Trump and his allies fought to overturn.
As reputable news outlets refused to circulate Trump's claims of widespread voter fraud, The Daily Beast noted that Navarro and Bannon "hoped to force journalists to cover the allegations by creating a historic delay to the certification process."
"The Green Bay Sweep was very well thought out. It was designed to get us 24 hours of televised hearings," he said. "But we thought that we could bypass the corporate media by getting this stuff televised."
Navarro went on to highlight what his exact role was in the plot. He was responsible for providing what has been described as "raw materials" such as the report he created with subtitles like "The Immaculate Deception" and "The Art of the Steal."
"My role was to provide the receipts for the 100 congressmen or so who would make their cases… who could rely in part on the body of evidence I'd collected," he told the Daily Beast. "To lay the legal predicate for the actions to be taken." (Ultimately, states have not found any evidence of electoral fraud above the norm, which is exceedingly small.)
In his memoir titled, In Trump Time, Navarro also shed light on Bannon's role in the plot.

"Steve Bannon's role was to figure out how to use this information—what he called 'receipts'—to overturn the election result. That's how Steve had come up with the Green Bay Sweep idea," he wrote.
Navarro added, "The political and legal beauty of the strategy was this: by law, both the House of Representatives and the Senate must spend up to two hours of debate per state on each requested challenge. For the six battleground states, that would add up to as much as twenty-four hours of nationally televised hearings across the two chambers of Congress."
During a segment on his podcast, "War Room Pandemic," Bannon also alluded to elements of the plot.
"We are right on the cusp of victory," Bannon said on the show. "It's quite simple. Play's been called. Mike Pence, run the play. Take the football. Take the handoff from the quarterback. You've got guards in front of you. You've got big, strong people in front of you. Just do your duty."
Although Navarro had a role in the plot, he admitted that it was likely best that someone canceled his scheduled appearance to speak at the "Save America" rally shortly before the insurrection on the U.S. Capitol.
"It was better for me to spend that morning working on the Green Bay Sweep. Just checking to see that everything was in line, that congressmen were on board," he said during the interview. "It was a pretty mellow morning for me. I was convinced everything was set in."
Reprinted with permission from Alternet