Steve Bannon Runs His 2020 'Election Fraud' Playbook Again
@peltzmadeline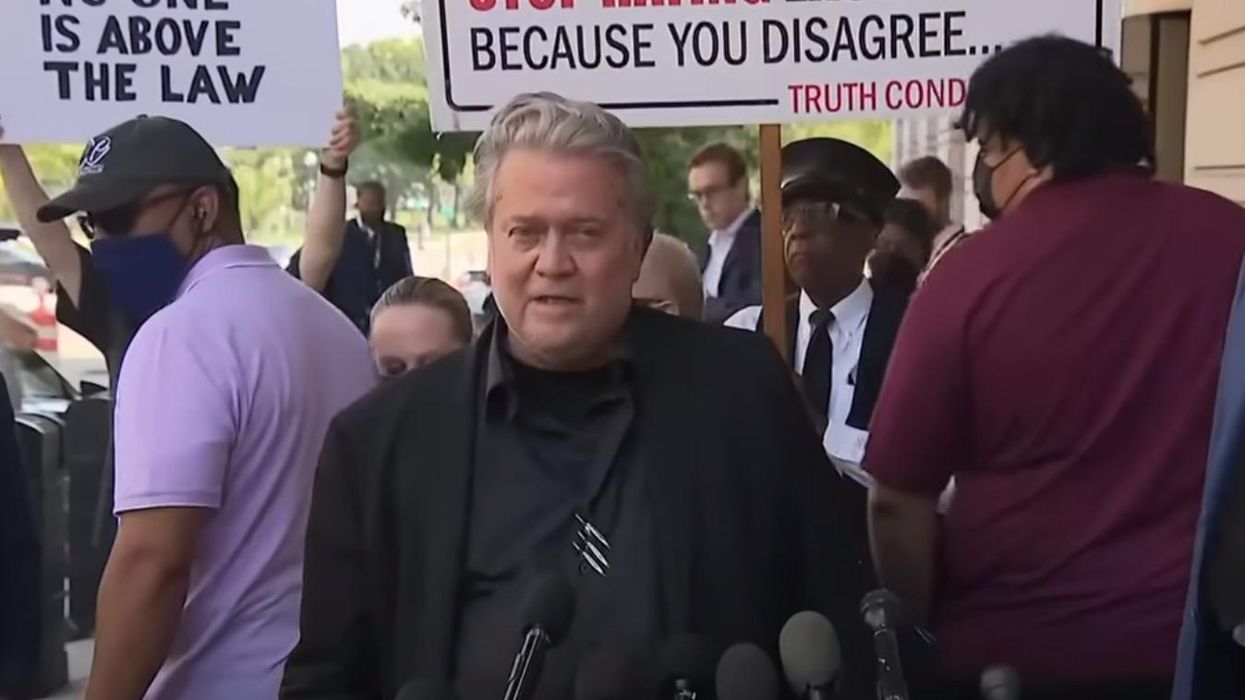 Youtube Screenshot
No recurring right-wing conspiracy theory is more threatening to the very foundation of American democracy than falsehoods about widespread electoral fraud. The majority of Republicans falsely believe the 2020 election was stolen from former President Donald Trump, and his supporters staged a coup attempt. Today, half of all Americans expect there to be fraud in the 2022 midterms, according to one recent national poll. It's bad.
There's plenty of blame to go around for this tragedy among right-wing media culprits — but chief among them must be former Trump strategist Steve Bannon's War Room, ground zero for conspiracy theories about the election being stolen in 2020. To this day, the show's central reason for existence is to keep these conspiracy theories alive to fuel the further radicalization of the Republican Party and its base.
Even before Trump lost, Bannon was saying the election would be stolen from him. In September 2020, he launched a national tour titled "The Plot to Steal 2020" to demonstrate how Democrats would use "digital muscle" and "lawfare" in collaboration with the Chinese government, The New York Times, former Attorney General Eric Holder, and "street thugs of antifa and the radical parts of Black Lives Matter" to "foist an illegitimate regime onto the republic of the United States."
On Election Day 2020, Bannon declared that Trump would claim victory "right before the 11 o'clock news" (a sentiment he also shared in private). Through the post-election period, Bannon continued to mold his platform into a central propaganda hub for the MAGA movement to radicalize Trump supporters on the idea that the election was stolen, using violent rhetoric to whip them into a frenzy and even calling for the beheading of Dr. Anthony Fauci and FBI Director Christopher Wray. This continued in the days leading up to the January 6 Capitol insurrection.
Here we are again. Bannon is once more trying to organize his conservative audience around falsehoods and conspiracy theories about supposed election fraud. But this time, he has taken the last two years to regroup and strategize, rather than riding the reactive rollercoaster that was the final days of the Trump presidency. Almost immediately after the January 6 disaster, Bannon began hosting local Republican Party activist Dan Schultz to recruit and train election deniers to work as precinct officers. The responsibilities of these positions vary by state; according to ProPublica, they can "have a say in choosing poll workers" in some states and even "help pick members of boards that oversee elections."
In the last few months, the plan of attack has expanded. In late August, Bannon declared that Democrats were planning to steal the 2022 midterms while broadcasting live from Mike Lindell's "Moment of Truth" Summit. (Bannon does MyPillow ad reads multiple times an hour for four hours a day, five days a week, with an additional two hours on Saturday. He recently told The New York Times Lindell is "the most significant financier in all of conservative media.")
Echoing 2020, this falsehood is now a constant refrain on the show, a slightly updated backdrop to Bannon's protestations from two years ago. What's different this time is the pro-Trump election denial movement is now more prepared. As Bannon told his audience in September: "It's going to be MAGA in the room, counting the votes, because only MAGA can count fair."
"We are prepared this time. We are trained this time."
On October 28, he again warned the midterms are "a whole different game" because "we are prepared this time. We are trained this time."
To execute, War Room hosts a virtual parade of extremist activists pushing election denial efforts across the country. One of the most prominent is Cleta Mitchell, a lawyer who collaborated with Trump to attempt to overturn the 2020 election. She is now leading an election denial group called the Election Integrity Network, which recruits and trains people to work as poll watchers and other positions in election administration. (At one recent training hosted by Mitchell's group, coup memo author John Eastman told volunteers to "document what you've seen, raise the challenge" and "get it all written down" because "that then becomes the basis for an affidavit in a court challenge after the fact.")
Mitchell has also instructed the War Room audience to volunteer in Democratic stronghold counties previously subjected to destructive conspiracy theories during the Trump campaign in 2020, including ones they don't live in. One of the counties she highlighted is DeKalb County, Georgia, one of four counties that make up the metropolitan Atlanta area and which also has the second largest population of Black voters in the state.
Republican National Committee head Ronna McDaniel has also made War Room her home base to promote the RNC's first time "election integrity" efforts, now that it has been freed from a consent decree that limited the group's ability to organize due to concerns over racially motivated voter suppression and intimidation. On November 1, McDaniel told Bannon her recruitment efforts saw a "jump" after her appearance on War Room.
In addition to partnering with the RNC and a laundry list of other election denial organizations, Bannon is now aligned with Alex Jones. This is a relatively new development -- Jones was not much of a character at all in the 2020 rendition of this song and dance. Jones recently appeared on the show to tell Bannon's audience that they should be "documenting everything" to prevent supposed fraud in the upcoming election. In turn, Bannon has appeared on Infowars to recruit viewers to become poll workers, asking them on October 26 to join in "an overwhelming show of force" aiming "to destroy the groomer party, to destroy the globalist party."
Bannon's Violent Rhetoric
Undermining public confidence in the midterms is just the first part of Bannon's agenda; to really set his listeners on fire, they are also inundated with repeat calls to violence. Bannon has referred to Mitchell's election denier recruitment efforts as a "call to arms." He recently promised to threaten members of Congress "by bayonet" if they don't fall in line with the extremist right. He later doubled down on this statement, reposting the video on his GETTR page and promising "the Battle to reign in an out-of-control Government [commences] immediately upon Victory."
Perhaps most concerning is Bannon's repeated defense of men wearing camouflage and carrying guns while loitering outside ballot drop boxes in Arizona as a part of an effort by QAnon support Melody Jennings, who has repeatedly appeared on War Room recruiting volunteers to "monitor" drop boxes in the state. Defending the armed men from reports that they were intimidating voters, he said, "It's not intimidation to put a set of eyeballs on these things."
For the more hardcore elements of the War Room audience, some of whom showed up at the Capitol on January 6 and repeated his calls to violence verbatim, Steve Bannon's bizarre circus of a show is not one of many measured perspectives they're taking into account before drawing a larger conclusion on how they should vote or otherwise act politically. The show is exclusively available on right-wing platforms, whether it's streamed directly from Real America's Voice, the network home of the show, or on Rumble, described as "the right-wing's go-to video site" that claims to have reached 78 million monthly users in August, more than 10 times that of Trump's Truth Social platform. They are angry, unpersuadable, digitally walled off, and slurping up four hours of conspiratorial ranting a day. It's the true definition of a fever swamp, where disease festers undisturbed.
Bridging the (small) gap between Alex Jones and the heights of the Republican Party establishment, War Room thrives off the same toxic combination of election denial and violent rhetoric that we saw in 2020. This time, the critical difference that two years of planning makes could have devastating consequences.
The recent assassination attempt at House Speaker Nancy Pelosi's home in San Francisco, where her husband remains in the ICU, should set off alarm bells. According to NBC News, alleged assailant David DePape told investigators the attack was intended to "show other Members of Congress there were consequences to actions," echoing Bannon's recent rhetoric. DePape also reportedly professed to be a transhumanism conspiracy theorist who credited the Gamergate harassment campaign for radicalizing him, a hallmark example of the violent consequences of online harassment campaigns that Bannon had a direct role in promoting during his time heading Breitbart.
Much attention was paid to Bannon's contempt of Congress trial, conviction, and sentencing. There were good reasons for this -- it was a historic conviction and sentencing and a cathartic moment for those of us who watched the circle of criminals supporting Donald Trump's presidency escape virtually unscathed. But while the mainstream media has always had a very close eye on Bannon's legal problems, the daily drumbeat of his show, even after the House Select Committee put its influence on full display in front of the entire country, has not received the same attention outside of Media Matters and very few others.
War Room is filled to the brim with leads for journalists tracking how the extreme right is attempting to disrupt and undermine the midterm elections. Of the various campaigns and activists that appear on War Room, most will fail to have an impact. That is par for the course when you're flooding the zone with shit, according to Bannon's own characterization. But some, like rallying at the Capitol on January 6, will have consequences that will reverberate for generations. Every day, Bannon is laying out, in specific detail, tied to specific calls to action, the strategy to create chaos at the polls and in the streets, on Election Day and beyond. Two years since Bannon started saying the 2020 election would be stolen and he is still running this same play.
Reprinted with permission from Media Matters.