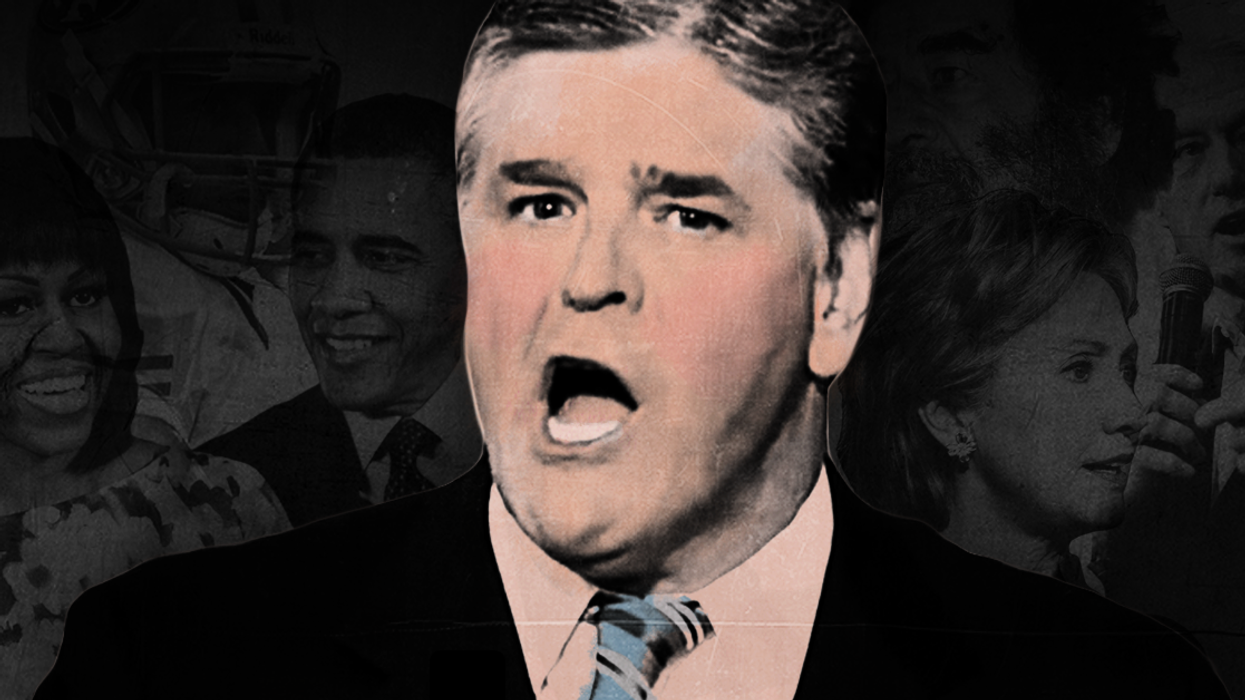 Fox Corp. gave their upfront presentation yesterday in midtown Manhattan. Outside the event, several protests gathered, including striking writers from the Writers' Guild of America as well as anti-Fox protesters calling for advertisers to defund Fox News.
\u201cTwo actions at Fox upfronts today. MMFA & others pressuring advertisers to drop Fox, and a large @WGAEast picket line\u201d

— johnknefel (@johnknefel) 1684182730
Inside the event, Fox reportedly deprived their guests of chairs as Gordon Ramsay dropped f-bombs and former NFL tight end Rob Gronkowski botched an ad pitch from Fox Sports' Erin Andrews.
Fox News personalities were also featured in the presentation, including some of the network's most extreme personalities such as Jesse Watters, Sean Hannity, Laura Ingraham, and Jeanine Pirro, among others. As Fox attempts to clean up the wreckage of a historic defamation settlement with Dominion Voting Systems, they are simultaneously attempting to downplay the network's extremism by promoting digital properties like Tubi, Fox Nation, and Fox Weather while also injecting right-wing propagandists on Fox News to signal that the company does not intend to deviate from its tried and true business model of sacrificing democracy for cable news ratings.
Fox is having an identity crisis across its various platforms. Last quarter the company posted a loss as a result of their $787 million defamation settlement. They're currently also facing: an ongoing writers' strike, a "soft advertising market" and the never ending cord cutting trend that only continues to get worse, and fallout from the unceremonious firing of their star Tucker Carlson that has tanked Fox News' primetime ratings.
Despite all this, Lachlan Murdoch told investors last week that Carlson's departure will not change "programming strategy at Fox News," an indication that advertisers and cable providers should expect more of the same on the network.
And, indeed, Fox's presentation to media buyers on Monday afternoon in New York City featured an appearance from a Fox News personality who bore significant responsibility for the lies that led to that defamation settlement.
Here's some of just the recent commentary from Fox News personalities featured in the upfronts pitch.
The Five
The Five is Fox News' top-rated show. It features a roundtable discussion among the most unhinged hosts at the network, including Greg Gutfeld, Jesse Watters, and Jeanine Pirro. All three hosts, in addition to Jessica Tarlov, who is a rotating liberal host on the show, were featured via a live feed during the upfronts presentation. In addition to his role on The Five, Jesse Watters hosts the 7 PM hour solo, and Gutfeld is host of the 11 PM hour on Fox, a program that is the network's stab at a late-night talk show.
Jeanine Pirro was a key figure in Fox's peddling of election conspiracy theories after the 2020 election. Emails disclosed via Dominion Voting Systems' lawsuit against Fox News review that Pirro's executive producer Jerry Andrews called her "just as nuts" as Sidney Powell, then-Trump's lawyer that was behind some of the most ludicrous lies told by his campaign. At the time, Pirro had recently hosted Powell on her show, during which she and her guest pushed lies about Dominion. Pirro pushed conspiracy theories about the 2020 election even after Fox's own "Brain Room" had debunked them.
According to Variety, Greg Gutfeld's attempt at humor regarding the ongoing Writers Guild of America strike fell flat among the crowd.
\u201c.@greggutfeld bombed at the Fox upfront today per Variety\u201d

— Madeline Peltz (@Madeline Peltz) 1684200435
Here are some recent eyebrow-raising clips from these personalities.
Dana Perino and Bill Hemmer
Dana Perino and Bill Hemmer were featured as "straight news" personalities during the upfronts presentation. They are co-anchors of America's Newsroom, where they both frequently push tepid right-wing talking points, blurring the line between news and opinion. Perino is also a co-host of The Five.
Sean Hannity
Reporting indicates that Sean Hannity and Laura Ingraham were featured in the Fox News "sizzle reel" presented to advertisers and media buyers during the upfront presentation, "though primetime was decidedly not a focus of the presentation, with the 2024 election instead taking center stage." Hannity and Ingraham have a long track record at Fox and elsewhere in right-wing media of extreme commentary.
Sean Hannity has been the poster boy for right-wing conspiracy theories and bigotry since Fox News Channel launched in 1996. He was a majorbooster of Trump's election conspiracy theories and a singularly important driver of the Seth Rich conspiracy theory. Here are some of his most extreme recent comments.
Laura Ingraham
Laura Ingraham is an anti-immigrant extremist and a propagator of hate, lies, and misinformation. She's used her platform on the network to attack school shooting survivors and murder victims. Here are recent examples of extremism on her Fox show, The Ingraham Angle:
Reprinted with permission from Media Matters.