Racist Writer Who Worked For Carlson Pops Up Again -- With Charlie Kirk
@peltzmadeline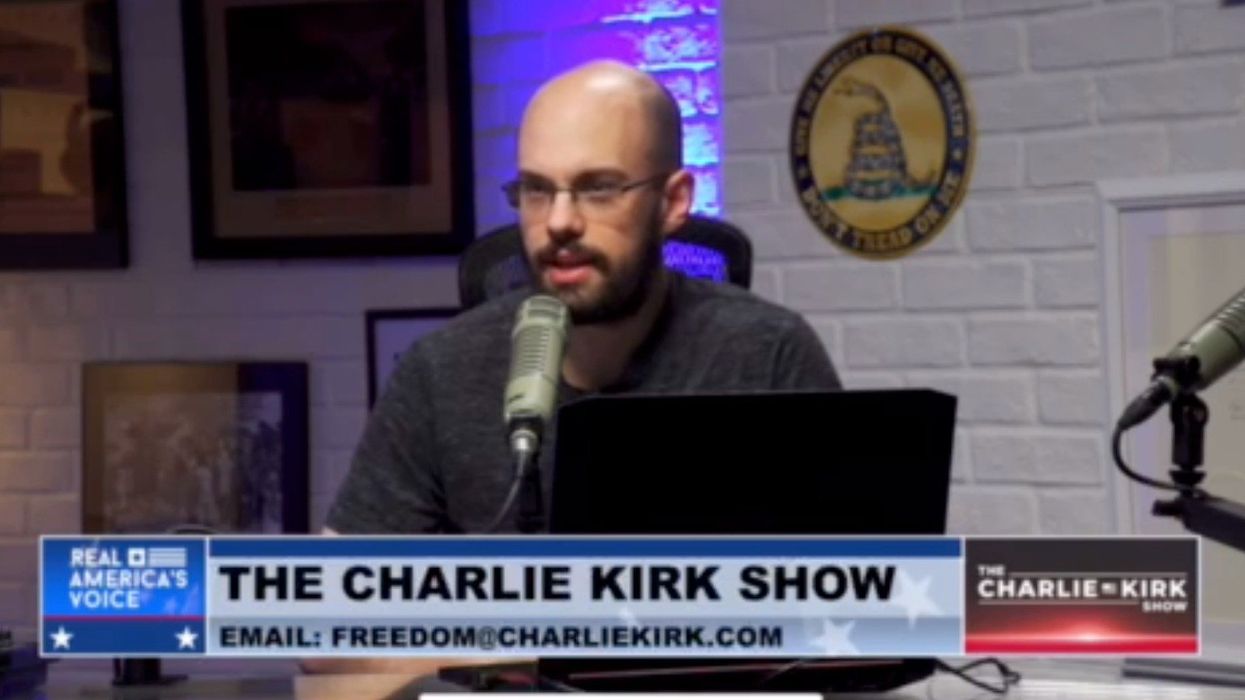 Blake Neff, a former writer for Fox's now-defunct Tucker Carlson Tonight who resigned from the show in 2020 following revelations that he made racist and sexist posts in an online forum, has resurfaced on Turning Point USA founder Charlie Kirk's radio show, apparently as a producer.
In July 2020, CNN's Oliver Darcy reported that Neff, then the top writer for Tucker Carlson's show, had been anonymously posting racist, misogynistic, homophobic, and other offensive content on an online forum for five years. Neff used racist and homophobic slurs, referred to women in a derogatory manner, and pushed white supremacist content while writing for Carlson's show. Neff resigned after CNN contacted him for comment.
On the website for The Charlie Kirk Show, Neff is identified as "producer Blake." In addition to appearing on that show, Neff has also joined Kirk on a new panel show called THOUGHTCRIME.
Neff appeared with Kirk on the first episode of THOUGHTCRIME, a new weekly panel show streamed live exclusively on Kirk's Rumble channel that's apparently co-hosted by Pizzagate conspiracy theorist Jack Posobiec. Kirk introduced Neff as "very high-IQ Blake," saying, "And we're really honored to have Blake on our team — he's great. And the most, let's just say, awful people in the world tried to destroy Blake's life and we're not going to let that happen." Later he added, "We love Blake and he does a great job."
In a prerecorded introduction attached to the audio-only version of the show, Kirk described THOUGHTCRIME as "R-rated," with "rather graphic elements," and "not homeschool friendly."
On June 21, Neff appeared again on Salem Radio Network's The Charlie Kirk Show to discuss the submersible vessel carrying four tourists and a captain that got lost while diving to the Titanic shipwreck. Kirk described Neff as "our resident submarine expert," and a chyron identified Neff as "The Charlie Kirk Show Submarine expert." Neff described the plight of the lost vessel story as "refreshing" as far as news cycles go.
After the break, Kirk referred to Neff as "part of" the new weekly panel show. Neff also said, "I don't want to say, like, you should not" go on a submersible vessel seemingly operated on a video game controller.
During THOUGHTCRIME, the panelists repeatedly used an anti-trans slur and discussed the X-rated topic of "glory holes" in response to The Daily Wire's Matt Walsh's claim on Twitter that "Fox Corp is celebrating Pride by encouraging employees to read about '"glory holes.'"
This type of talk stands out coming from Kirk, not only because of the raunchy topic, but also because of how it contrasts with the self-righteous Christian nationalist rhetoric he's embraced over the last year with the launch of Turning Point USA Faith, an initiative to propagandize young people by setting up Turning Point USA chapters in their churches.
"What is a glory hole?" asked Kirk.
"Oh my sweet summer child," responded Neff.
Kirk then Googled it live on air.
Reprinted with permission from Media Matters.