Suckers For Trump Need To Believe
@FromaHarrop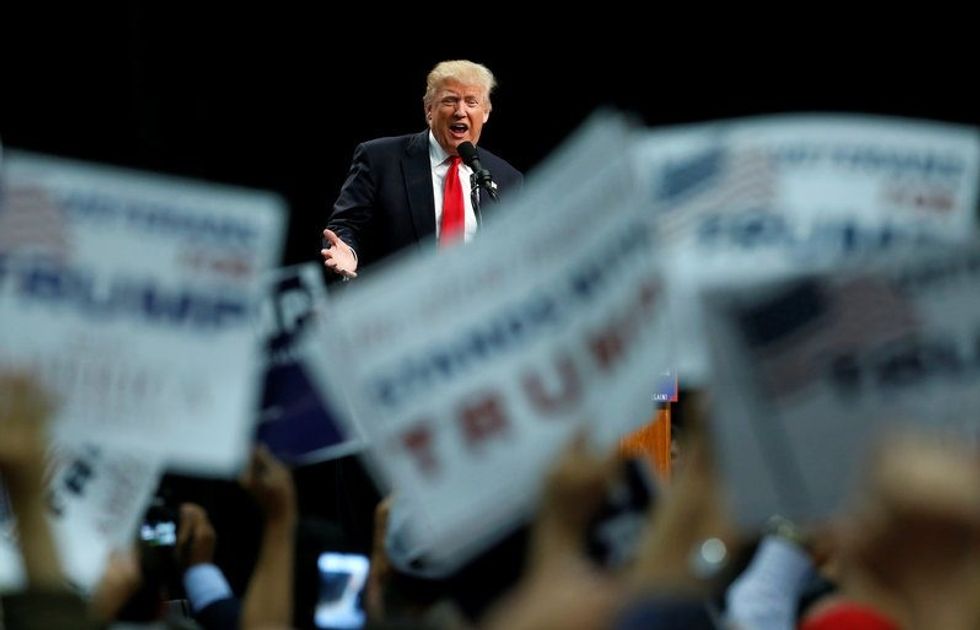 Here is how Donald Trump suckers the little people. What follows is a telling of his methods, not commentary on his lack of scruples.
The Question: Why didn't the trail of wreckage left by Trump's failed businesses deter students from forking over as much as $35,000 for a class at Trump University? The Answer: They wanted to believe in a plot that favored them.
The skilled con artist knows how to identify chumps and work their emotions. As Trump U salespeople were instructed to tell prospective students, "let them know that you've found an answer to their problems."
Trump's been at this a long time. In 1995, he raised $140 million from ordinary stock investors for Trump Hotels & Casino Resorts. Why would people put good money in a company built on two casinos that had already gone bankrupt under Trump management?
Because Trump had convinced them that he had become a rich man — not by inheriting his father's real estate empire but through his celebrity magic. Note that the company's stock ticker symbol was DJT, Trump's initials.
Trump controlled a third bankrupted casino hotel, which he later persuaded the company to buy at a grossly inflated price. The bankers finally took over in 2004, sending Trump Hotels & Casino Resorts into a Chapter 11 bankruptcy.
When Trump was done working his "magic," the stock had lost 90 percent of its value. For every $10 that the believers had invested at the initial public offering, they had $1 left.
A turndown in the casino business could take blame for some of Trump's other casino problems, but not in this case. During this period, the stock of Harrah's Entertainment more than doubled. Shares of Starwood and MGM quadrupled.
Trump's explanation for the diving stock price? "People don't understand this company."
Maria Konnikova has studied the psychology of chumps and how they get taken. The skilled con men, she writes, "are exceptional creators of drama." They spin a story "that makes everything seem legitimate, even inevitable."
It's a very human desire to believe the good we're told will come our way, and it's not limited to the uneducated. Konnikova tells of a University of North Carolina physicist who fell for an online dating swindle that led to his smuggling cocaine from South America. Elsewhere, the president of a famous New York art gallery was conned into selling forged paintings, including one with the artist's signature misspelled.
The two patsies conceded the psychological tricks played on them. Konnikova explains, "Faced with incongruous evidence, you dismiss the evidence rather than the story." Actually, you don't even see the evidence.
Over at Trump University, economically struggling students ate up the story that Trump himself would be instrumental in blessing them with his secrets to real-estate wealth. They so believed a video promising to teach them "better than the best business school" that they maxed out their credit cards to pay tuition. For those lacking an adequate line of credit, salespeople urged taking on more credit cards. And they did.
Trump University is now defunct and about to go on trial amid charges it defrauded students by $40 million. Trump smeared the judge in the case for his Mexican heritage.
Business reporters trying to get at the truth of Donald Trump's wealth already assume it is a fraction of what Trump claims. A wish to keep that amount under wraps may account for his refusal to release tax returns.
Evidence of Trump's confidence games keeps growing, but the pile was already high before he ran for president. Thing is, evidence doesn't matter to the saps he plays with. It's always the story.
Follow Froma Harrop on Twitter @FromaHarrop. She can be reached at fharrop@gmail.com. To find out more about Froma Harrop and read features by other Creators writers and cartoonists, visit the Creators Web page at www.creators.com.
Photo: Republican U.S. presidential candidate Donald Trump holds a rally with supporters in San Diego, California, U.S. May 27, 2016. REUTERS/Jonathan Ernst