Fake Indignation Can't Erase Stain On Supreme Court Left By Thomas Scandals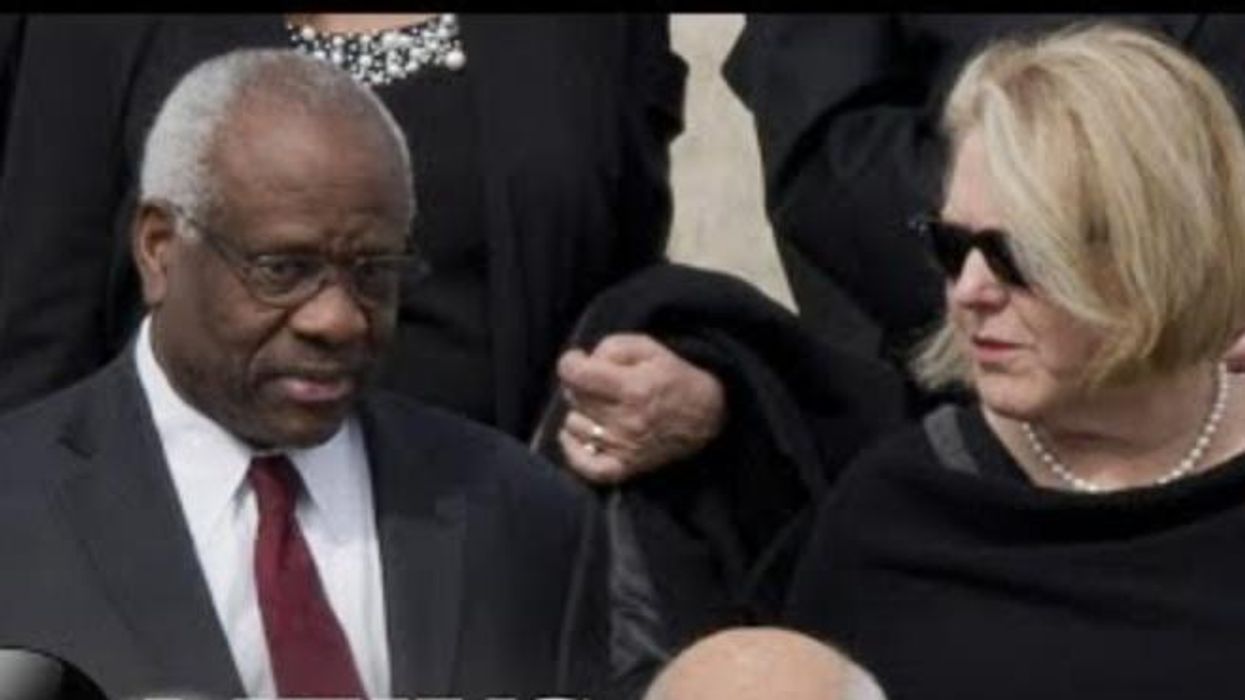 Every fresh revelation of an ethical lapse by Clarence Thomas raises the question to which Republican leaders apparently have no answer: Just how much crooked behavior by a conservative Supreme Court justice will they justify?
So far, they seem utterly untroubled by Thomas' acceptance from a right-wing billionaire of lavish vacations, jet travel, the lucrative purchase of his mother's house and the full cost of his grandnephew's very expensive private school tuition — or by his repeated and willful failure to disclose these dubious "gifts."
Instead of confronting the scandal, Republicans pretend to be offended by the very notion that Thomas should be held to account for his misconduct. Sen. Mike Lee of Utah suggests that "sanctimonious" inquiries concerning the justice's deranged ethics are somehow comparable to the Ku Klux Klan's racist terrorism.
\u201cJustice Thomas: a brave, heroic victim of racism relentlessly attacked since 1991\u2014\u201cpursued not by bigots in white robes, but left-wing zealots draped in flowing sanctimony.\u201d\u201d

— Mike Lee (@Mike Lee) 1683081103
Such fake indignation may become hard to sustain, however, now that we know conservative lobbyist Leonard Leo — the prominent right-wing operative whose hand lies behind the creation of the current Supreme Court — has laundered tens of thousands of dollars into the personal bank account of Thomas through his far-right activist spouse.
Those secret payments, arranged through a nonprofit group, should prompt a thorough investigation as well as spur more sweeping Senate hearings on the grift surrounding the high court. The unscrupulous scheme recalls a quip attributed to the late New York Gov. Al Smith, who pointed to a student while visiting a law library and said, "There is a young man learning how to call a bribe a fee."
According to The Washington Post, Leonard Leo directed pollster Kellyanne Conway in January 2012 to send "another $25,000" to Ginni Thomas — a nice fat check that apparently was only one in a series totaling as much as $100,000. At the time, Conway's firm, the Polling Company, worked for the Judicial Education Project, a nonprofit ostensibly run by its officers of record but in fact controlled by Leo. He instructed the obedient Conway to "give" the money to Thomas and keep the truth out of any paperwork: "No mention of Ginni, of course."
Of course! Clearly Conway understood what Leo meant, because she sent a bill for $25,000 to the Judicial Education Project that very day, complete with a fabricated purpose: "Supplement for Constitution Polling and Opinion Consulting." Documents examined by Post reporters show that between June 2011 and January 2012, the Polling Company sent $80,000 to Ginni Thomas through her firm, Liberty Consultants, and anticipated sending an additional $20,000 before the year's end. Nobody has seen any evidence that Thomas did any actual work for that huge sum.
Within that same time frame, the Judicial Education Project filed a brief to the Supreme Court in Shelby County v. Holder, the landmark case that prompted Thomas and his right-wing colleagues to eviscerate the Voting Rights Act — exactly as Leo urged them to do. That Thomas could have been expected to endorse just such a betrayal of Black voters in no way dispels the stink. In a statement to the Post, Leo claimed with characteristic insolence that he was merely trying to protect the "privacy" of the Thomases from "malicious and gossipy" people.
No doubt anybody who violates federal laws and ethical norms prefers privacy to public exposure. That might well apply with extra force to Leo, whose self-dealing chicanery in siphoning off millions in nonprofit funds for his personal profit has lately come under scrutiny. But what this looks like is a criminal scheme with possible elements of tax fraud, public corruption, money laundering and conspiracy.
The fact that Leo, Thomas, and Conway might escape prosecution under the federal statute of limitations does not excuse authorities from investigating this shameful affair. Not only should the cabal tainting the high court be required to testify under oath about the precise details of their financial relationship, but the records of Leo's enormous influence-peddling network should be subpoenaed to determine whether he and his organizations have broken tax and lobbying laws.
Looking beyond this particular gang of scoundrels, Congress must now establish strict ethical guidelines for the Supreme Court, which Chief Justice John Roberts and his colleagues have so disgracefully resisted. If no cleansing remedy is applied, the public will come to see that behind the court's rulings overturning long-established American rights lies an indelible stain of corruption.
To find out more about Joe Conason and read features by other Creators Syndicate writers and cartoonists, visit the Creators Syndicate website at www.creators.com.
Reprinted with permission from Creators.