Surprise Torch March And Rally By Richard Spencer And White Nationalists In Charlottesville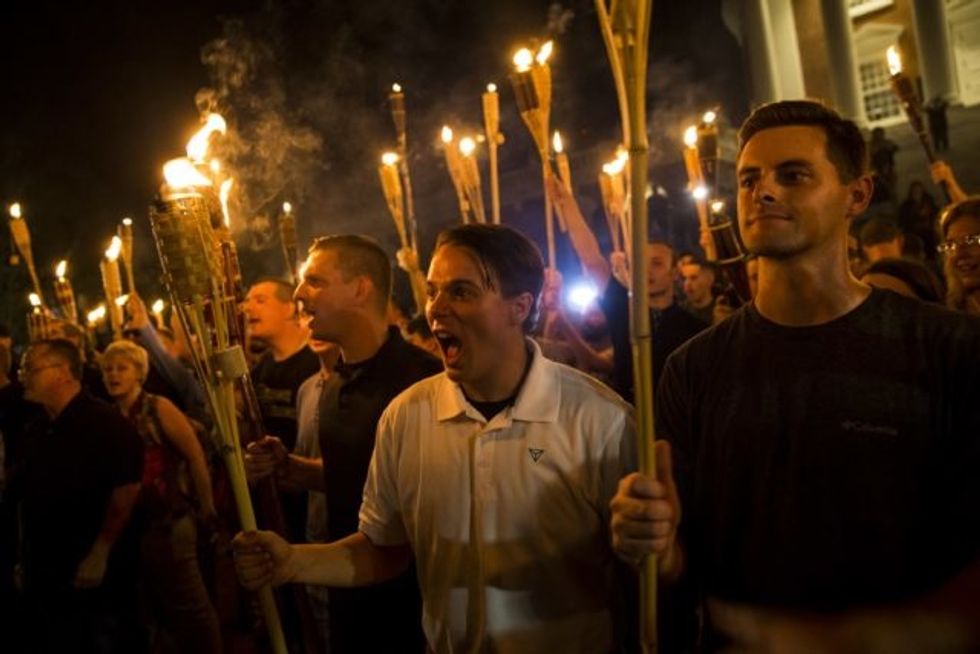 Reprinted with permission from AlterNet.
White nationalist figurehead Richard Spencer led a crowd of three-dozen supporters to the statue of Confederate general Robert E. Lee in Charlottesville, Virginia on Saturday night, local NBC reporter Matt Telham reported on Twitter.
Police stood by as Spencer and his ilk chanted, "We will be back!" They soon vacated the park, Telham tweeted.
Afterwards, Spencer took to Twitter to call the rally a "success," and say that the alt-right was "badly mistreated" in August.
Watch footage of the rally below.
White nationalists now chanting – "We will be back". About 3 dozen supporters in Emancipation Park. Plenty of police on standby in park. pic.twitter.com/LuJEsAgxQy

— Matt Talhelm (@MattTalhelm) October 7, 2017
HAPPENING NOW: @RichardBSpencer & white nationalist supporters are back with their torches in front of Lee statue in #Charlottesville. pic.twitter.com/CwVhxpN7r8

— Matt Talhelm (@MattTalhelm) October 7, 2017
Noor Al-Sibai is a news writer for Bustle whose work has appeared in Everyday Feminism and in various local publications around North Carolina.