Trump's Latest Outburst Against The Constitution Stinks Of Fear
@LucianKTruscott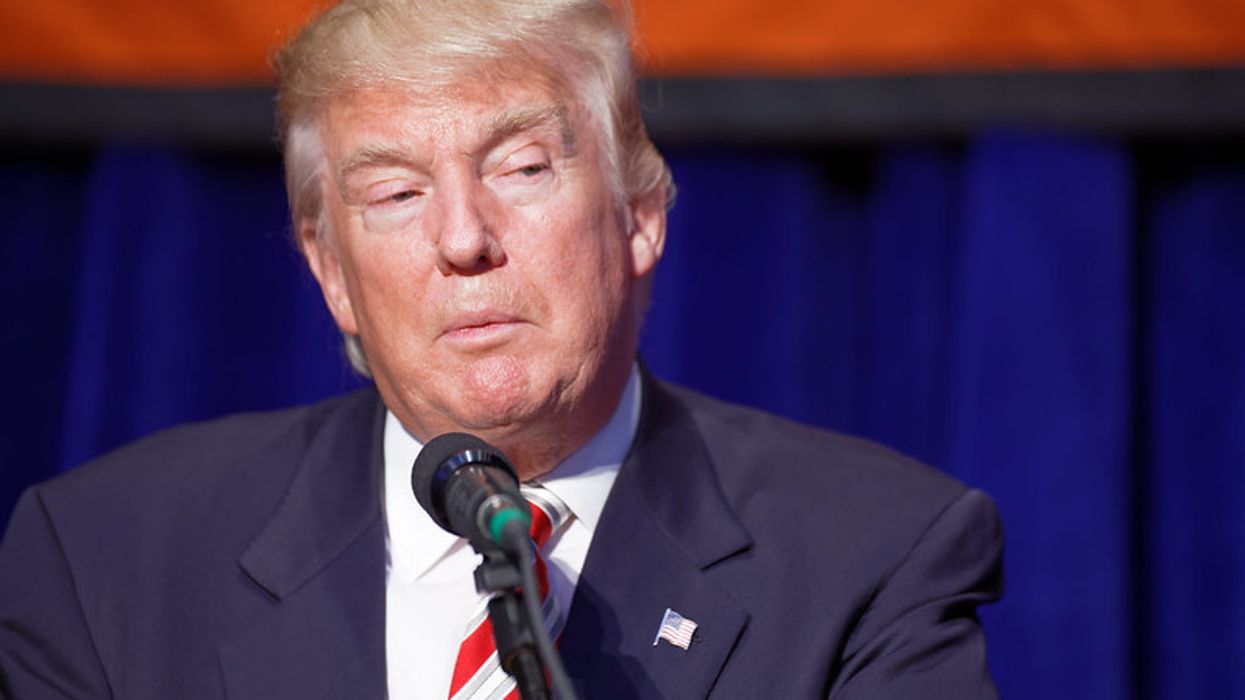 I monitor and analyze Donald Trump's ongoing assault on our democracy, among other salient topics. To continue following my peregrinations as I cover this miscreant, please consider becoming a paid Substack subscriber and help me find my way.
You have no doubt heard by now that over the weekend, on his Truth Social network, Donald Trump called for "the termination of all rules, regulations, and articles, even those found in the Constitution," because he lost the election for president. He wants to be declared the "RIGHTFUL WINNER," or "have a NEW ELECTION." The all-caps are his, and of course what Trump is calling for is a coup. To "terminate" the Constitution would be to overthrow the laws and the government of the United States and replace the whole thing with a dictator, namely, himself.
For all the things that he isn't, Donald Trump is a politician, and he can not only read the polls, he has shown he's pretty good at reading the electorate, a different thing entirely from polls, which are a stilted snapshot of opinion among voters at a single instant in time. Trump doesn't want to run for president again, because he lost the last time, and he's looking around, and he's afraid he'll lose again. That's what the Saturday eruption on his social network was about: fear. He's becoming increasingly irrelevant, and for Donald Trump, that is a fate worse than death. He realizes after two years out of office that you can still be famous and yet slip into a state where your fame and even your presence on earth begins to cease to matter.
Who does Trump matter to at this point? He matters to Republican voters, who political experts are beginning to slice and dice into MAGA, MAGA-adjacent, old establishment, and never-Trumpers. But his voters didn't do so wonderfully in the midterms, a fact that has doubtlessly not gone unnoticed by the man who endorsed so many of the Republican Party's losers. The headlines are about Gov. Ron DeSantis and the street-fight over who will be the next Speaker of the House and the war in Ukraine and China's continuing struggle with the disease that was spawned within its borders. Could Trump be feeling just a tad left out of the national conversation?
It's interesting, isn't it, to see what bothers the Prisoner of Mar-a-Lago as he finds himself in mid-fade from relevance. He is sufficiently bored down there in his gilded cage that he invited two Nazi sympathizers to dinner recently, apparently figuring that would get himself some attention. It did, of course, and it was exactly the kind he wanted, because it lit a tiny fire under the collective ass of the Washington press corps, sending them to their phones and even into the halls of the Congress to ask every elected official they could find what they thought of Trump dining with Nazis. Trump is ever in the mode that he began in 50 years ago in New York City, that any publicity is good publicity. If the question on everybody's mind is Trump and his favorite Nazis, well, at least they're spelling his name right.
Lately, Trump has found himself mattering a whole lot to some powerful judges who he appointed to their seats but who have ruled against him repeatedly in his flailing lawsuits trying to stop the DOJ investigation of the various crimes he has been accused of committing – trying to overthrow the last election, inciting the assault on the Capitol, and his theft and mishandling of classified documents after he left office. Trump has lost one appeal after another, and now "his" special master, appointed by "his" Judge Aileen Cannon, is being dismissed, and everything seized at Mar-a-Lago by the FBI has been returned to the man who now oversees the prosecution, Jack Smith, a name that's got to be keeping him up at night.
And Trump seems to matter a whole lot to Elon Musk, who has been doing everything he can think of to get him back on Twitter, including hiring a prominent contrarian journalist to exhume the Hunter Biden laptop story from the vaults of Twitter and splash it across the platform in a long series of tweets that had to have caught Trump's attention.
In fact, most stories about Trump's demand that the Constitution be terminated say the Hunter Biden laptop story was what was behind his explosion on Truth Social yesterday. I think that's less likely than Trump's panic as the jaws of law enforcement close on him. After all, he sees getting back into the White House as the only way he could avoid jail: he could pardon himself.
My first thought when I decided to write this column was to title it, "There ought to be a law," you know, against this kind of shit. But there shouldn't be. There can't be, because it would violate the very Constitution we're trying to protect from the likes of Trump. Besides, the anti-war movement back in the 60's and 70's was guilty, if that's the right word, of calling for the downfall of the government because of the crimes the United States was committing in Southeast Asia. I recall a lot of "there ought to be a law" talk back then about the calls of the Left for the overthrow of the government, and it was all from the Right, from Nixon's people, the apologists for the war.
As outrageous as Trump's anti-democratic talk is, it's legal. Calling for a violent overthrow of the government is, however sedition, the crime two leaders of the Oath Keepers were convicted of this week. Trump may be a seditionist in his heart, but he's carefully not one in his public words.
I think maybe the way to react to Trump's latest attack on our democracy is to recognize how desperate and afraid he is. That someone would be calling for the destruction of something, a constitutional government in this case, at the same time he is calling for himself to be installed as its leader, is absurd on its face. He's yelling into the void at this point, but if there is a lesson to be learned from the last six years, we ignore the unhinged cries of this monster at our peril. He sounds weak and pathetic, which he is, but he's still a danger to the Republic. The Oath Keepers haven't gone away, the Proud Boys haven't gone away, and his MAGA hordes are always listening.
Lucian K. Truscott IV, a graduate of West Point, has had a 50-year career as a journalist, novelist, and screenwriter. He has covered Watergate, the Stonewall riots, and wars in Lebanon, Iraq, and Afghanistan. He is also the author of five bestselling novels. You can subscribe to his daily columns at luciantruscott.substack.com and follow him on Twitter @LucianKTruscott and on Facebook at Lucian K. Truscott IV.
Please consider subscribing to Lucian Truscott Newsletter, from which this column is reprinted with permission.