Fox News Covered Trump's Call To Trash The Constitution For One Minute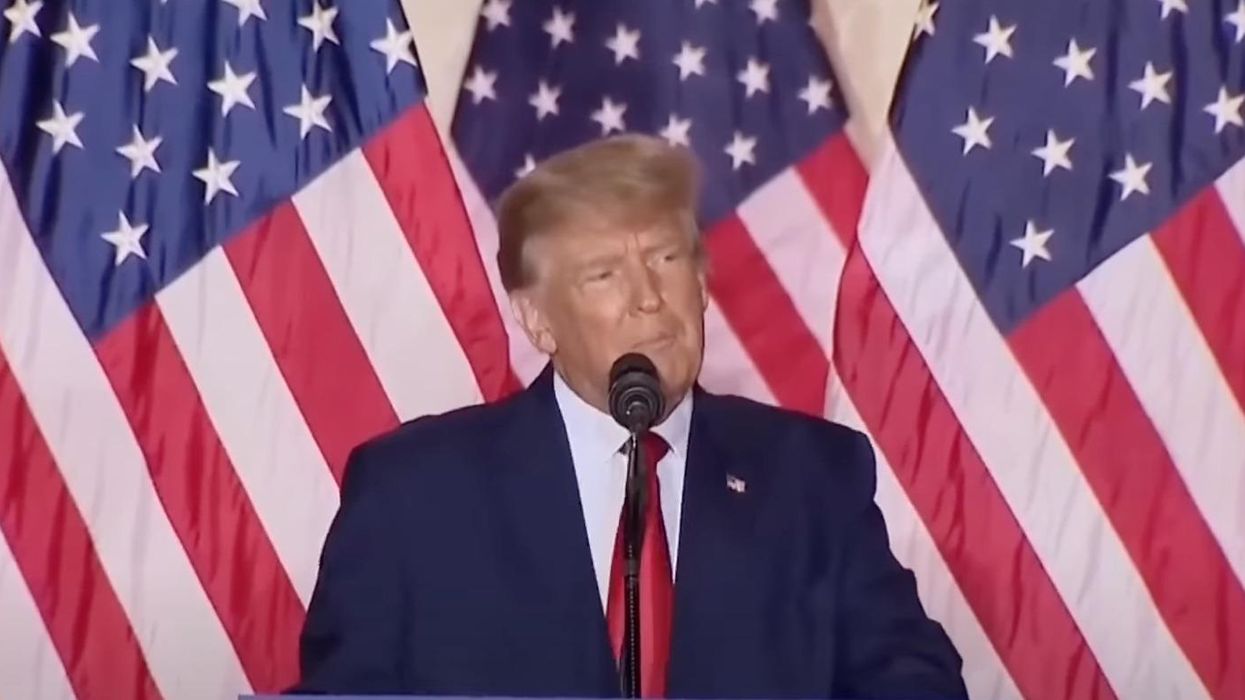 Youtube Screenshot
Fox News is all but ignoring former President Donald Trump's call for the "termination" of constitutional law and his restoration to the White House in order to keep its viewers focused on 26-month-old Twitter moderation decisions.
"Do you throw the Presidential Election Results of 2020 OUT and declare the RIGHTFUL WINNER, or do you have a NEW ELECTION?" Trump wrote in a Saturday Truth Social post in response to a new report on Twitter's content moderation during the 2020 election. "A Massive Fraud of this type and magnitude allows for the termination of all rules, regulations, and articles, even those found in the Constitution."
Trump's nakedly authoritarian statement drew criticism from Democrats and even some Republicans. But Fox has spent just over one minute on the story as of posting on Monday, according to a Media Matters review.
Fox host Howard Kurtz first mentioned the story on the Sunday edition of his Media Buzz show. After reading Trump's remark, he commented, "A lot of media criticism on that — you can make up your own mind." Fox also devoted a pair of headline reads to the story on Sunday night. The network's only reference thus far on Monday came when Fox & Friends co-host Steve Doocy mentioned in passing what he termed the former president's "crazy" comment.
To reiterate, this is a former president of the United States and the front-runner to be the Republican Party's nominee in 2024 calling for the overthrow of the democratic order to either somehow have himself named the "RIGHTFUL WINNER" and returned to office or to have a new election. And Fox, a network that regularly and falsely claims that various Democrats are destroying the Constitution, does not care.
\u201cFox News personalities on the Constitution, then and now.\u201d

— Media Matters (@Media Matters) 1670257895
What's going on here? The Daily Wire's Ben Shapiro provided a clue in a Monday morning Twitter thread. The anti-anti-Trump conservative argued that Trump's call to suspend the Constitution was "a perfect example of jumping on a rake with both feet," because the former president "allowed the Democrats and the media to avoid the #TwitterFiles story entirely by redirecting to Trump's spoken authoritarianism." Trump's real sins, in this telling, are "strategic ineptitude" and "political malpractice."
Fox's right-wing propagandists are more disciplined than Trump. Rather than getting sidetracked into a discussion of the former president's call to overturn the democratic election of his opponent, they all prefer to talk about content moderation that took place on a middle-tier social media platform more than two years ago. Unfortunately for them, there's not much to their story.
Trump had been responding to "The Twitter Files," journalist Matt Taibbi's Friday report based on internal documents he obtained from right-wing icon Elon Musk about the company's decision to suppress posts linking to an October 2020 New York Post story about Joe Biden's adult son, Hunter Biden, in the weeks before the presidential election. The story was based on what the Post described as a copy of the hard drive of a laptop that had belonged to Hunter Biden and had been provided to the paper by Rudy Giuliani, at the time Trump's personal lawyer. (This was after Giuliani collaborated with a pro-Russian Ukrainian oligarch, disgraced Ukrainian prosecutors, and con men on the disinformation campaign that led to Trump's first impeachment, but before Giuliani's recitation of numerous voter fraud conspiracy theories laid the groundwork for the January 6 insurrection and Trump's second impeachment; the Post's corporate cousins at The Wall Street Journal and Fox had already passed on the story "over credibility concerns.")
Taibbi did not establish the involvement of any government entity in Twitter's decision, though he did report that both the Trump White House and the Biden campaign had sent deletion requests the company had "honored." Political campaigns frequently ask Twitter to take down posts that violate its rules; with regard to the Post story, the tweets the Biden campaign wanted removed — remember, at the time Donald Trump was president — included nude photos of Hunter Biden. From this thin gruel, the likes of Musk and Fox star Tucker Carlson have concocted what the latter described as "a systemic violation of the First Amendment, the largest example of that in modern history."
Twitter's decision to restrict the Post story is ultimately a sideshow. The platform's content moderation decisions did not keep the story from public discussion. Anyone who was interested in Hunter Biden in October 2020 could find plenty of reporting in major newspapers, on TV, in digital news outlets, and on social media platforms — including Twitter. What frustrated Republicans who sought Trump's reelection is that much of that reporting was properly skeptical and contextualized.
The right-wing press, from the Murdochs on down, had hoped that mainstream journalists would credulously run with their narrative, make the Hunter Biden story a central facet of the closing days of the election, and carry Trump to victory. They had reason to be optimistic — the very same strategy succeeded in 2016, when the mainstream press closed out the campaign by fixating on Hillary Clinton email pseudo-scandals. But their effort failed in 2020, Trump was turned out of office, and they've never been able to get over it.
Reprinted with permission from Media Matters.