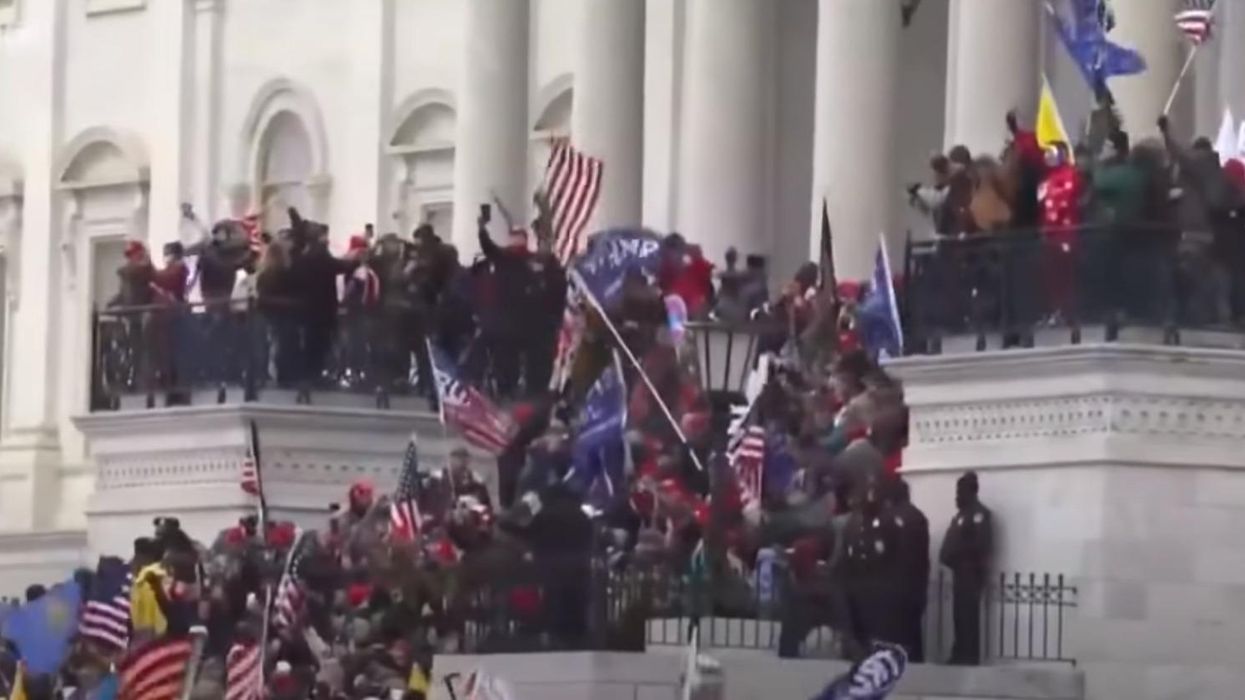 A new report by the nonprofit government watchdog Citizens for Responsibility and Ethics in Washington, or CREW, found many of America's blue-chip corporations have collectively given tens of millions of dollars to congressional Republicans who voted against certifying President Joe Biden's 2020 election win, a group CREW dubbed the "Sedition Caucus."

At least 231 companies announced that they would either entirely suspend, temporarily halt, or meaningfully reassess their political giving in the days after a pro-Trump mob fueled by conspiracy theories about the 2020 election stormed the U.S. Capitol building on January 6, 2021.
After Congress reconvened later that night, 147 Republicans — 139 in the House and 8 in the Senate — voted against certifying the 2020 election, in some cases citing claims of widespread voter fraud. Numerous national- and state-level recounts, election audits, and independent investigations have found no evidence that the outcome of the 2020 election was affected by fraud.
According to the CREW report, 166 of those companies have resumed donating to political campaigns and leadership PACs run by those election objectors. Several companies that condemned the attack are among that number, including Disney, Amazon, and Allstate.
In a statement, a Disney spokesman called the attack "an appalling siege" and criticized legislators who voted against certifying Biden's victory. Amazon said the insurrection was an "unacceptable attempt to undermine a legitimate democratic process," and a senior vice president at Allstate told CNN that the vote "did not align with the committee's commitment to bipartisanship, collaboration and compromise."
However, according to CREW's report, Amazon has since given $46,500 to election objectors, Disney $4,500, and Allstate $36,000.
An Amazon spokesman told the American Independent Foundation that the company's political action committee gives to Congress members who "share our views on issues that are important to our customers and our business in general." The spokesperson said the suspension of donations was not intended to be permanent.
The three companies are far from alone in doubling back on strong statements; Politico reported last week that Cigna, the multi-billion-dollar health insurance giant, gave more than $200,000 to election objectors ahead of the 2022 midterm elections after promising to cease contributing to "any elected official who encouraged or supported violence, or otherwise hindered the peaceful transition of power."
"Some issues are so foundational to our core fiber that they transcend all other matters of public policy," read a Cigna internal memo obtained by CNBC. "There is never any justification for violence or destruction of the kind we saw at the U.S. Capitol — the building that [is] such a powerful symbol of the very democracy that makes our nation strong."
Of the top five corporate donors to election objectors since Jan. 6, 2021 — Koch Industries, Boeing, Valero Energy, Home Depot, and AT&T — all but Koch Industries made some kind of promise to cease giving in the wake of the insurrection.
The report also notes corporate contributions to election deniers who won election to Congress in the 2022 midterms, including Ohio Sen. J.D. Vance, a Republican who spread false claims of voter fraud in the 2020 election, and Rep. Derrick Van Orden (R-WI), who the Daily Beast reported crossed police lines on the grounds of the U.S. Capitol on Jan. 6 during the insurrection.
Sixty-five of the companies CREW surveyed have remained committed to their public rejection of election objectors, including Meta, BlackRock, Target, and Nike. However, lobbyists working for some of the corporations that publicly pledged to refrain from supporting election objectors, including Microsoft, Meta, Nike, and Dow Chemical Company, have since made personal contributions to some of those lawmakers.
"None of the remaining members who fed lies about the election and voted not to certify have atoned for their actions," CREW research director Robert Maguire told the American Independent Foundation. "What is the point — other than good PR — of making a commitment to not give, if you're just going to start making donations to those same politicians in the same election cycle, only a little later than you normally would have?"
"You can't say you support voting rights or democracy while also making campaign contributions to members of Congress who in many cases tried to disenfranchise voters in entire states and attempted to overturn a free and fair election," Maguire added.
Reprinted with permission from American Independent.