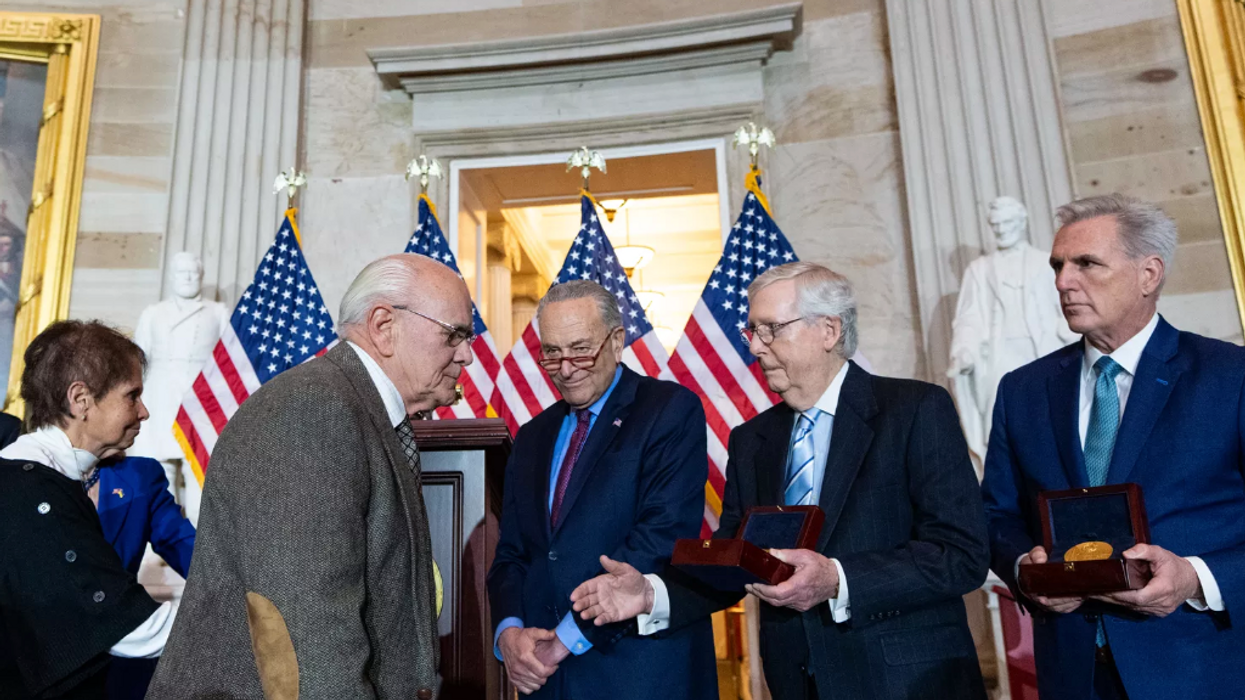 GOP leaders Sen. Mitch McConnell (R-KY) and Rep. Kevin McCarthy (R-CA) were red-faced after all the award recipients of Tuesday's Congressional Gold Medal award ceremony pointedly refused to shake their hands at a ceremony to honor the officers who defended the Capitol on January 6, 2021.
\u201cAll of the Congressional Gold Medal recipients, who defended the Capitol on January 6th, refuse to shake Senate Minority Leader Mitch McConnell\u2019s hand.\u201d

— The Recount (@The Recount) 1670344079
Senior Capitol Police officers and their relatives, including the family of fallen officer Brian Sicknick, who defended the Capitol during the riot and died one day later, warmly greeted outgoing House Speaker Nancy Pelosi (D-CA) and Senate Majority Leader Chuck Schumer (D-NY) in the Capitol Rotunda as they accepted their Congressional Gold Medals.

McConnell, the Senate minority leader, wore a forced — and almost unhinged smile — as he held out his hand for handshakes that never arrived, even after late Officer Sicknick's mother, Gladys Sicknick, kissed the cheek of Schumer, who was right beside him.
"They're just two-faced," Gladys Sicknick toldCNN, referring to the Republican leaders. "I'm just tired of them standing there and saying how wonderful the Capitol police is, and then they turn around and … go down to Mar-a-Lago and kiss his ring and come back and stand here and sit with — it just, it just hurts."
Ken Sicknick, the late officer's brother, rebuked the dour-faced duo more forcefully: "[McConnell and McCarthy] have no idea what integrity is. They can't stand up for what's right and wrong."
Pelosi presided over the award ceremony, held to honor the Capitol officers who had served during the Capitol attack.
Four Congressional Gold Medals, the Congress's highest honor, were bestowed during the event, almost two years after former President Trump incited a mob of his supporters on lawmakers to overturn his 2020 election loss.
"January 6 was a day of horror and heartbreak. It is also a moment of extraordinary heroism. Staring down deadly violence and despicable bigotry, our law enforcement officers bravely stood in the breach, ensuring that democracy survived on that dark day," Pelosi said at the ceremony.
McCarthy, who wore a sullen expression during the snub, his hands gripping a medal box, praised the officers for their heroism that day.
"To all the law enforcement officers who keep this country safe: thank you," he said. "Too many people take that for granted, but days like today force us to realize how much we owe the thin blue line."
McConnell, too, issued words of praise for the officers: "Thank you for having our backs. Thank you for saving our country. Thank you for not only being our friends but our heroes."
When CNN approached McConnell later for comments on the tense incident, the senator pivoted to save face.
"I would respond by saying — today, we gave the gold medal to the heroes of January 6. We admire and respect them. They laid their lives on the line, and that's why we gave a gold medal today to the heroes of January 6."
The Kentuckian's gratitude was not enough for some, including Ken Sicknick, who said that the Republican leadership's failure to confront Trump for inciting the mob that would storm the Capitol had spurred their decision, unlike Rep. Liz Cheney (R-WV).
"With them, it's party first," Ken Sicknick told CBS News' Scott MacFarlane. "Liz gave up her political career to do what was right."
FLASH: Family of officer Brian Sicknick refuses to shake hands with Sen McConnell and Rep McCarthy at Congressiona… https://t.co/sSLX0nhZUd

— Scott MacFarlane (@Scott MacFarlane) 1670346043
Both congressional leaders had criticized Trump in the immediate aftermath of the insurrection at the Capitol, but neither voted to impeach or convict the former president for inciting the crowd that stormed the halls of Congress in an attack that claimed five lives.

McCarthy, a frontrunner for House speakership in the 118th Congress, has been assailed for traveling to Trump's Mar-a-Lago club and residence in Palm bay, Florida, on January 28, 2021, to court the power-hungry demagogue at the height of his false widespread voter fraud claims.
Last week, McCarthy vowed to investigate the House Select Committee — a bipartisan House panel looking into the Capitol attack — and said the House GOP would launch its own January 6 probe in a letter addressed to its chairman, Rep. Bennie G. Thompson (D-MS), according to the Washington Post.
The families of the Capitol officers slammed McCarthy for the decision at the ceremony, noting that it had contributed to their choice not to shake hands with him.

\u201c\u201cWe got together and we said we\u2019re not going to shake their hands\u201d\n\u201cAnd now McCarthy is going to investigate the committee that investigated January 6th\u201d\u201d

— Acyn (@Acyn) 1670352709
Several other Republicans who attended the ceremony dodged questions about Trump's vocal support for the January 6 mob and his endorsement of a far-right fundraiser supporting the rioters.

"Well, um, these guys are heroes and patriots, as was pointed out," Sen. John Thune (R-SD) told the outlet when asked to denounce Trump's pro-insurrectionist stance. "And, you know, I can't imagine any American working against that."
Sen. Tommy Tuberville (R-AL), who voted to acquit Trump, sought a safe distance from questions regarding Trump's support for alleged Capitol rioters, saying, "Yeah, I'll leave that up to him."