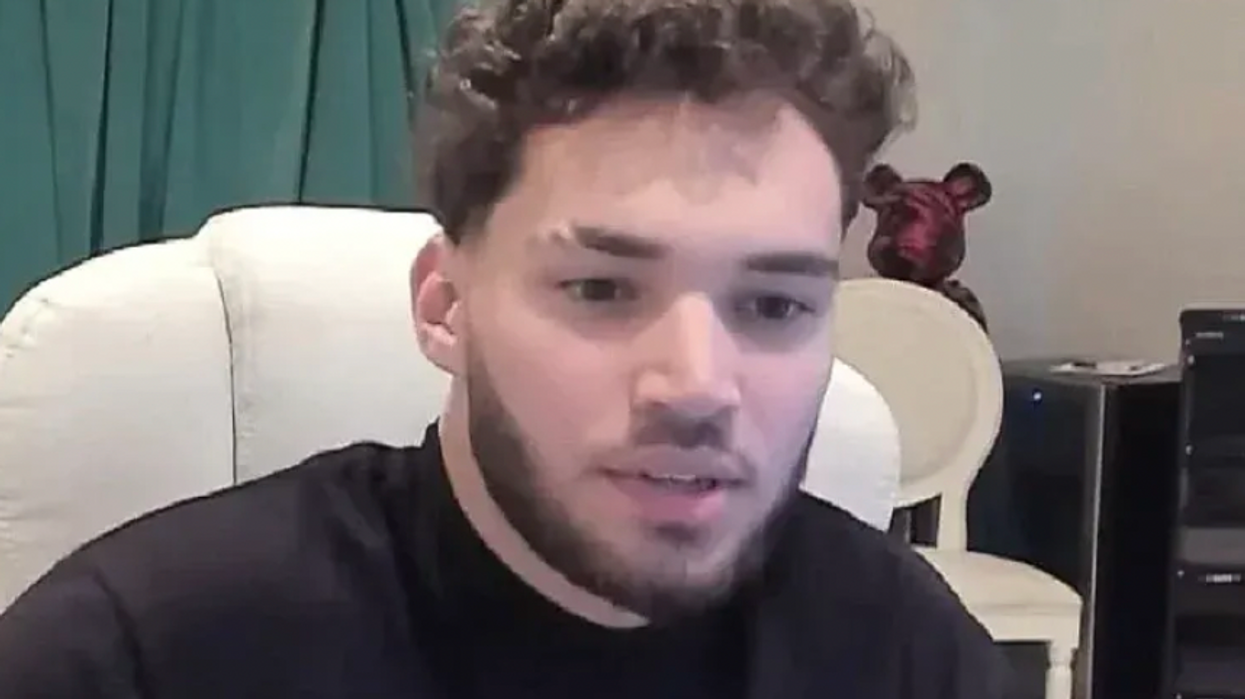 Right-wing influencer and Andrew Tate fanboy Adin Ross sits behind his computer and streams brightly colored slot games, blackjack, and roulette to his audience of loyal fans. Ross has blown through gargantuan sums of money while gambling on his livestreams and has won big jackpots.
"You have like tons of different emotions throughout your whole entire body," Ross said about the euphoria of online gambling during an interview. "It's just dopamine release."
If Ross' audience members are interested in following in his footsteps, he is setting them up to fail.
Ross is an example of influencers and right-wing figures who are promoting crypto gambling and sports betting ventures to their young audiences. Many of these figures, including Ross, have landed major sponsorship deals with gambling companies and are sometimes given house money to gamble with, removing the actual risk associated with online gambling.
Influencers are promoting these games to young viewers as gambling addiction rises among adolescents and horror stories about streamers and followers draining their bank accounts are popping up across the internet.
Meanwhile, a number of streamers have enormous and devoted followings across social media, and the lucrative industry is constantly evolving. Teens and young adults in particular have a fondness for watching livestreamers. According to a report in Wired, 21% of the users on Amazon-owned streaming platform Twitch are between 13 and 17 years old.
Twitch has had a complicated relationship with gambling and casino streamers on its platform and has placed limits on the kind of gambling that is allowed. Some influencers have spoken out about the unrealistic expectations that gambling streamers create for their fan bases.
Influencers promoting gambling and betting companies
High-profile streamers, influencers, and celebrities have aligned themselves with gaming organizations like Stake, a crypto gambling and sports betting website. These figures share videos and pictures of themselves using Stake, gamble while livestreaming, promote the website, and sometimes share gambling earnings on social media.
For instance, rapper Drake has become an official partner of Stake, and the site has sponsored a handful of other influencers.
During an interview on the H3 Podcast, Ross was told about the potential harms that could come from promoting crypto gambling.
"I'm learning a lot, bro," Ross said after hearing about the potential harms gambling can have on his audience. "I'm honestly overwhelmed right now in my life. Because it's just — it's so new to me."
"You make me rethink about it now, bro. …. It's just something I — that just doesn't click right for me," Ross later added.
But following this interview, Ross did not stop working with Stake and airing gambling streams.
Some of Ross' sponsored streams are bombarded with racist and antisemitic comments, which could also have a negative impact on young viewers.
Ross recently sat down with UFC president and Trump superfan Dana White for an in-person gambling event. Following their meeting, Ross claimed that White hopes to connect Ross with Trump for a stream closer to the 2024 election. (White's UFC also has an official partnership with Stake as well.)
Jake Paul, a right-wing influencer and professional fighter who has a massive following on social media including many young fans, co-founded Betr, a "microbetting-focused gaming company" that allows users to make monetary bets on specific plays or events, rather than betting on a team losing or winning a game. Paul appears to be hoping that the instant gratification of making money on small bets drives his young audience to Betr. Additionally, Paul has previously been accused of promoting gambling to kids.
Betr also appears to be targeting users on social media platforms that are frequented by young people, including TikTok and Instagram. The company has large followings on both platforms.
Other right-leaning influencers, including professional poker player Dan Bilzerian and gambling streamer Trainwreck (real name Tyler Niknam), have worked as sponsors for gambling companies in the past.
Major media companies are getting in on the sports betting action
Other outlets and platforms in the right-wing media ecosystem have aligned themselves with the gambling and sports betting industry.
Fox Corp., the parent company of Fox News and Fox Sports, is associated with Fox Bet, a mobile app and website that allows users to make monetary bets on professional sport competitions and play casino games.
Fox Corp. CEO Lachlan Murdoch has boasted about Fox's foray into the sports betting world, describing the venture as "a huge opportunity" for Fox Sports' portfolio.
And in 2021, Fox acquired right-wing sports website Outkick, which includes sports wagering and betting infrastructure. During a 2021 quarterly meeting with investors, Murdoch celebrated Outkick as an outlet that "will deepen our investment in the sports wagering ecosystem."
The right-leaning media company Barstool Sports, founded by misogynist Dave Portnoy, operates Barstool Sportsbook, a sports betting platform and mobile app that is associated with Hollywood Casino.
Adolescent gambling addiction on the rise
Reports indicate that gambling addictions are increasing among teens and children, and experts are sounding the alarm.
The legal age to gamble in the United States is 18 or 21 years old depending on the state. This has not stopped influencers and gambling and sports betting companies from promoting their products and games to adolescents.
The earlier kids are exposed to gambling, the more likely they are to become addicted to the practice, according to a gambling treatment organization. Gambling addiction has the potential to "completely derail a person's life," cause mental health complications, and become a "gateway drug" to other adrenaline-inducing and potentially dangerous activities like drug use.
According to research from the International Centre for Youth Gambling Problems and High-Risk Behaviors, four to six percent of high school students are addicted to gambling. Compared to the one percent of adults addicted to the activity, this is a worrisome trend.
Researchers point to adolescents' underdeveloped brain functioning and emotionally driven decision making to understand why teens and children fall victim to gambling addiction.
Some sports betting and gambling groups have been fined for targeting their offerings to people under the legal gambling age.
While speaking with ABC News, Gary Schneider, a national board member of Stop Predatory Gambling, explained that these companies are targeting young users. "They want the next generation. They label it gaming," Schneider said. "It's really gambling."
Reprinted with permission from Media Matters.